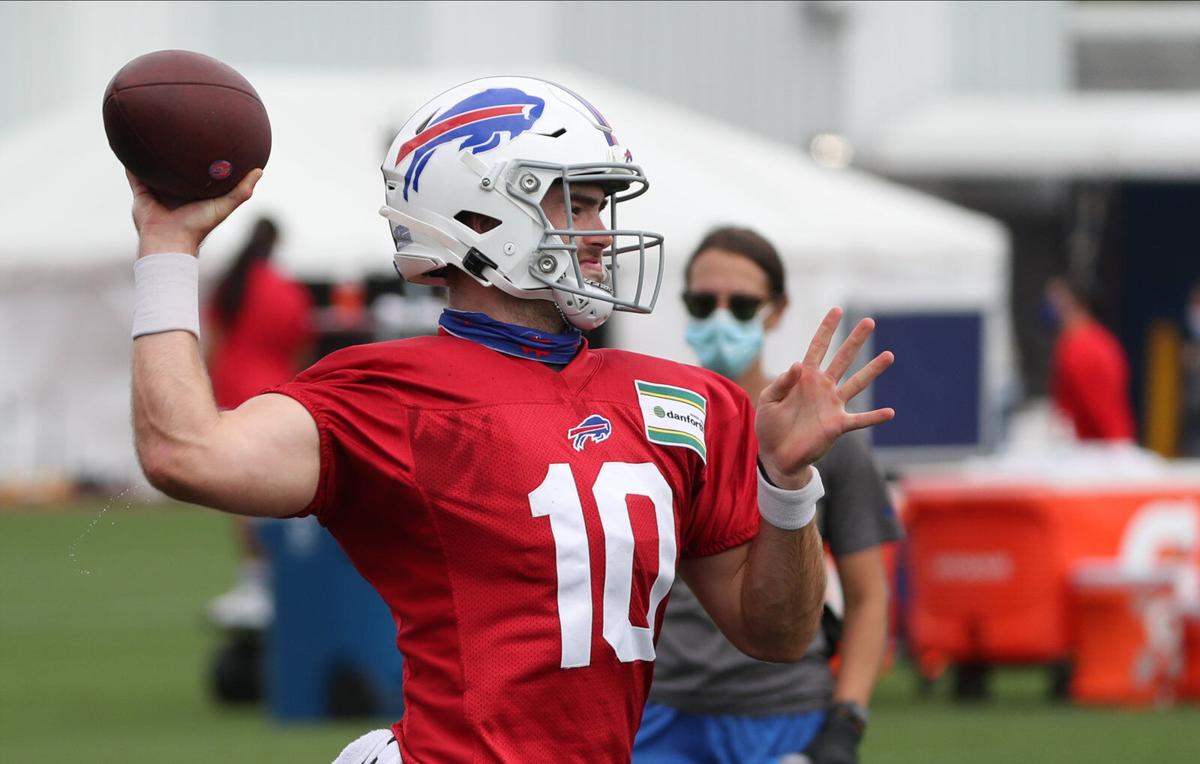 Youth was served on the Buffalo Bills' offense Saturday.
The team went with young players at quarterback and wide receiver over more experienced veterans in trimming down the roster to 53 players. At quarterback, the team kept fifth-round draft pick Jake Fromm over Davis Webb. At wide receiver, fourth-round draft pick Gabriel Davis and sixth-round draft pick Isaiah Hodgins made the team, while veterans Robert Foster and Duke Williams were released.
It's not unusual for teams to keep their draft picks on the final roster. Releasing them would expose them to waivers – in essence allowing another team to acquire another pick for only the cost of his rookie contract. There was at least some question, though, as to whether Fromm would hang on.
Webb's performance during practices open to media during training camp suggested the 2017 third-round draft pick of the New York Giants might be slightly ahead of Fromm, a rookie from Georgia who made news for the wrong reason earlier this offseason.
Leaked text messages from last year showed Fromm had used racist language in a conversation with a friend from high school. He issued a public apology, but coach Sean McDermott and offensive coordinator Brian Daboll made it clear Fromm had plenty of work to do in winning over his teammates. Fromm will get the chance to do that on the active roster. Keeping three quarterbacks this season made more sense for the Bills with the ongoing Covid-19 pandemic posing a threat. Should either starter Josh Allen or backup Matt Barkley contract the virus, the Bills' depth at the most important position on the field would be severely tested.
To that end, a league source told The Buffalo News that the Bills plan to re-sign Webb to the practice squad, provided he clears waivers. Barkley is entering the final year of his contract, so the Bills will want to fully evaluate Fromm and Webb to determine if one of them is capable of taking over as the backup next year.
In Williams and Foster, the Bills released a pair of receivers who had made some plays for them in the past. Foster ended his rookie season in 2018 as one of the more productive receivers in the NFL over the final eight weeks, but was unable to build on that in what amounted to a lost 2019 season. Williams, meanwhile, became a fan favorite last year during training camp, then solidified that status when he caught the go-ahead touchdown in a Week 5 win against Tennessee. He was quiet the rest of the season, though, and failed to come through in the team's playoff loss to Houston when he had chances.
It became clear the Bills were looking for upgrades at the position when General Manager Brandon Beane drafted over Williams and Foster twice. Davis and Hodgins, both of whom were impressive during training camp, are two of six receivers kept on the initial 53-man roster, joining Stefon Diggs, John Brown, Cole Beasley and Isaiah McKenzie. In somewhat of a surprise, the Bills released veteran receiver Andre Roberts, whose main job last year was returning kickoffs and punts. That move is expected to be short-lived, though, as a league source told The News that Roberts could rejoin the active roster as soon as Sunday, provided Roberts doesn't have a sudden change of heart and sign elsewhere.
McKenzie was thought to be on the roster bubble, but Daboll appreciates what he brings to the offense each week.
"That's a very competitive room right now," Daboll said last week of the wide receivers. "They all are, but this one is pretty competitive – pretty heated battles. He's got quickness, he's got speed, he's got run after catch or yards after he touches it. He's like the little Energizer bunny, man. This guy goes all day long. He's such a hard worker in practice. You're looking at one on one tape, you're like how the heck did Isaiah get up here again? He just keeps going and going and going. So he's a good addition to our room and he'll create his own role for himself."
If something were to happen and Roberts gets away from the Bills, McKenzie has return ability.
The Bills did not have many "surprise" cuts, but one that could fall into that category happened on the offensive line. Center Evan Boehm, who was signed away from the Miami Dolphins in free agency, was released. The Bills elected to keep Ike Boettger, who was with the team last year, and recent addition Brian Winters. They figure to provide depth along the interior of the offensive line. Boehm does not have to clear waivers and is free to sign with another team. If he doesn't have any offers, he could take one of the six spots on the Bills' practice squad that can be used for veterans.
Ryan Bates and Daryl Williams were two of 10 offensive linemen to make the team. Both have significant positional flexibility – which McDermott and Daboll highly value among their backups.
The bigger "surprises" can be found among players who made the initial 53-man roster. Chief among them is rookie undrafted free agent Reggie Gilliam, a converted fullback who is now listed by the Bills as a tight end.
"That's really what he is for us," McDermott said a few days ago. "He's come in and done some good things. Again, he's a rookie."
With veteran fullback Patrick DiMarco going on injured reserve Friday, Gilliam gives the Bills an option at the position on the rare instances Daboll calls on a fullback. If he's active on game day, Gilliam also figures to play a key role on special teams. He blocked six kicks during his college career at Toledo. Gilliam is one of four tight ends currently on the roster, joining Dawson Knox, Tyler Kroft and Lee Smith.
At running back, there were no real surprises. Devin Singletary, Zack Moss, T.J. Yeldon and Taiwan Jones made up a clear top four.
Defensively, the big surprise was linebacker Del'Shawn Phillips earning a spot on the roster. Phillips did not receive much attention during training camp, but the Bills had competition for reserve roles behind starters Tremaine Edmunds and Matt Milano.
The release of safety Dean Marlowe was strategic. Like Roberts, Marlowe does not have to pass through waivers, meaning the Bills can sign him as soon as Sunday, once they open roster spots by placing players on injured reserve. 
Unlike last year, General Manager Brandon Beane did not trim the roster by way of trades. It was reported Friday that the team was shopping Foster and tight end Jason Croom. Evidently, there were no takers, as both were released. Croom, who spent last season on injured reserve, has found a way to stick around the organization, and could again with a spot on the practice squad.