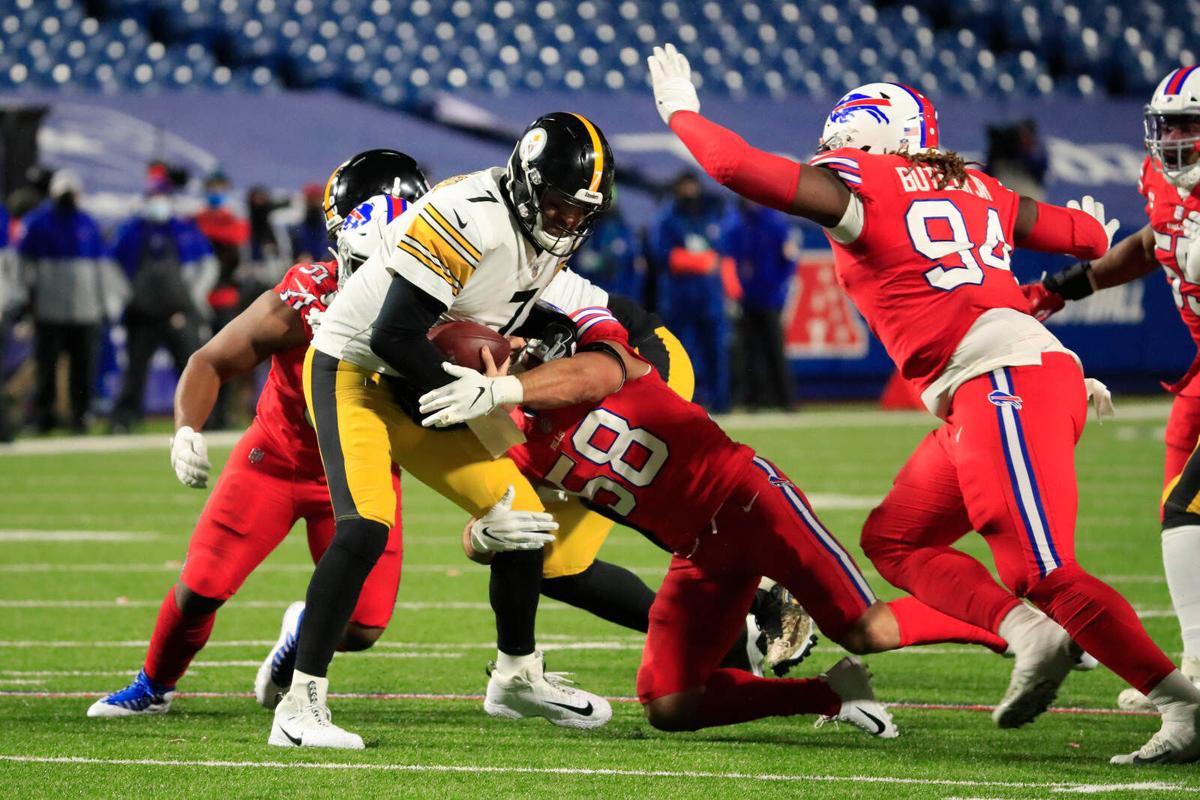 Matt Milano keeps adding to his pass-rush repertoire, and his effectiveness as a blitzer could be a key asset to the Buffalo Bills' defense down the stretch of the season.
Milano got in on his third sack of the season Sunday when he took down Steelers quarterback Ben Roethlisberger. It was the first sack of Roethlisberger in 279 pass attempts, which was the second-longest streak in the NFL since sacks became a statistic in 1982.
Milano lined up like a defensive end, crouched on the line of scrimmage in a gap between the right tackle and the tight end. He bulled inside the tackle, shrunk his body sideways to get past the running back trying to pick up the blitz and crashed into the quarterback.
Milano has posted 10 pressures this season on 33 pass rushes, and his pressure rate is second best in the league among off-the-ball linebackers with at least 100 snaps, according to Pro Football Focus. Last year, Milano had 14 pressures in 80 pass rushes, which ranked him 10th, according to PFF.
"I think the biggest thing with Matt is he spends a lot of time in the facility," said coach Sean McDermott. "He works at his craft. He studies film. He's a pro's pro in that regard. He takes care of his body. He's one of the first in, one of the last to leave. Sometimes people don't see that, but I think it's a big part of why he's been able to do what he's been able to do."
As the sack on Roethlisberger showed, Milano is good at getting low, playing with leverage and using his explosion to get into the backfield.
Good scheme helps. The Bills dropped Mario Addison into coverage on the play and also blitzed Tre'Davious White off the edge. That's a rarity. The running back, Jaylen Samuels, got confused on whether to stay on Milano or shift to block White. That gave Milano a lane he needed.
Milano has missed six games due to injury.
"I definitely had a rough middle of the season," he said. "But I'm feeling good, feeling healthy, and whatever I can do to help the team win, I'm up for it."
A.J. Klein did a lot of rushing the quarterback in a three-game stretch against the Seahawks, Cardinals and Chargers before Milano returned. Klein ranks fifth among off-the-ball linebackers in pressure percentage with 18 in 71 rushes.
The Bills have been more aggressive in going after the quarterback with five rushers this year, blitzing on 31.5% of pass plays, according to Buffalo News charts. Last year, the Bills blitzed at 25.9%, by News figures.
Saturday's game is another opportunity to be aggressive because young Broncos quarterback Drew Lock has thrown 13 interceptions.
Only Dan Marino went longer than Roethlisberger without being sacked, going 755 attempts from 1988-89. A Bill snapped that streak, too. Jeff Wright sacked Marino in a midseason game that year, then Cornelius Bennett added another in the same game.
Third-down improvement: Just about all of the Bills' defensive metrics have been on the upswing since the second meeting with the New York Jets in Week 7. Third-down defense is no different. The Bills were 30th in third-down defense after the loss to Kansas City, allowing 53.5% conversions. The past seven games, the Bills have allowed just 31.2% conversions. That kind of rate usually puts a team in the top three in the league over the course of an entire season.
Of course, third-down success can't be cleanly separated from the other downs. The Bills have done a much better job stopping the run since the Jets' game. So they've put themselves in better third-down situations.
The QB search: The Broncos have had 10 different starting quarterbacks since the start of the 2017 season, after the retirement of Peyton Manning. They picked Lock 42nd overall in the second round of the 2019 draft. Will he develop into a franchise-caliber quarterback who can compete in the AFC West with Patrick Mahomes in Kansas City, Justin Herbert in Los Angeles and Derek Carr in Las Vegas?
Lock is 6-foot-4, 228 pounds, and he has a good arm. He can move, too, although he's no Josh Allen as an athlete. (Lock has two rushing TDs in 15 starts.) Still, he has the ability to make plays outside the pocket. We're not sold on Lock because of his tendency to make turnovers and his iffy decision-making in the pocket. Obviously, that can improve with time. But NFL Films' Greg Cosell talked about "a looseness and lack of discipline" in his game coming out of the University of Missouri and wondered if he processed quickly enough in the pocket. Those still are questions. There is loads of talent around him when everyone is healthy. Denver should have a great idea by the end of next season if Lock is "The Man."
The 30,000-foot view: Injuries are the biggest story in Denver. The Broncos have $52 million in cap space eaten up by players on the injured reserve list, third most in the NFL behind San Francisco ($71 million) and Dallas ($61.5 million), according to Spotrac.com. The key Denver defensive stars out include: sackmaster Von Miller, defensive linemen Jurrell Casey and Mike Purcell, plus cornerbacks Bryce Callahan and Duke Dawson. Top wide receiver Cortland Sutton is on IR. Starting corner A.J. Bouye is on an NFL suspension. ... If Lock takes a big step forward in his third year next season, the talent is in place to make the Broncos a playoff contender. The Broncos might have the best collection of young, skill-position talent in the league, and they're all on cheap contracts in 2021. Sutton is an ideal X receiver (split end), Jerry Jeudy is an ideal flanker (the Y), and KJ Hamler perfectly fits the slot. Vic Fangio is a smart defensive coach.
Stats for the road: The Bills' cornerbacks will need to buckle their chinstraps and be ready to play tough against the run. Denver runs outside the tackles about a third of the time, a rate that puts them among the top 10 in the league. ... Denver will do some jet-sweep action with slotman Hamler, but the Broncos do not do a ton of presnap motion or shifting. ... The Broncos' main set is 11 personnel (three wides). They use it 65% of the time, according to Sharp Football. Denver will run 12 personnel (two TEs) on 34% of first downs. But don't expect the Bills to match up with the regular 4-3 front (as they might against a team like the Patriots). Denver is averaging only 3.6 yards a carry out of 12 personnel, from Sharp Football. Tight end Noah Fant, the 20th pick in last year's draft, runs a blazing, 4.50-second 40 time. He's willing to block, but more of a finesse TE. ... Denver lost a matchup edge when rookie TE Albert Okwuegbunam went down with torn knee ligaments, even though he had only 11 catches. The fourth-round pick is 6-5½, and he runs a 4.49 40. Defensive coordinators are going to lose sleep next season trying to figure out how to handle Fant and Okwuegbunam when they're on the field at the same time. ... Mario Addison has a tough matchup against left tackle Garrett Bolles, a former first-round pick who is having his best season. He has yet to allow a sack. Denver last week gave Bolles a $17 million-a-year deal. That's more than Dion Dawkins ($14.75 million), but Dawkins got more guaranteed ($29.5 million vs. $21 million). The Bills signed Dawkins in early August. The longer you wait as a general manager, the more it costs you.