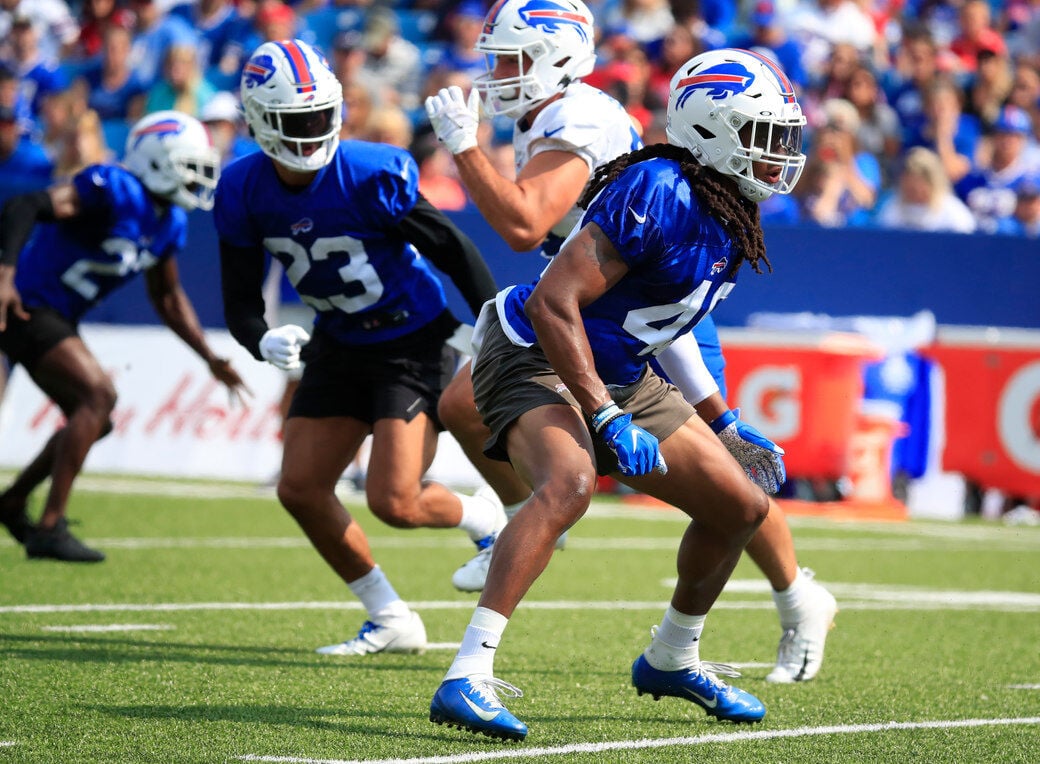 Tackling is the most basic tenet of defense.
It's also something the Buffalo Bills identified as needing some work on entering the 2021 season.
Advanced stats would seem to back that up.
According to pro-football-reference.com, the Bills ranked tied for sixth in the NFL last season with 125 missed tackles (the Raiders led the NFL with 143, while the 49ers were the best with just 69). The numbers on analytics website Pro Football Focus differ slightly, but tell a similar story. PFF charged the Bills with 136 missed tackles last season, which tied for ninth most in the league with Pittsburgh – Sunday's opponent in the season opener at Highmark Stadium. Houston's 155 missed tackles led the NFL, according to PFF, while the Los Angeles Rams led the league with just 97 missed tackles (a fairly wide disparity from the data kept by PFR, demonstrating the subjective nature of the statistic).
"We looked at some numbers and we just felt like that was an area that if we got better at it, we would be much better in some other areas, also," Bills defensive coordinator Leslie Frazier said before Wednesday's practice. "Yards after catch, yards after contact in the run game, and so that's an area we placed an emphasis on. I think in the preseason, we were better at tackling. When we took a look at the numbers, we had fewer missed tackles in ballgames and hopefully have a carryover into the season."
Frazier said the emphasis on improved tackling began during spring practices, and has continued through the summer. The Bills were charged with 29 missed tackles in three preseason games, according to PFF, an average of 9.3 per game which is slightly above their average of 8.5 last year in the regular season. The difference, of course, is the Bills barely played their starters in the preseason, so there is a legitimate hope that number will go down when the games start to count.
"It's just something you can always get better at," safety Micah Hyde said. "You can always become smarter on the football field, having a higher IQ and also being better at tackling. It's something we've been emphasizing and we've got to show it on Sunday."
Hyde said the key to improving as a tackler starts with the right mental approach.
"It's high effort, getting to the football and mentally you have to go into the game preparing yourself with what they might be doing," he said. "Some guys are stiff-arm guys. Some guys just run through tackles, so you've got to know on each and every play what type of guy he is and how he's going to defend himself."
The Bills had two players ranked inside the top 20 in the NFL in missed tackles in 2020. Linebacker A.J. Klein was tied for 11th with 16 missed tackles, while fellow linebacker Tremaine Edmunds tied for 19th with 15.
"That's definitely something that I want to get better with when I critiqued myself based off year," Edmunds said. "As a defense, that's something that we all want to get better with. In particular myself, I'm working hard at it each day out here, even days that we're not tackling to the ground. It's just the thudding up that you can do, the finishing, driving your feet, little small things, and we continue to preach it, we continue to do drills. So now it's just as far as taking what we practice to the field, taking it to the game, applying the work that we put in here, and hopefully we'll take that next stride in it."
The Bills' defenders face a bit of an unknown commodity in Week 1. The Steelers drafted Alabama running back Najee Harris in the first round, and the expectation is they'll try to establish him early and often Sunday.
"He's one of those guys who, as a running back, has really good vision," Frazier said. "He can see things that a lot of the backs can't see. There are times where he's about to approach a hole and it may look a little cloudy and he's able to find that opening. The real good ones, they're able to do that. You shut something off and they're able to sidestep it or take a cut and find a crease. And he's one of those guys, if you give him a crease, he'll find it and it could become an explosive play."
The Bills issued their first official injury report of the season Wednesday. Defensive tackle Star Lotulelei missed his second consecutive practice because of a calf injury, which leaves his status for Sunday in question.
Cornerback Taron Johnson (hand) was a limited participant. He wore a red, noncontact jersey. Veteran wide receiver Emmanuel Sanders (foot) also was limited.
Wide receiver Isaiah McKenzie (shoulder) and defensive tackle Harrison Phillips (knee) were listed as full participants.
The Bills waived defensive tackle Treyvon Hester with an injury settlement. Hester, who was signed to a one-year deal in May, had a back injury and was placed on injured reserve on Aug. 27.