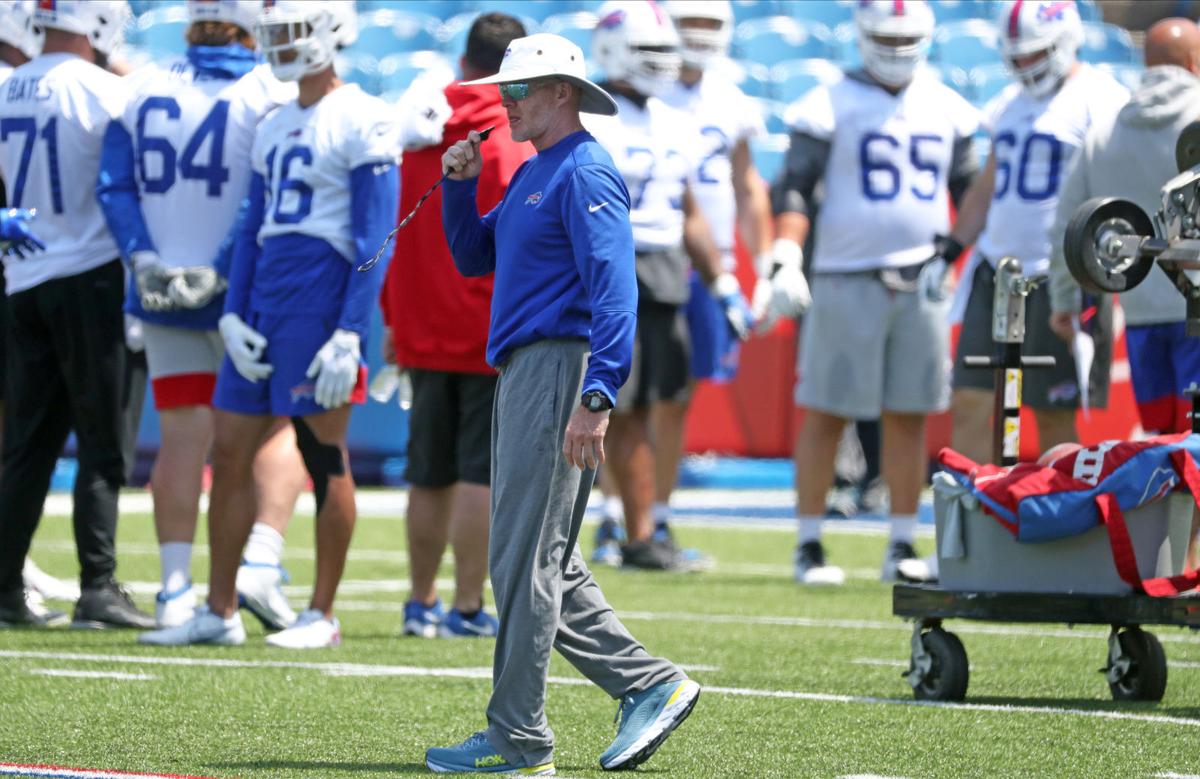 Here are 50 thoughts on the upcoming season as the Buffalo Bills' roster readies to report for the first practice of training camp Wednesday:
1. The time is now to strike a Josh Allen extension. The Bills have about $11 million in cap space heading into the season. They can use some of that to give Allen a portion of his guaranteed money on a new contract, thus reducing the cap hit down the road. The Bills are all in on Allen. He's their guy for the future. A deal isn't going to get any cheaper, so even though the team has time, it would be in its best interests to strike a deal now.
2. It's impossible to consider Cole Beasley anything other than a distraction at this point. We get it. The Bills' slot receiver isn't getting vaccinated. He's shouted it from the top of the Twitter mountain for all to hear. At this point, every time Beasley logs on to social media, it does nothing but make the migraines that must be felt by General Manager Brandon Beane and head coach Sean McDermott that much stronger. Somehow, some way, the Bills need to get Beasley to simply log off. If he wants to play knowing the restrictions unvaccinated players face, great. If not, retire and move on.
3. Jon Feliciano isn't helping matters, either. The Bills' guard spent part of his Thursday on Twitter tweeting things like #FauciLiedPeopleDied, insulting his followers over their hairlines and telling people not to root for the team. That's not exactly the way Beane and McDermott would prefer he spend his time.
4. The new NFL rules make getting the vaccine all but a requirement. The NFL announced Thursday teams that have a Covid-19 outbreak amongst unvaccinated players that leaves them unable to play will be forced to forfeit the game. That also will result in both teams not being paid for the game. Messing with another man's money is one quick way to ensure players get vaccinated. The peer pressure inside the locker room to do so will be immense.
5. Stefon Diggs appeared to hint at that. Diggs' tweet Thursday, which read "accountability … availability" is left open to interpretation, but it's not hard to read into it when it comes to teammates getting the vaccine. Surely, Diggs will be asked about the tweet once camp starts.
6. The biggest offseason addition might come from in house. There is no denying the Bills' run defense last year left something to be desired. That something might be veteran defensive tackle Star Lotulelei, who looked to be in good shape at minicamp and said all the right things about coming back.
7. There is reason to believe the best is still to come for Tremaine Edmunds. At just 23, Edmunds is younger than half the players the Bills drafted this year. That's remarkable given that Edmunds is going into his fourth season. The Bills believe a lingering shoulder injury was primarily responsible for his uneven play in the first half of the 2020 season. They showed their faith in him by picking up his fifth-year option for 2022. Now, it's on him to show that he's healthy and ready to reward the team's decision.
8. The shift of training camp from St. John Fisher College to Orchard Park is a bummer – for fans. It makes sense for the team to stay home this summer. The Bills basically have a perfect setup with two outdoor grass fields, the fieldhouse and the stadium to conduct practices. It's too bad for fans, though, some of whom may only be able to see the team at training camp given the exorbitant cost of an NFL ticket. Here's to hoping that if the move home for camp is permanent, the team finds a way to get more fans involved.
9. The return of preseason will help younger players. Even if they don't make the roster here in Buffalo, three exhibition games will give the Bills' younger players a chance to audition for the rest of the NFL. That opportunity was taken away last year when the preseason was canceled due to the Covid-19 pandemic.
10. Don't be surprised if just two quarterbacks make the active roster. That's been McDermott's preferred method of roster construction in non-Covid years, and given the team's depth at other positions, it makes sense.
11. That leaves Jake Fromm in no man's land. Davis Webb is the ideal quarterback for the practice squad. The coaching staff raves about what he brings to the team behind the scenes in terms of leadership and assistance to Allen. With that being the case, Fromm will have to convince the coaching staff it's worth keeping three quarterbacks on the 53-man roster. Right now, that feels like a stretch.
12. The signing of Mitchell Trubisky was solid. Trubisky, the former No. 2 overall pick of the Bears, said all the right things in his first interview since agreeing to become Allen's backup. He should fit right in in the locker room and provides the Bills with one of the better backup options in the NFL.
13. Devin Singletary had a great offseason. Mostly, that's because of what the Bills didn't do, which was draft a running back in the first round (or at all). Singletary also appears to have put himself in great shape. Surely, he knows what's at stake in his third season. He needs to bounce back from a somewhat down sophomore season, or he's at risk of losing more snaps to Zack Moss.
14. Christian Wade's got a real chance. Without a preseason last year, the chances of Wade making the 53-man roster went way down. This year, they can still be considered long, but a more normal training camp and preseason means the former professional rugby player will get his best chance to show how far he's come. It's premature to project him making the 53-man roster, but it's at least in the conversation.
15. Matt Breida's speed is intriguing, but it's tough to see where he fits. If we assume Singletary and Moss are 1-2 on the depth chart and Taiwan Jones is No. 4 for special teams, that leaves Breida fighting with Wade and Antonio Williams for the No. 3 role. Breida's one of the fastest players in the NFL, but the problem is the Bills didn't use No. 3 running back T.J. Yeldon much last year when Singletary, Moss and Jones were healthy. Breida will have to convince offensive coordinator Brian Daboll his speed can bring an added element to the offense worthy of having him active on game days.
16. The draft hurt Bobby Hart. The Bills signed the former Bengals offensive tackle to a one-year contract and he projected as the team's swing tackle, but that changed after Spencer Brown and Tommy Doyle were selected in the middle rounds. Hart now finds himself on the roster bubble.
17. The receiver puzzle isn't easy to solve. The Bills' top four receivers – assuming Beasley doesn't retire or get cut – is set with Stefon Diggs, Beasley, Emmanuel Sanders and Gabriel Davis. After that, the competition is wide open. Would the Bills keep as many as seven receivers on the 53-man roster? They may have to if they want to keep Isaiah McKenzie and two recent draft picks, Marquez Stevenson and Isaiah Hodgins. Even if they do, it would mean cutting Jake Kumerow, who spent time on the active roster last season. The depth at receiver is better than it has been in a long time.
18. Sanders shouldn't be looked at as a John Brown replacement. Although the Bills swapped the two veteran receivers, they are different types of players. Given that the Bills have pursued Sanders for a while, it will be interesting to see what kind of a role for him the coaching staff envisions. Perhaps he lines up in the slot on the opposite side of Beasley, which would allow Diggs and Davis to be the outside receivers. That looks good on paper.
19. Zach Ertz to the Bills continues to make sense. By now, Ertz has joined Antonio Brown and Ryan Nassib as honorary, fictional Bills. Making it a reality with the current Eagles' tight end, however, would be a good fit. Ertz would step in as the starter, pushing Dawson Knox into the No. 2 tight end role. That would be an attractive setup. It's obvious there is a holdup over compensation, or the Bills simply aren't interested. Either way, unless there is a change in Ertz's status with the Eagles, the speculation of a potential fit with the Bills is impossible to ignore.
20. Knox is on the short list of offensive players with the most to prove. Singletary joins him on that list. So, too, does left guard Cody Ford. All three were selected on the second day of the draft. The second and third rounds have mostly returned mediocre results under Beane.
21. Don't count out Levi Wallace. The cornerback has held off Kevin Johnson and Josh Norman in consecutive seasons for the starting job opposite Tre'Davious White. Dane Jackson did some nice things in a small sample size last year, but Wallace has a knack for finding his way into the lineup.
22. A veteran cornerback addition doesn't feel like it's coming. Veteran Richard Sherman was notably on the open market, but his recent arrest and the troubling details surrounding it make it seem like that's not a viable option now. That means Wallace and Jackson will have perhaps the most meaningful competition of training camp.
23. Safety depth is a concern. Behind Micah Hyde and Jordan Poyer, the Bills are likely to have Jaquan Johnson and rookie Damar Hamlin. The departure of Dean Marlowe in free agency means the Bills lack veteran depth behind their trusted starters.
24. Ed Oliver isn't on the hot seat, but it's fair to expect more. McDermott is quick to point out that defensive tackles in his defense shouldn't be judged solely on stats. Keeping that in mind, it's far too premature to say Oliver has been a bust. It's not, however, unfair to suggest that the Bills would like to see more "splash" plays from the No. 9 overall pick in the 2019 draft.
25. Mario Addison feels like this year's Trent Murphy. Last season, the Bills kept Murphy even though cutting him would have provided significant savings under the salary cap. This year, Addison is thought to be a cut candidate after the team drafted Greg Rousseau and Boogie Basham in the first two rounds. Like Murphy, though, Addison is a favorite of the front office and coaching staff in part because of the leadership he provides. The thinking here is his job will be safe.
26. Keeping extra defensive ends could come at the expense of an extra defensive tackle. A strong roster case can be made for six defensive ends – Jerry Hughes, Mario Addison, Greg Rousseau, Boogie Basham, A.J. Epenesa and Darryl Johnson Jr. Efe Obada could make that number seven. If six of them make it, the Bills are likely to go with just four defensive tackles. Lotulelei and Oliver are locks, meaning one of Harrison Phillips, Vernon Butler Jr. and Justin Zimmer could be left without a spot.
27. Expect Rousseau to be brought along slowly. After opting out of the 2020 season because of the Covid-19 pandemic, the Bills' first-round draft pick has just one year of big-time college production. Because of that, and the fact he lines up mostly at right defensive end where Hughes primarily plays, it makes sense that the Bills use Rousseau mostly on a rotational basis, at least early in the year.
28. Matt Haack will be judged against Corey Bojorquez. Beane let Bojorquez walk after the former Bills punter overestimated his value in free agency. Bojorquez, though, had a very good 2020 season, so Haack, signed in free agency from Miami, should get used to that as being his measuring stick in 2021.
29. Special teams prediction. McKenzie holds off all challengers to win the return job. He showed last season with a punt return for a touchdown in Week 17 against Miami that he can be a weapon in the return game.
30. Captain predictions. Offense: Josh Allen, Dion Dawkins. Defense: Tremaine Edmunds, Jordan Poyer. Special teams: Reid Ferguson, Tyler Matakevich.
31. Pro Bowl predictions (before injury replacements). Josh Allen, Stefon Diggs, Tre'Davious White, Jordan Poyer.
32. One sleeper Pro Bowl prediction. Tyler Bass. The Bills' kicker overcame a slow start to his rookie season to become a weapon for the team. He made 50-plus yard field goals look routine with his leg strength.
33. All-Pro predictions. Allen, Diggs, White.
34. A White thought. The deal he signed in September made him the highest-paid cornerback in the NFL, but it took just a few days for the Rams' Jalen Ramsey to take over that title. Now, it looks like White's deal is going to end up being somewhat team friendly. White may have left a little money on the table, but he did so to remain in a good situation.
35. A Diggs thought. By nature of the position he plays, Allen is probably the Bills' most recognizable player. When's the last time the team had a superstar of Diggs' level, though? The acquisition of Mario Williams in free agency is the only immediate comparison that comes to mind.
36. Trade candidates. Forrest Lamp, Darryl Johnson Jr., Harrison Phillips, Ryan Bates, Ike Boettger, Jamil Douglas, Jake Fromm, Isaiah Hodgins, Jake Kumerow, Isaiah McKenzie, Justin Zimmer, Duke Williams.
37. Players entering the final season of their contract and scheduled to be unrestricted free agents. Emmanuel Sanders, Jerry Hughes, Mario Addison, Vernon Butler, Harrison Phillips, Mitchell Trubisky, Ike Boettger, Levi Wallace, Taiwan Jones, Efe Obada, Isaiah McKenzie, Bobby Hart, Tyrell Adams, Jacob Hollister, Forrest Lamp, Matt Breida, Marquel Lee, Jordan Devey, Jamil Douglas, Davis Webb, Treyvon Hester, Brandon Powell, Justin Zimmer, Taron Johnson, Siran Neal. … Looking at that list, it's understandable why focusing on the defensive line early in the draft was a priority for Beane.
38. The above list shows the amount of work upcoming for Beane. Not all those players will make the 53-man roster this year, but even so, the Bills will have several holes to fill at important positions after this season.  
39. Mock draft season never dies. For those of you who love the NFL draft, there is such a thing as 2022 mock drafts. One of them, from Draft Wire's Luke Easterling, has the Bills selecting Clemson cornerback Andrew Booth Jr. in the first round in April – just in case you want to start scouting this fall.
40. It's imperative to get off to a good start. A 4-0 start looks possible. Anything less than 3-1 against Pittsburgh, Miami, Washington and Houston – all of which are at home, save the game against the Dolphins – will be a major disappointment.
41. Back-to-back prime-time games look tough. Visiting Kansas City and Tennessee, where the Bills got smacked around last year, in Weeks 5 and 6 is easily the most challenging part of the schedule.
42. AFC thought. The team that makes it out of the conference and to the Super Bowl will be deserving. In addition to the Chiefs and Bills, the Browns, Ravens, Colts and Titans all have legitimate championship aspirations. The Chargers have a rising quarterback and the Steelers are always respectable under Mike Tomlin. Simply put, the conference is top heavy.
43. AFC East thought No. 1. The Jets have done a better job building around their new rookie quarterback, No. 2 draft pick Zach Wilson, than they did previously around Sam Darnold. Still, it's hard not to shake the beatdown Brian Daboll's offense gave new Jets coach Robert Saleh's San Francisco's defense when he was their defensive coordinator.
44. AFC East thought No. 2. There is reason to question Tua Tagovailoa in Miami. His arm talent doesn't scream elite. That doesn't mean he'll fail as the Dolphins' starting quarterback, but a lot will have to go right around him for Miami to catch up with Buffalo.
45. AFC East thought No. 3. The Patriots' quarterback situation is up in the air. Cam Newton wasn't great last year, but New England didn't have any other obvious options this offseason. If Newton struggles early, there will be pressure on Bill Belichick to put rookie first-round draft pick Mac Jones in the lineup. Belichick doesn't seem like one who may cave to pressure, so seeing how he responds to a potential quarterback controversy will be a big storyline to follow in the division. 
46. It would be nice to see the return of the Wall of Fame. There is no indication from the team that's coming, but fans seem to be interested in who might be honored next.
47. Highmark Stadium is an uninspired name choice for the team's home. Perhaps it grows on fans over time, but that seems unlikely. A corporate name is no surprise, but Highmark Stadium doesn't really roll off the tongue.
48. Nevertheless … do your best to be at Highmark Stadium on Sept. 12. The home opener is one of the best days of the year in Western New York. Given the year of separation between the team and its fans because of the pandemic, all that the Bills accomplished last year and what's expected this season, Week 1 should be an absolute party in Orchard Park.