Mike Tirico was sitting in the broadcast booth in Atlanta's Mercedes-Benz Stadium, getting ready to call the Saints-Falcons game on Thanksgiving night in 2019.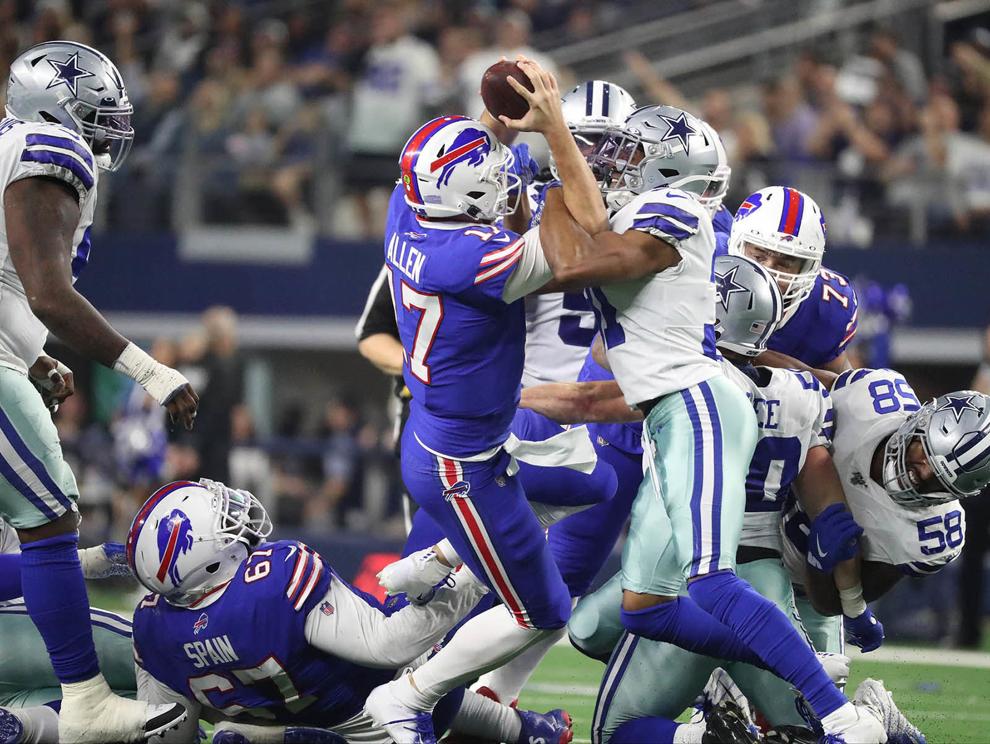 There was only one problem: The veteran broadcaster's attention kept being drawn to action on the TV. The Buffalo Bills were in Dallas to play the Cowboys two years ago – and they showed out.
"We're watching Buffalo just empty out the playbook, man, and just do everything, right," Tirico said on a conference call this week. "That was one of those, when you saw the schedule came out, you go, 'Are you really going to put Buffalo and a second-year quarterback in Dallas on Thanksgiving?' And they were ready for the moment. … That was a real statement to do it on that stage against the Cowboys."
Two years ago, the Bills' 26-15 victory over the Cowboys was a coming-out party for second-year quarterback Josh Allen. He finished 19 of 24 for 231 yards and two total touchdowns and, at the time, a career-best 120.7 passer rating in leading the Bills to a victory that all but guaranteed they'd be a postseason team.
"I remember as a kid sitting down on Thanksgiving watching all three games. So I think it's a really cool experience," Allen said. "And not everybody's played on a Thursday night with some of the younger guys especially, and it's a fun experience, especially on Thanksgiving Day just knowing how many people are going to be watching, but at the end of the day, it's still football, still the same game that we've been playing since we were little kids and we got to go find a way to go out there and execute and try and win a football game."
If they do, it won't bring the Bills as close to a playoff spot as the win over the Cowboys did, but it will go a long way toward calming the nerves of fans that have been frayed by the team's recent form. The national spotlight is a perfect opportunity for the Bills to stop talking about what a great team they have and actually show it.
Allen has 60,443 votes. He and four teammates were selected to the Pro Bowl last year, though, the game was not played because of Covid-19 precautions.
"Thanksgiving is a stage where you do things and it's remembered for a long time," said Tirico, who will call play by play of the game for NBC from the Superdome along with former New Orleans quarterback Drew Brees. "Any time somebody blocks a field goal now you say, 'Leon Lett, don't touch it!' So that stage is a big one in the NFL. And the Bills stepped on it in Jerry World and have been right center stage in the NFL since that point."
In many ways, the Bills' window as a playoff contender started on Thanksgiving. It's fitting, then, that this opportunity presents itself.
"Now you get a little adversity, and you feel the pressure that Dallas, that Pittsburgh, those flagship franchises feel on a regular basis of 'What's wrong with this team?' as they go through a little tough patch," Tirico said, "and on Thanksgiving, they have another chance to remind everybody how good they are. So it could come in a couple years full circle for them in that regard."
A season that began with high expectations has had some serious setbacks recently. After opening the year 4-1, the Bills have struggled to a 2-3 record in their past five games. They've been labeled disappointments, or worse, frauds. Coach Sean McDermott has said that no season is played without adversity, and that's spot on right now. McDermott is thus leaning into the idea that being together on a holiday will be good for his team.
"It's great when your team is playing on Thanksgiving, A, because of the tradition around playing football on Thanksgiving in America and it's a game where there's a lot of people at home around our league watching your team play," he said. "Yet at the same time, I think there's something special to be said for, it's just us on the road, obviously some fans, but it brings a team closer together when you're spending a holiday. Everybody wants to be home for the holidays, don't get me wrong, but when you're together on a holiday, I think it brings you little bit closer as a team."
The opponent and circumstances are different, but the Bills return 14 projected starters from that game against Dallas. All of them can use that experience as they prepare for a must-win game against the Saints.
"I just remember walking to the field from the locker room before the game started. And you know, you walk through the tunnel and there's like glass in between you and basically a bar, and hundreds of Dallas' fans," guard Jon Feliciano said. "I just remember the confidence we came into that game with, and I think the swagger we played with and the juice and the energy, in that game particularly, is what we're looking for for the rest of the season."
The prettiest play in the victory over the Cowboys was when John Brown threw a 28-yard touchdown pass to running back Devin Singletary on a perfectly executed double reverse, the first time a receiver had thrown a touchdown pass in team history.
It was the play before, however, that may be the most memorable. Allen fumbled the snap on a fourth-and-1 play, and it looked like the Bills were going to turn the ball over on downs. Instead, Allen fished the ball out of the bottom of the pile, reached the ball over the first-down marker and stumbled forward for a gain of 3 yards, fighting through the entire Cowboys' defensive line in the process.
After the play, Allen let out an emphatic fist pump – a sign that he was totally locked into the moment.
"Honestly, this is why his teammates love him," former Cowboys quarterback and CBS color analyst Tony Romo said during the broadcast.
Western New Yorkers love to be loved and there is no bigger stage to show it than on national television.
"Oh, I mean it fires you up no matter who it is, but when it's your dang quarterback, it's just a whole level," former Bills tight end Lee Smith said of that play. "When it comes from that position, it's a whole other level of juice and energy and leadership. It's just different. So it fires you up, and it just makes every single guy on the team play just a little bit harder, when your dang quarterback is playing harder than everybody else and running through linebackers, and putting his body on the line.
"You've seen a lot of quarterbacks in this league – when people get close to them, they happen to slip and fall down pretty quickly. This dude stands in there, and he's going to fight into the last, dying breath. And every one of his teammates wants to do the same, or else they're the weak link in the chain. And when your quarterback is the strongest link, it just elevates everybody's game."
It may have been just one play, but given the stage and what was at stake, it earned a spot on Allen's career highlight reel.
"I think everyone's gotten used to knowing that Josh is going to do that type of play or that kind of energy play at least once a game," Feliciano said. "But that one definitely sticks out because, I mean you see guys sometimes not jump on a fumble from the quarterback position, even in the highest of games, like in the Super Bowl. So, for Josh to do that in just a regular-season game, against a nondivision opponent – I don't think it matters who the team is; I know it doesn't matter who the team is, Josh is going to do that, regardless, because Josh wants to win."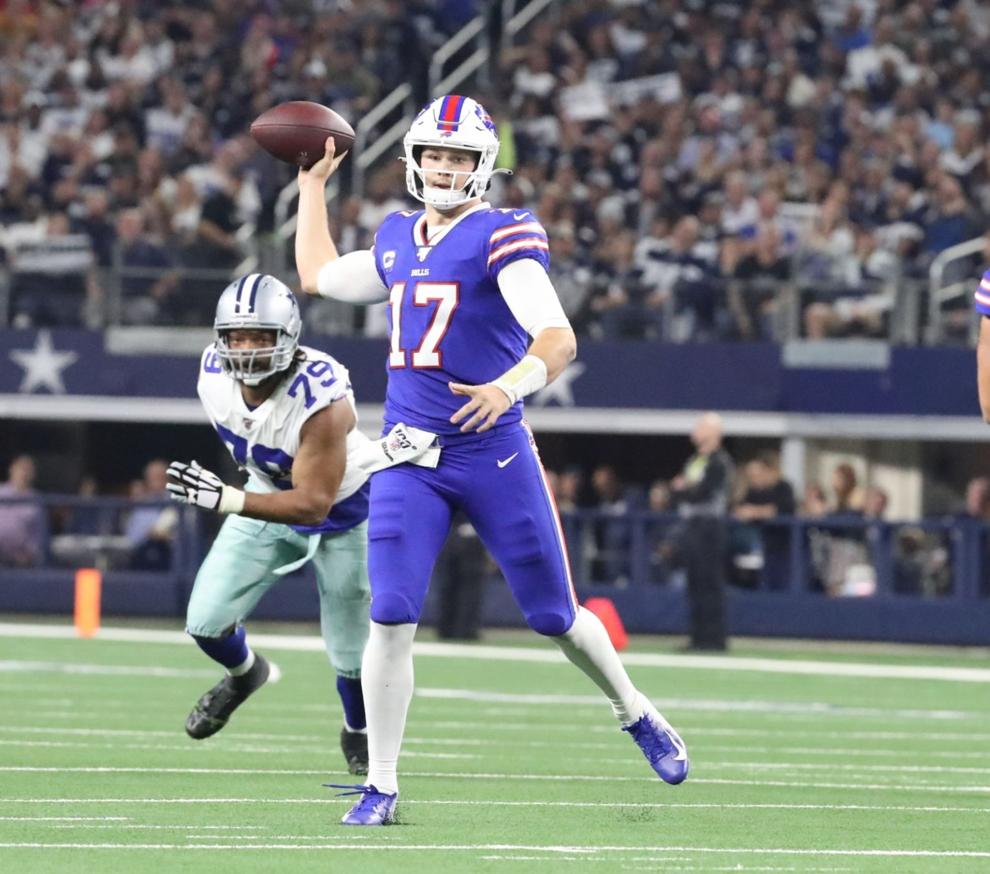 Given the way things have played out this season, Allen wasn't in much of a mood this week to take a walk down memory lane. Instead, he focused on what he can take away from the overall experience of having previously played on Thanksgiving.
"Personally just taking away the type of scheduling, I guess, on a Thursday night because I believe that was my first Thursday night game," he said. "So just trying to figure out you how to recover, how to rest, how to get your body in shape and back to playing form in such a limited amount of time. And then just kind of learning what type of game plan and usually what type of game plans defenses typically have on a Thursday night, just because it is such a shortened week. Sometimes things get a little more vanilla, but sometimes defenses have their third-down packages that are pretty complex that we got to deal with. So again, whatever we got to do to go get a win is what we're gonna try to do."
"We learn from experiences and I think he learned a lot from that experience playing on the national scene like he did and playing as well as he did," McDermott said. "Each game is going to be different, though, so I don't think much that we did that game will carry over to this game necessarily, but there is something to be said for experience."
Allen's record as a starter since that Dallas victory is 20-10.
"He's got some really rare athletic traits," Brees said. "And combined with a big arm and once he developed some experience and they really had a chance to build that offense around him, he's going to be able to really do some things. And sure enough, last year he put a lot of that on display, and I know this year hasn't been quite as consistent. They're going through some pains, but I think that's all part of the process, as well. He's definitely shown a lot, though."
The Saints recognize that.
"He's a bigger, physical, running quarterback that's able to escape out of the pocket and extend plays," defensive end Cam Jordan said Tuesday. "He has a cannon for an arm. I think he has great vision and clearly it's something we have to be aware of going into the game."
"He is a great athlete – legendary athlete," added linebacker Kwon Alexander. "He can throw the ball, run the ball, he can do a lot. He's a captain of that team, so we're just going to do our job and try to get him down when he's scrambling and try to take the ball away from him."
That's something the Bills' quarterback has struggled with recently. Allen has thrown five interceptions in the past three games, two of which ended in losses, after throwing just three in the first seven games of the season. His inability to protect the football has been a major reason for the Bills' current slump. Allen's mood in postgame news conferences has ranged from furious to forlorn recently.
The heavy weight of expectations that come with a new contract that could pay him more than a quarter-billion dollars over the life of the deal have combined with the Super Bowl aspirations to put a lot on Allen's plate.
That's nothing new, according to Smith.
"I remember when I first got back to Buffalo, there were fans: 'He's never thrown for 300 yards!' Hell, they booed us off the field early in one game at halftime," he said. "You know, good ole Buffalo fans, they're loyal as the day is long, but they're also grumpy as a bunch of turds at times. So, you know, it ain't like Josh's first two years. He was out here contending for an MVP award, you know? He was a guy that Sean believed in, and Brandon Beane believed in, and the whole organization said, 'We're either going to make it or break it with this guy.' And then all of the sudden, there in year three, we all get back to camp, and it's like 'Oh man. Somebody's been working while he's been gone.' All those balls that were off a little bit aren't off a little bit anymore. And all the decisions that young quarterbacks make, he wasn't really making 'em anymore. And then the season starts, and it's like, 'OK, it wasn't just practice. This is real. This dude has arrived.' And he wasn't real sure if he believed it yet."
That first down in Dallas may have been one of the first true signs that the Bills had their guy at quarterback.
"He's just a warrior. Once he kind of arrived and once he got that swagger and that confidence, it was over," Smith said. "And it's going to be 10 years of fun for the Buffalo Bills organization and franchise with this dude at quarterback. It's going to be a Jim Kelly round 2, so saddle up and buy your season tickets, cause the man is an ultimate, ultimate competitor, an absolute dog. He's the guy that you take into a bar fight with you. He's just special."
Allen maintains that his confidence in himself and his teammates has not dipped. The Bills, though, seem to be suffering through some sort of identity crisis. Opponents are daring the Bills to run the ball, having seen what Allen can do last year. The quarterback has said the right things about the correct throw being to the open man, while openly wondering whether he needs to start targeting No. 1 receiver Stefon Diggs more often – coverage be damned.
It doesn't matter if their team is winning or losing, when the Bills go on the road, the Bills Mafia goes along for the ride. For one couple, that means Super Bowl or bust.
"I try not to get into the Xs and Os of it," Diggs said. "I can't imagine how hard it is as a coach; you're coming off a tough loss, you want to bounce back, you get a prime-time game – it's a perfect opportunity, especially for your team. And it's more so, how are we going to bounce back? And as a player, for me, it's more so like 'Play your best with your back against the wall,' you know what I'm saying? Of course people are going count you out. … But I'm never on the 'Woe is me,' I'm never looking for no sympathy. I'm more so like, 'I've had my back against the wall plenty of times.' Coming out on the other side is what matters most to me. So what better opportunity?"
Diggs also has some ideas on how to get there.
"You don't want to stop being you," he said. "You don't want to go into a shell of being conservative or being X, Y, Z. Play ball, play free and be you. Play with that confidence, because that's our team. You play with confidence, you play with juice, you're prepared, and that's how you go play."
There's no better time than the present to make that happen.