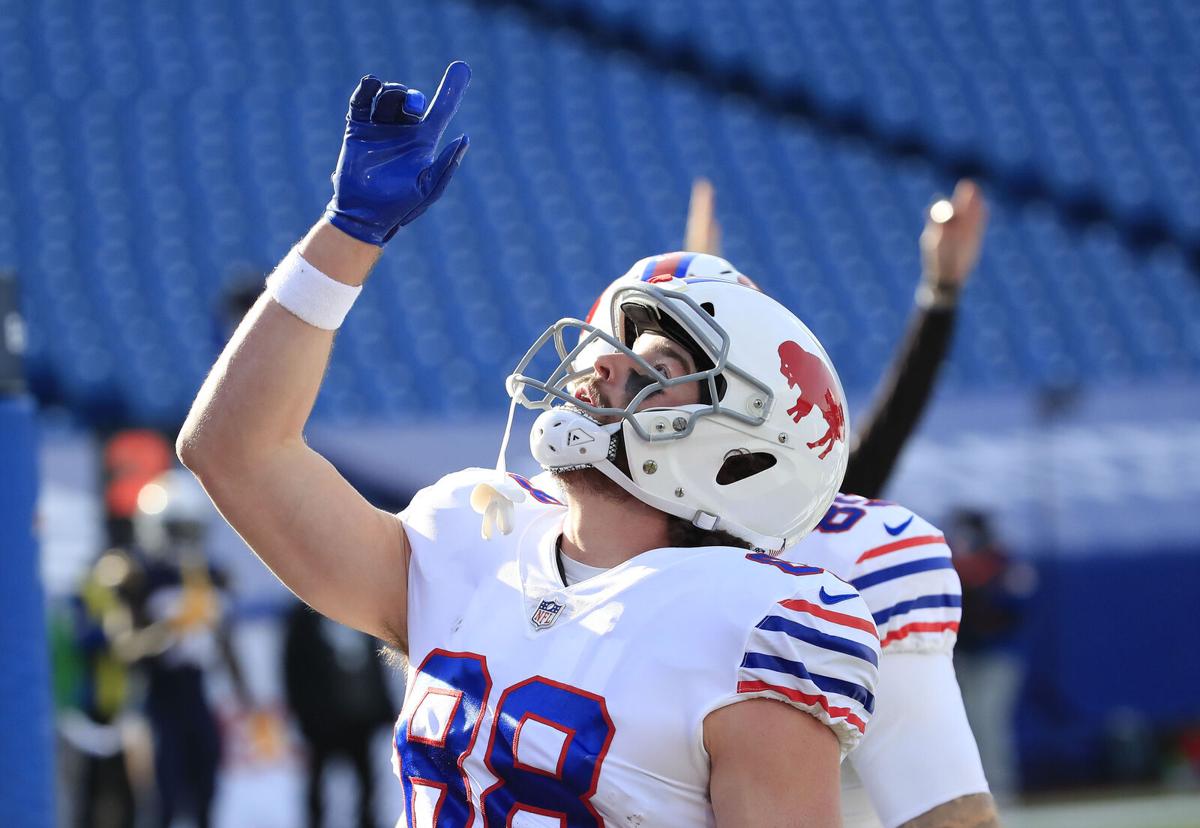 NFL veterans pay attention to the draft.
The obvious thing they watch: Did we draft someone at my position?
Here are the Bills who got good answers to that question and can be declared winners of the 2021 NFL draft. Then there were a handful of Bills who got significantly more competition and can be classified as draft losers:
Levi Wallace and Dane Jackson. The Bills passed on Florida State's Asante Samuel in the first round and on Syracuse's Ifeatu Melifonwu in the third round. It's a vote of confidence for Wallace and Jackson.
In the playoffs last season, Wallace played 53% of the snaps at outside corner and Josh Norman, now a free agent, played 46%. Jackson, the seventh-round pick from last year, saw action in four games. He's expected to provide a challenge to Wallace this summer.
The Bills still could sign a veteran cornerback lingering on the market. Richard Sherman, Casey Hayward, Gareon Conley are some of the players available. But even if they do, a veteran signed off the street at this point isn't going to present as big a challenge as a first- or second-round draft pick.
Devin Singletary and Zack Moss. Clemson speed running back Travis Etienne was long gone before the Bills picked. Jacksonville took Etienne 25th overall. Still, the Bills passed on numerous other mid- and late-round running backs with speed.
The Bills have veteran Matt Breida as a speedy, change-of-pace option. Singletary and Moss will get a full chance to show they're a quality 1-2 punch in the Bills' backfield.
Bills General Manager Brandon Beane said after the draft he never would rule out taking a running back in the first round. But Beane said the team's interest in a top running back was overrated.
"I think you take good football players as long as you have a vision and your coaches have a vision and you're in sync on that," Beane said. "We were never targeting a running back or anything like that. I think that probably got overblown, it sounds like. But there were some guys that we thought were really good and would help us at the right spot. But it didn't work out to when we were on the clock for any guy that was better than what we selected."
Dawson Knox. The former third-round pick from Ole Miss will get a full shot to prove he's ready to blossom in his third NFL season. It was not a great year for tight ends in the draft. The top-rated tight end in the second round (Penn State's Pat Freiermuth) and the two best tight ends in the third round (Boston College's Hunter Long and Notre Dame's Tommy Tremble) both were picked before the Bills selected.
There's no way the Bills would have taken Freiermuth ahead of Carlos Basham at pick No. 61.
Harrison Phillips. The Bills' backup nose tackle is entering the last year of his contract, and the Bills could get out of the contract of starter Star Lotulelei after the 2021 season. No defensive tackle was picked, likely securing Phillips' status on the roster.
Mitch Morse and Jon Feliciano. The Bills can get out of the contracts of both of these two starting interior linemen after this season. However, there is veteran depth behind them – Ike Boettger, Forrest Lamp and Jamil Douglas.
The Bills had a chance to draft a potential immediate interior line starter in the second round. But the Bills took Basham. Ohio State's Josh Myers was taken with the next pick by Green Bay. Then Kansas City took Oklahoma center Creed Humphrey 63rd. The Bills drafted a guard, Jack Anderson, but not until the seventh round.
Mario Addison, backup defensive ends and Justin Zimmer. Obviously, the back-to-back picks of Greg Rousseau and Carlos Basham were bad news for defensive ends at the back of the roster, especially Bryan Cox and Mike Love. Efe Obada, who had 5.5 sacks for Carolina last year and was signed in free agency, has longer odds to make the team.
Addison may well survive. Beane talked about his value after the draft. Still, Addison's job security decreased, even though he already had taken a pay cut in March.
The Bills could save $5.38 million against the salary cap this year if Addison is released before the start of the season. (A $2 million cap hit on Addison would roll into 2022.)
The defensive line numbers game is going to be a subject of discussion for months. The Bills kept 10 defensive linemen last season. There now are 12 defensive linemen on the roster who are either longtime starters, played significant NFL roles last season or were prime draft picks.
At defensive end: Jerry Hughes, Addison, Rousseau, Basham, A.J. Epenesa, Darryl Johnson and Obada.
At defensive tackle: Lotulelei, Ed Oliver, Vernon Butler, Phillips and Zimmer.
The Bills do not need to make any moves until September. In fact, it behooves them to wait. If someone suffers a significant injury, the decision gets easier. Zimmer was the fourth defensive tackle last year, but he's fifth with the return of Lotulelei. It will be hard to keep five DTs.
Bobby Hart, Forrest Lamp and Jamil Douglas. Third-round pick Spencer Brown looms as the favorite to win the No. 3, swing tackle role, which is bad news for Hart, the free-agent signee from Cincinnati. The Bills kept nine offensive linemen last year. The favorites for the other three backup spots are Boettger, Ryan Bates and Lamp. If the Bills decide fifth-round pick Tommy Doyle is worth a spot on the 53-man roster, that causes a problem for one of those interior backups.
Josh Thomas. He spent most of last year on the practice squad and was the No. 4 safety on the depth chart until the Bills drafted safety Damar Hamlin in the sixth round.
Isaiah McKenzie*. The Bills' gadget receiver is playing on a one-year contract and he's likely safe, despite the drafting of sixth-round receiver/returner Marquez Stevenson, who is raw as a wideout. McKenzie is faster (4.42 vs. 4.47 in the 40) and a tad quicker than Stevenson. It's going to be tough for the rookie to beat out McKenzie, which is why there's an asterisk next to the veteran's name. Still, Stevenson has the chance to grow into that role for the long term.