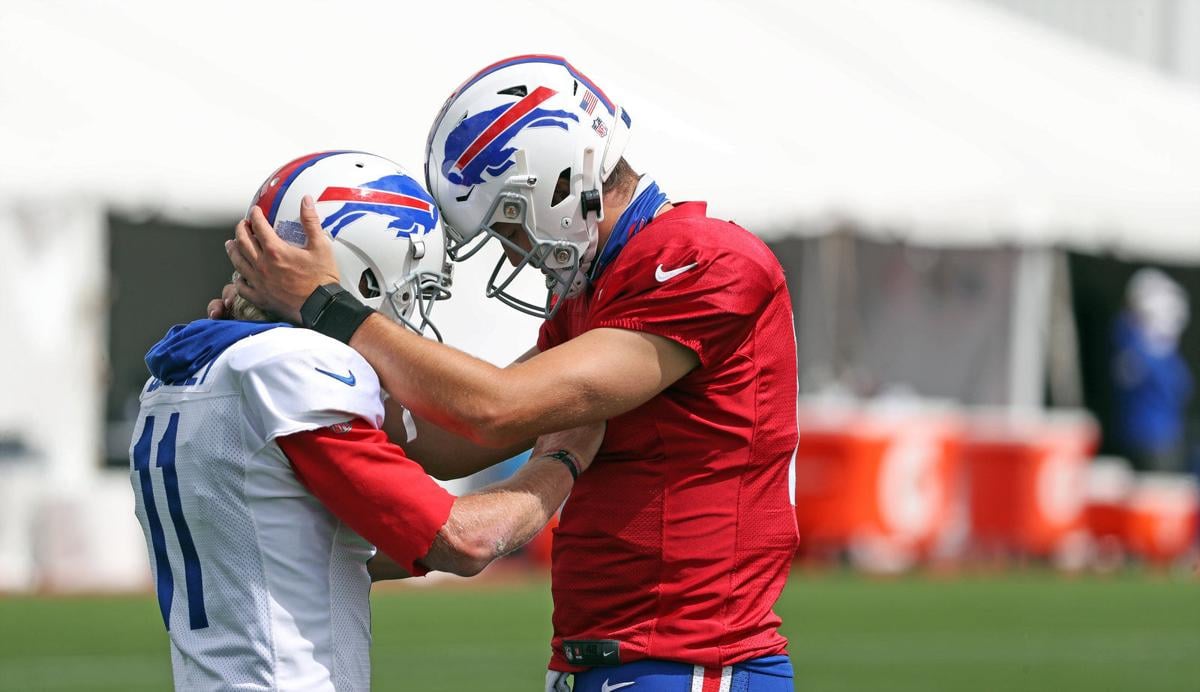 Buffalo Bills defensive end Jerry Hughes was willing to try anything to prevent the spread of Covid-19 on the football field this season.
The plastic face shield affixed to his helmet's face mask, below the visor, lasted one day.
"I think I was the first guinea pig," Hughes said, "and I think the guys watched me during one training camp practice just sweat profusely and just get overheated in that helmet that they were like, 'No, we'll stay away from the Covid shield.' "
While NFL players are required to wear fabric or surgical face masks in their teams' training facilities, no Bills players are wearing the optional Covid-19 face shield developed by Oakley and recommended by the NFL, a team spokesperson confirmed Monday, eschewing the additional layer of protection because of its impracticality on the field.
Players who spoke to The Buffalo News about the face shield primarily cited concerns about heat and visibility for their decisions, despite those factors being taken into consideration by engineers who developed the product.
Oakley, which supplies visors to more than 700 NFL players, designed the face shield in collaboration with doctors and engineers from the NFL and NFL Players Association. It is made of clear plastic and features slits and holes to block the direct path of droplets while promoting airflow and sound waves to foster communication.
But players are wary of its drawbacks and skeptical about its effectiveness.
"I don't think when the bullets are flying and we're really making contact and we're in piles that the face mask is going to really protect us," Bills center Mitch Morse said. "That's not a bad thing. It's just my opinion. I know some teams are, and if it makes a difference, or even psychologically makes a difference, I think that's fantastic.
"I think there's a safety net in us getting tested every day and trusting that guys are taking care of themselves outside the facility. We had that weird thing that happened (with false positives), which was an anomaly, but it's just adaptability. I think guys, if there actually is a correlation and they can prove that it's good, then I'm sure we'll wear it. I just haven't heard anything. That's just me. And right now I'm not."
Long snapper Reid Ferguson was intrigued by the idea, but not enough to give it a try, figuring the added equipment would obscure his vision.
"I think it's an interesting concept," Ferguson said. "I personally haven't used one, but from the pictures that I got just to see how they would operate, I don't foresee myself using one just because given my position, every time I'm on the field I'm using the bottom half of my face mask in general to look through, whether I'm looking at the holder or the punter, underneath my legs. So that face mask could potentially create some problems for my vision as I'm snapping. That's the extent of my feelings on the subject."
Left tackle Dion Dawkins didn't even consider wearing one, since it isn't mandatory, but stopped short of dismissing the idea.
"I haven't given it any thought yet," Dawkins said. "Literally none. But if I need to, I'll wear it. I don't care. I just want to play. ... The only thing I can think of is that it might hurt with breathing, but beside that, if it's going to make the game safer, where I can go home safer to my daughter, then hey, it is what it is."
Trevor Matich, an ESPN analyst who played center and long snapper for 12 NFL seasons from 1985 to '96, spoke to The News in August about the cesspool at the line of scrimmage.
"When you're face to face with a guy, you're not just face to face," Matich said. "You smash your face back into his, and it's a sudden stop for both of you. And your face stops, but what's on your face keeps going, and so particles of spit, sweat, tears, blood if you're bleeding, whatever. As a lineman, your potential for what is being called a 'viral load' close to you is high."
Dr. Allen Sills, the league's chief medical officer, told reporters in July that the face shield was designed with this reality in mind.
"Just like any face shield or face mask for that matter, you're thinking about the aerosolization of droplets and the spread of it via that mechanism," Sills said, "which is starting to be recognized as the more important mode of transmission.
"We often say physical distance and football don't go together. (It's) pretty impossible to keep 6 feet apart on the field, so that causes you to look for other innovations which could possibly be a flag bearer, and we think this falls into that category."
In August, Sills said feedback from players around the league "has been mixed" and that Oakley was designing a second version of the face shield to address some players' concerns.
"I think they have the right frame of mind," Hughes said. "They have the right idea with the Covid shield, but it's too tough to play football with the mouthpiece, running around, trying to knock someone's head off and breathe with that extra piece of plastic in the way. So I probably won't be playing with it, just because we travel a lot, we do go down to Miami and places like that where it's a little warmer, so I kind of want to make sure I'm not cramping up or doing anything like that.
"It's pretty hot in the helmet, I can say that for sure."
News Staff Reporter Jay Skurski contributed to this story.