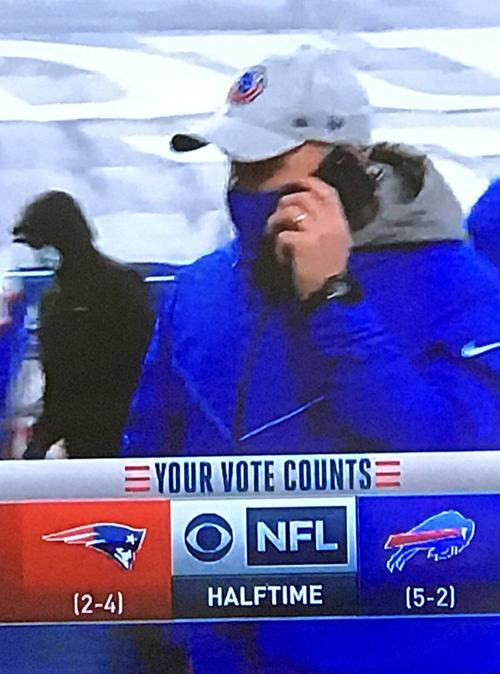 An image of Buffalo Bills coach Sean McDermott speaking on a cellphone as he ran off the field to the locker room at halftime caught some people's attention on social media, especially some New England Patriots fans. 
Bills coach Sean McDermott on his cell phone walking off the field at halftime. Didn't think that was legal. Wonder if it's a family emergency or something pic.twitter.com/EoLmYv5x3W

— Eric Rueb (@EricRueb) November 1, 2020
Because of Covid-19 restrictions, the NFL has limited the number of people allowed on the sideline to as few as possible. Among those people no longer allowed are sideline reporters from the TV network. 
McDermott spoke to CBS sideline reporter Evan Washburn on the phone as he headed off the field, rather than speaking with him in person to minimize contact. Washburn was scheduled to speak to New England Patriots coach Bill Belichick as well. 
This has been the procedure throughout the season around the league, but it was the first time the scene has been caught on TV with McDermott. Indianapolis Colts coach Frank Reich also was seen on TV talking on a phone Sunday at halftime, and Raiders coach Jon Gruden was shown a few weeks ago.