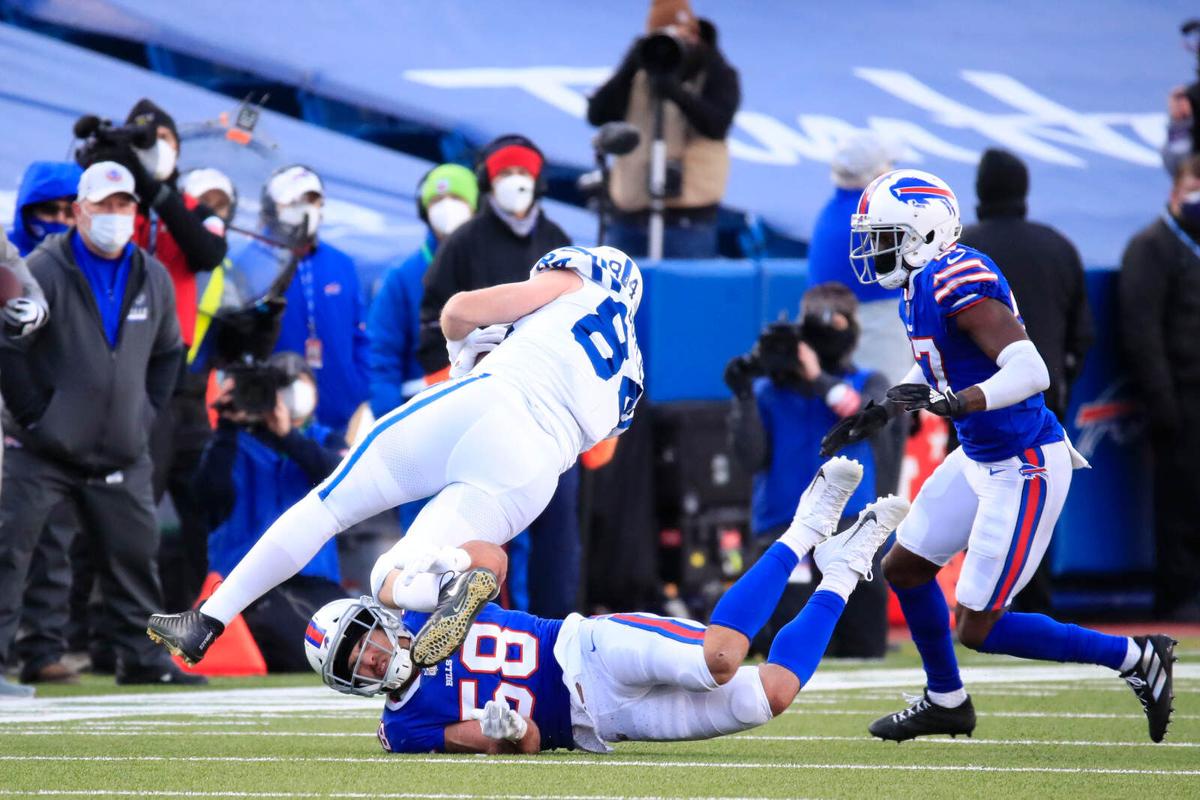 A pair of key contributors had surprisingly small roles for the Buffalo Bills on Saturday in their wild-card playoff win over the Indianapolis Colts.
Wide receiver Isaiah McKenzie played just four offensive snaps, while linebacker A.J. Klein played just three defensive snaps. McKenzie had three touchdowns in Week 17 against Miami – two receiving and another on a punt return. Klein, meanwhile, tied for the team lead with five sacks during the regular season. His role has gradually been reduced, however, with the return of linebacker Matt Milano to an every-down role. Milano played 78 of 79 defensive snaps against the Colts.
Here are four more takeaways from the snap counts against Indianapolis:
1. Despite playing 57 of 59 offensive snaps against the Colts, wide receiver John Brown finished without a catch on four targets. Quarterback Josh Allen and the starting offensive line of Dion Dawkins, Ike Boettger, Mitch Morse, Jon Feliciano and Daryl Williams played every offensive snap.
2. The Bills stuck with Jerry Hughes and Mario Addison. The Bills' starting defensive ends played 61 and 60 snaps, respectively, against the Colts. That was 77% and 76%. During the regular season, Hughes played 59% of the snaps and Addison was at 57%. With their increased work load, rookie A.J. Epenesa was limited to 22 snaps and second-year veteran Darryl Johnson Jr. played 15 snaps.
Linebacker Matt Milano was at his versatile best in Saturday's win over the Indianapolis Colts, writes Mark Gaughan.
3. Levi Wallace played more than Josh Norman. The Bills continued their rotation with the two cornerbacks. Playing time was fairly close, with Wallace on the field for 44 snaps (56%) and Norman for 34 (43%).
4. Zack Moss played 20 snaps before getting hurt. The rookie running back left the game with an ankle injury early in the fourth quarter. Moss played 34% of the offensive snaps. Second-year veteran Devin Singletary played 39 snaps (66%).
That's the number of yards the Bills covered at the end of the second quarter on their touchdown drive to take the lead before halftime. It became the longest playoff drive in postseason history, capped off by a 5-yard touchdown run by Allen.
Allen was 7 of 9 for 117 yards with a touchdown on plays outside the pocket in the 27-24 victory.
The improvement from Allen's first postseason game last year against Houston to right now was on display against the Colts. Without a running game to speak of, Allen was the offense for the Bills. He finished 26 of 35 for 324 yards and a pair of touchdowns, and also rushed 11 times for 54 yards and another TD. Allen is now just the fifth player in NFL history to have a touchdown passing, rushing and receiving in the postseason. He completed 74.3% of his passes Saturday, the highest completion percentage in a playoff game in team history for a quarterback with at least 10 attempts in a game. 
"I'm very grateful to get the win as a head coach, but I think I'm more happy for our team and our fans and (team owners) Terry and Kim (Pegula) and all the people that have worked so hard, even before we got here, honestly. For the fans to stand behind this team the way they've done over the years and the fans and how much noise they made, even at 6,700 I guess was the number – incredible, man. You could feel it in the air. Just the atmosphere and the environment was – it was almost like it was full, especially down the stretch there. Just special. Only in Buffalo."