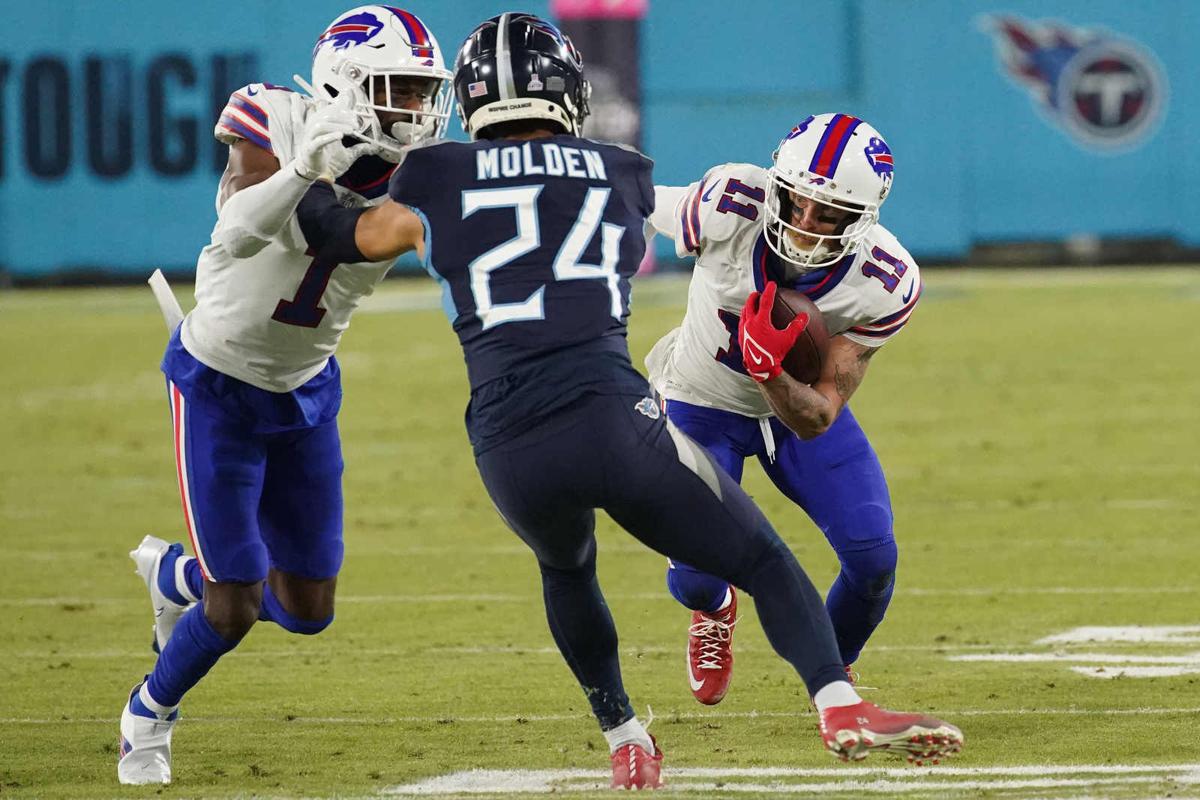 So much for the idea that Cole Beasley's role with the Buffalo Bills was being minimized.
Beasley, the team's veteran slot receiver, had a prominent spot Monday night against the Tennessee Titans at Nissan Stadium, playing 67 of 77 offensive snaps (87%) in a 34-31 loss.
Beasley produced, too, finishing with seven catches for 88 yards and a touchdown.
"You never know how the game's really going to go," Beasley said after the loss. "I knew there would be a chance, so that's really all you can look for. There's still some plays that I feel like I left out there. Me and Josh missed on a third down that was crucial earlier in the game, so I was glad to be involved, but I'd rather not be involved and win than be involved and lose."
Here are four more observations from the Bills' snap counts against the Titans:
1. Matt Milano was full go in his return. The veteran linebacker played all 53 defensive snaps following a one-game absence because of a hamstring injury. Milano finished with two tackles.
2. Even against Derrick Henry, Taron Johnson played a lot. The Bills kept their nickel cornerback on the field for 50 of 53 defensive snaps (94%) despite the Titans being a run-heavy team. Johnson handled himself well, too, sticking his nose in against Henry in the second half to combine with Star Lotulelei on a stop of the Titans' star running back for no gain. Linebacker A.J. Klein played just three defensive snaps (6%). At this point, it's clear the Bills' "base" defense includes five defensive backs and two linebackers.
3. Cody Ford's playing time was limited to special teams. The Bills have settled on a starting offensive line that, for the moment, does not include the 2019 second-round draft pick. Ford played just five snaps on special teams.
4. Gabriel Davis' usage went up. The Bills played Davis, their second-year receiver, on 26 offensive snaps – his most since a Week 1 loss to Pittsburgh. Davis finished with two catches for 25 yards.
"I'm always going to believe in my players and our football team, and my coaches. We'll learn from this and try to move forward and get better because of this. That's what you do. It's a season of ups and downs, so it's the team that stays together the longest that's going to give itself the best chance at the end." – Coach Sean McDermott
It looked like an attractive matchup on paper for Diggs given that the Titans were dealing with some key injuries in the secondary, and it played out that way for the Bills' No. 1 receiver, who finished with nine catches for 89 yards and a touchdown.
Stat of the game: 2 for 5, 40%
That's how often the Bills finished off drives in the red zones with touchdowns, compared to the Titans, who punched in all three of their trips to the red zone with touchdowns. That's not remotely good enough for Buffalo.
"When you kind of have that feeling of being able to move the ball, and you kind of stall out there in the red zone, it's never a good feeling, because we want to score points," Allen said. "That's our job – score touchdowns. We just didn't do a good enough job with that tonight."
The Bills get a week off to rest and recover on their bye. Here are three games with AFC playoff implications that are worth paying attention to in Week 7:
1. Chiefs at Titans. The Bills are tied in the standings with Tennessee at 4-2, but lose the head-to-head tiebreaker. Since Buffalo owns that over Kansas City, it makes sense to root for a Chiefs win, which would leave both teams at 4-3.
2. Broncos at Browns. Both teams are 3-3, but Denver has lost three straight after a 3-0 start, while Cleveland has lost two in a row. The Broncos will want to prove they're not frauds, while the health of quarterback Baker Mayfield remains a major concern in Cleveland.
3. Bengals at Ravens. No matter what, the Bills will be behind at least one of these teams come Sunday. Cincinnati is 4-2, while Baltimore leads the AFC with a 5-1 record. There isn't a bad outcome here necessarily for the Bills, but a Ravens loss would be more beneficial, especially in the race for the top spot in the AFC and home-field advantage.