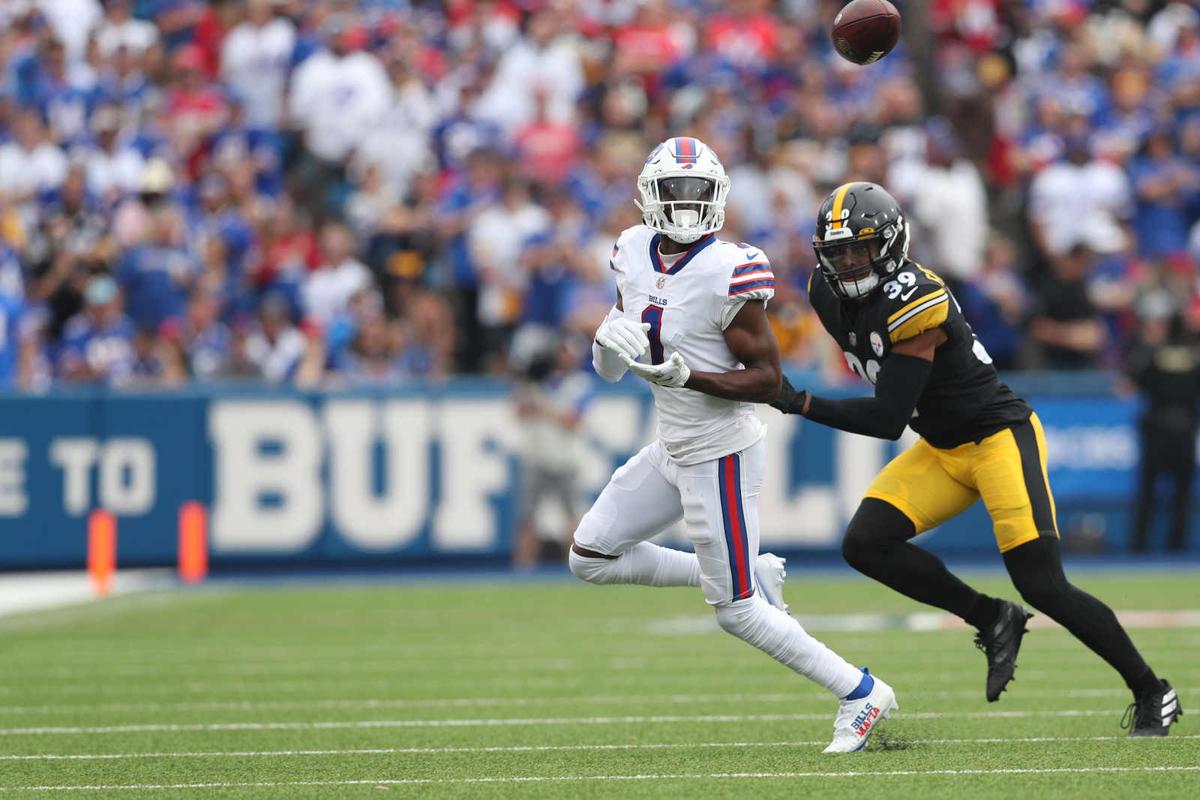 Emmanuel Sanders was not slowed much by a foot injury Sunday.
The Buffalo Bills' veteran wide receiver played 79 of the team's 85 offensive snaps (93%) against the Pittsburgh Steelers, which tied Stefon Diggs for the most among the team's receivers.
Sanders finished with four catches for 52 yards in his first game with the Bills.
"You see the start of a good relationship, I think," coach Sean McDermott said of Sanders working with quarterback Josh Allen. "Until you play games, you're never really sure what you have. Having their first game under their belts now, I think they'll both learn from that and the communication between those two – they're both veteran players. Obviously, Emmanuel a little bit older and that will help Josh and they'll continue to grow together."
Sanders, 34, was limited last week in practice with a foot injury that he's been dealing with for a large chunk of the summer. That has cut into his practice reps with Allen.
"They trust each other and they've only been together a few months now," McDermott said. "But they trust each other and Emmanuel is a veteran receiver who's played in some really big games, won a Super Bowl. That practice time is important – that they continue to work together in the week and continue to build that relationship so that they're effective, especially in critical moments of the game."
Here are four more takeaways from the snap counts against Pittsburgh:
1. Cody Ford dominated the playing time at right guard. Ford, a third-year veteran, played 75 offensive snaps (88%), compared to just 12 for Ike Boettger.
2. Greg Rousseau got a steady amount of work in his first game. The first-round draft pick started and played 30 defensive snaps – 52% of the team total. That was second among defensive ends, behind veteran Jerry Hughes (33 snaps, 57%). Veteran defensive end Mario Addison played 26 snaps (45%). Addison and the Bills believe he'll be more effective with a reduced snap count after playing 57% of the total defensive snaps last season. He had a sack and forced fumble in the game.
3. Devin Singletary was busy. The Bills' running back played 64 snaps (75%) – a career high. He finished with 11 carries for 72 yards.
4. The linebackers and secondary played the whole game. Cornerbacks Tre'Davious White, Levi Wallace and Taron Johnson, safeties Micah Hyde and Jordan Poyer and linebackers Matt Milano and Tremaine Edmunds each played every one of the 58 defensive snaps. That means the team was in its nickel defense for the entire game, which kept linebacker A.J. Klein relegated to just special-teams work. Klein played 19 special-teams snaps.
That was Allen's passer rating against the Steelers – the third time in a row Pittsburgh has held him to less than 80.0. The Bills still were able to win the first two meetings in 2018 and '19, but couldn't pull out the victory Sunday. Allen was held to less than 80.0 passer rating five times last year, with the Bills going 2-3 in those games.
Admittedly, there weren't many players to choose from. Oliver, though, had an impressive tackle for loss. According to analytics website Pro Football Focus, all three of Oliver's tackles Sunday were classified as "stops," which are defined as offensive failures. "I saw Ed flash," McDermott said.
"Whether it be first-game nerves or jitters or feeling stuff with my feet, I've got to play better. I know that. We're going to learn from this. We're not going to panic. It's 16 games left. We know what we need to do. We're going to look at the film and work and strive to get better." – Allen
The Bills better hydrate. They head to Miami in Week 2, where the forecasted high Sunday is 88 degrees. Here are three things to know about the Dolphins, who opened the season with a 17-16 road win against the New England Patriots:
1. Tua Tagovailoa got the job done. The Dolphins' quarterback went 16 of 27 for 202 yards, two total touchdowns and one interception. Miami used some no-huddle and empty-backfield formations to keep New England off balance defensively.
2. Jaylen Waddle had a solid debut. The rookie receiver from Alabama finished with 61 receiving yards and scored the game-winning points on a 3-yard touchdown reception from Tagovailoa in the third quarter.
3. Xavien Howard made the big play. The star cornerback who had requested a trade in the offseason and then got a new contract this summer recovered a fumble by Patriots running back Damien Harris that occurred in the fourth quarter with New England driving to keep Miami ahead.