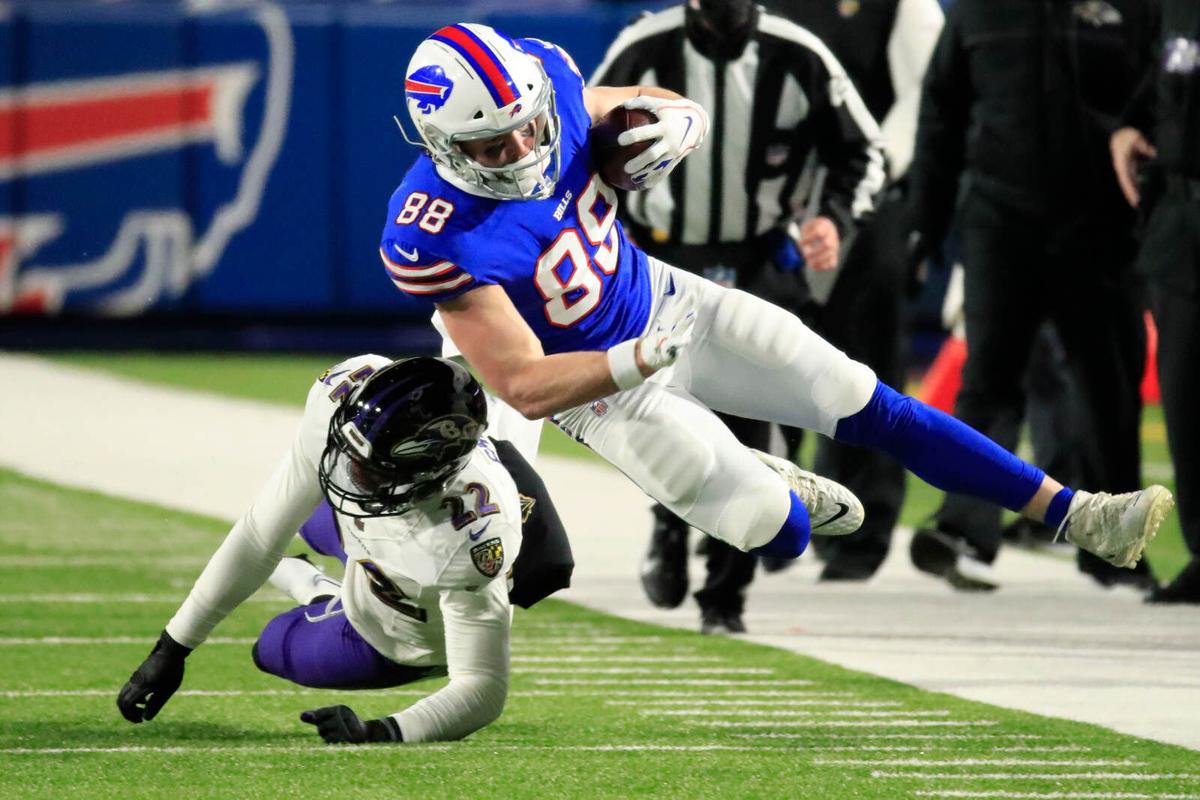 Facing an old-school rushing attack, the Buffalo Bills used an old-school defense Saturday against the Baltimore Ravens.
The Bills used their traditional 4-3 alignment much more than usual to try and slow down Ravens quarterback Lamar Jackson, resulting in a big bump in playing time for linebacker A.J. Klein. He played 32 defensive snaps against the Ravens (41%) a week after playing just three snaps against the Colts.
When Klein came out, nickel cornerback Taron Johnson came in. Johnson played 46 defensive snaps (59%) against the Ravens. On one of them, he made the play of the year – a 101-yard pick-six that extended Buffalo's lead to 17-3 following Tyler Bass' extra point in the third quarter.
"That play was huge. 'Touchdown Taron,' he does what he knows how to do, is get the ball in his hands and then go find the end zone," defensive end Jerry Hughes said. "We know he has a lot of speed, so we try to do our best to set him up so he can go score. That's Taron man. You know, he's a great player. He's been studying his tape, and it shows. He makes those big plays in big games like this. This is what we need. We always talk about throughout the week, scoring on defense, getting our hands on the football, causing turnovers, trying to flip the field for our offense so they can have a short field. For him to not only cause the turnover and score, I mean that's huge. That was a big momentum shift that we needed. That's something that you've got to have at your house."
Here are four more takeaways from the snap counts against the Ravens:
The Buffalo Bills used their "Human Joystick" for a cheat code in their preparations for the Baltimore Ravens.
1. The Bills relied almost exclusively on Devin Singletary. The second-year running back played 48 offensive snaps, which was 84% of the offensive total. Veteran T.J. Yeldon played just eight snaps (14%) in place of injured rookie Zack Moss.
2. The defensive line rotation was in full swing. The nine defensive linemen played anywhere between 26 and 48 snaps. Hughes led the way with 48 (62%), while the fewest were played by Vernon Butler Jr. and Trent Murphy (26 each, 33%).
3. Dawson Knox dominated playing time at tight end. The second-year veteran played 45 snaps, which was 79% of the offensive total. Veteran Lee Smith played 10 snaps, while rookie Reggie Gilliam played nine.
4. Dion Dawkins missed one play. The Bills' left tackle played 56 of 57 snaps, with Ty Nsekhe replacing him for one.
The Buffalo Bills' offensive tackles proved their elite value again in Saturday's victory over the Baltimore Ravens, writes Mark Gaughan.
That was the rushing disparity, in favor of the Ravens. Despite that, Baltimore became the first team in NFL history to lose multiple playoff games after outrushing their opponent by more than 100 yards. Baltimore's other loss came in the 2014 divisional round against New England (136-14). Including Saturday, NFL teams are 147-7 (.955 winning percentage) when outgaining their opponents by at least 100 yards in postseason games, according to Elias Sports.
As if there could be any other choice. Johnson's 101-yard interception return for a touchdown will go down as one of the best plays in team history.
"That's just a huge play, especially in the playoffs when you get a takeaway in general, but when you score on it, it's huge," safety Micah Hyde said. "Knowing Taron, he probably doesn't even know how crazy good of a play that was, but momentum shifter – put us up by two touchdowns and forced them to kind of get out of their offense they normally do and start to throw the football. And that's what we talked about all week is making them do that. It was a hell of a play by Taron."
The defending Super Bowl champion Kansas City Chiefs advanced to the AFC Championship Game and a date with the Buffalo Bills with a 22-17 victory Sunday against the Cleveland Browns.
"We came here with a vision and seeing it move forward, I guess is the best way to say it. We're not there yet, but to move forward in the right direction is good to see and feels good. What a great environment. All our fans couldn't be in the building, but it was loud again for two weeks straight. I thought it was a typical Western New York night with the wind, snow flurries. I was on my way over to the stadium I thought it was gonna be a repeat of the Colts game a few years ago because it was coming down. Just great experience, great atmosphere. Congrats to all the Bills fans out there." – Bills coach Sean McDermott.