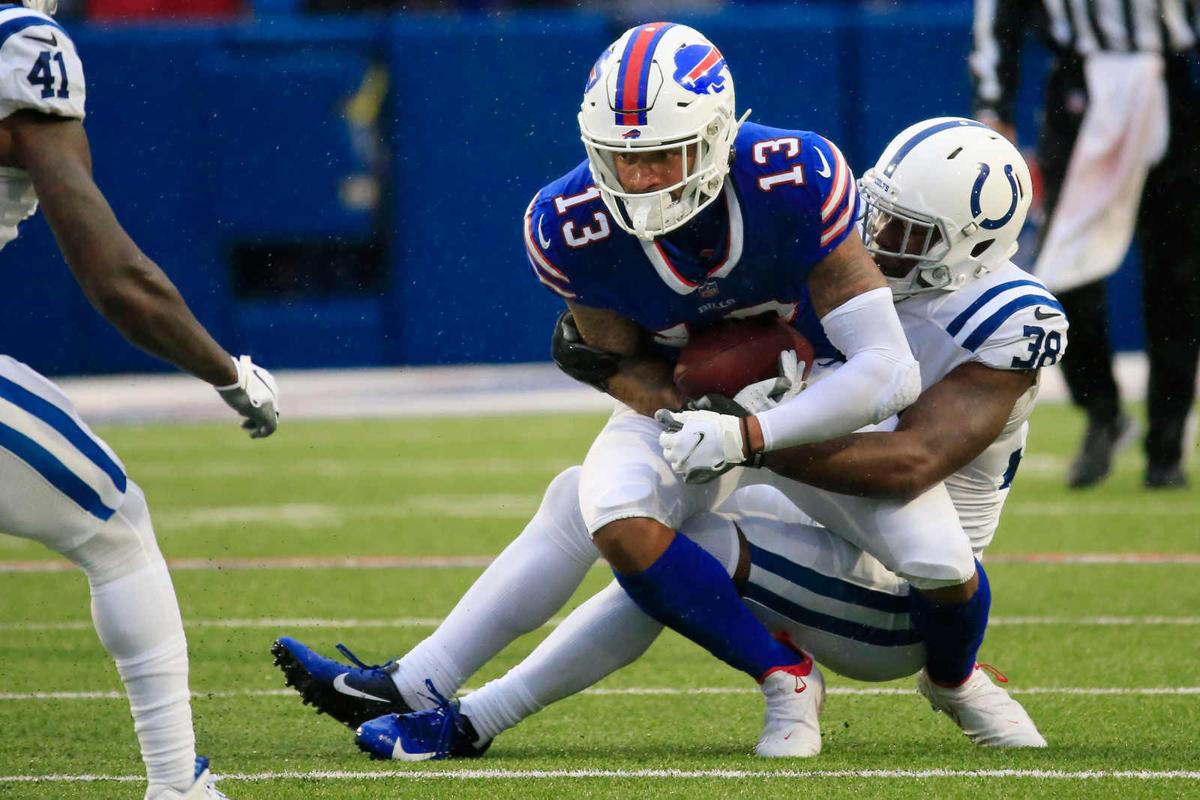 A season-high 105 receiving yards in a Week 10 win over the New York Jets did not lead to additional playing time for Gabriel Davis on Sunday against the Indianapolis Colts.
Davis, the Bills' second-year receiver, played just 19 snaps at Highmark Stadium – 34% of the offensive total – in a 41-15 loss. That's tied for his second fewest in a game this season.
Davis finished with two catches for 27 yards.
Here are four more takeaways from the Bills' snap counts against the Colts.
1. Cody Ford played all 56 offensive snaps. Ford has drawn the wrath of Bills fans on social media, and that reached a fever pitch in the first quarter when he committed a false start that turned third and 3 into third and 8. With the Bills not having a better alternative, however, Ford was one of four offensive linemen – Daryl Williams, Dion Dawkins and Mitch Morse being the others – to take 100% of the offensive snaps.
2. Matt Breida outsnapped Zack Moss. Breida, who led the Bills with five carries for 51 yards, played 18 offensive snaps (32%), which was two more than the 16 played by Zack Moss (29%), who finished with three carries for just 5 yards.
3. Boogie Basham played a career high. The Bills' rookie defensive end played 31 snaps – 45% of the defensive total. Basham finished with three tackles.
4. The Bills emptied the bench in the fourth quarter. Reserves on both sides of the ball replaced starters late in the game. Of course, when that comes in a blowout loss, as opposed to a win, it feels a lot worse.
"We're a really good football team when we don't bite ourselves in the butt. What we put on that field today is not who we are. I got a lot of trust and a lot of faith in our team, and there's no secret that we need to do a better job on all fronts. There's no way around it, but at the same time, it's not panic mode. We got to learn from this one and move on as quickly as possible because we're playing on Thursday night." – quarterback Josh Allen.
Hey, someone has to get it. The Bills punted just once, but it was a good one, as Haack punted it 55 yards, netting 48 yards.
Stat of the game: 8-12, 66.7%
That's the Colts' success rate on third downs.
The Bills will be in the national spotlight on the night of Thanksgiving, heading to New Orleans. Here are three things to know about the Saints …
1. They are banged up. Running back Alvin Kamara, starting right tackle Ryan Ramczyk, tight end Adam Trautman and defensive end Marcus Davenport were listed as non-participants on the Saints' estimated Monday practice report. Starting left tackle Terron Armstead, who did not play in New Orleans' loss to Philadelphia on Sunday, was a limited participant.
2. They also were dominated in Week 11. Like the Bills, the Saints were blown out Sunday, losing to Philadelphia, 40-29. New Orleans trailed in the third quarter, 33-7, before scoring in garbage time to make the game a bit closer. New Orleans turned the ball over three times, the same problem the Bills ran into against the Colts.
3. They've gotten off to slow starts. New Orleans has managed just a lone field goal on its opening possession in 10 games this season. Even though the Saints have gone just three-and-out once on their first offensive possession, they've been unable to reach the end zone – a bit of a surprise given Sean Payton's status as an offensive coach.