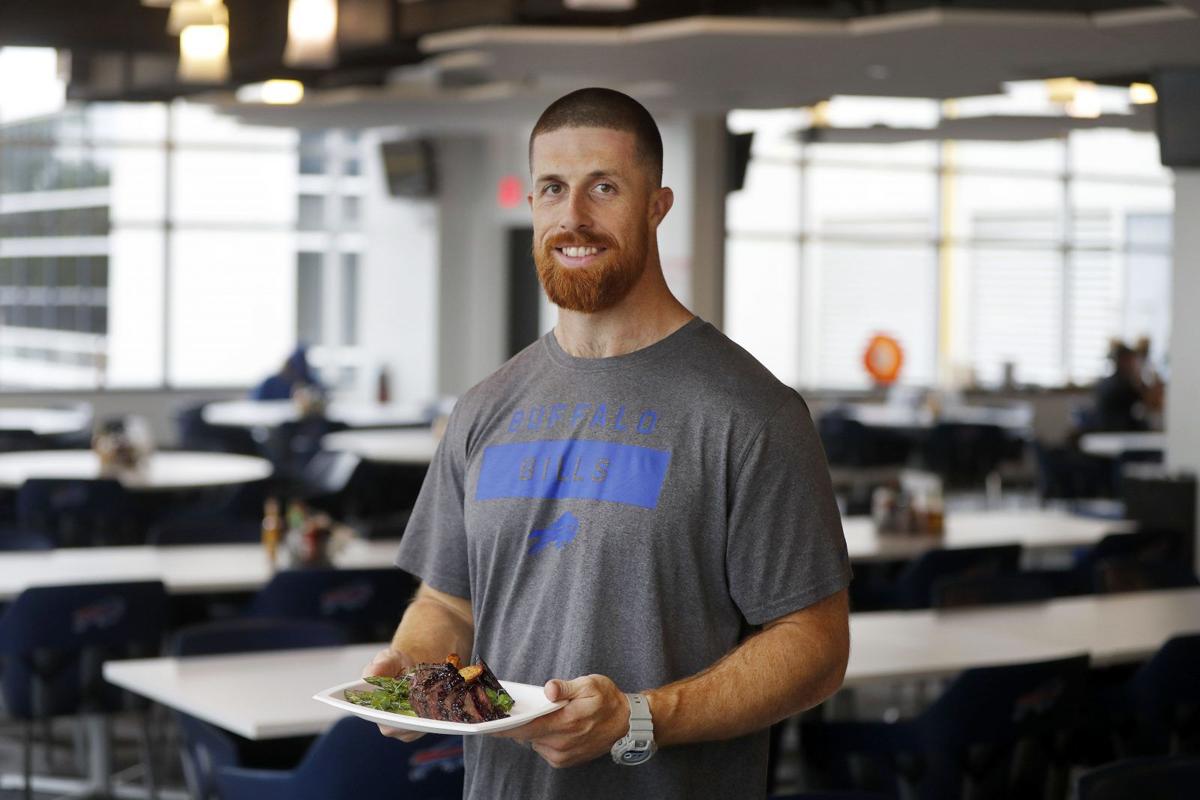 Exhausted from preparing your Thanksgiving feast?
Try putting together 60 pounds of turkey, 110 pounds of mac and cheese, 50 pounds of candied yams and 30 pounds of stuffing and mashed potatoes — enough to feed about 250 people.
That was part of the job description this week for Will Greenberg, the Buffalo Bills' assistant strength and conditioning coach. Along with nutritionist Christine Dziedzic and head chef MacKenzie Arrington, Greenberg is in charge of coming up with the weekly food menu inside the AdPro Sports Training Center. Not only do 63 elite professional athletes need to eat, so does the coaching staff and all the team's employees. That makes for some large grocery bills.
In a typical week, the Bills go through about 7,200 ounces of smoothies (60 a day), 500-600 pounds of beef (grass fed, from New Zealand), 700 pounds of rotisserie chicken, 300 pounds of salmon, 60 pounds of broccoli and strawberries and 52 cases of water.
"It's a mass production," Greenberg said. "A lot goes into it. The staff is here at 4 a.m. getting ready, and here until 7 p.m. cleaning up. We discuss what time of year it is — summer, fall, winter — and the nutrients we want the guys to get in them. What we're going to put out, how we're going to display it, what it's going to look like, there are a lot of decisions. You've got to get a whole bunch of food out there, and make sure it's the highest quality that we can find. They're going to be here for at least breakfast, lunch, if not dinner most of the time, so if we can get them three square meals a day and provide them with the highest-quality food, then I feel like we're doing our job."
That means there aren't many fried foods to choose from.
"We could put out hot dogs and hamburgers, pizza and all that stuff, but we want to fuel them with the highest octane we can," Greenberg said. "These guys are Ferraris. You don't fill those up with 87 — you use the highest-octane fuel that you can. That's our goal all the time."
The Bills offer players as much — or as little — help with nutrition as they would like. Dziedzic, who joined Pegula Sports and Entertainment in June and bounces between the Bills and Sabres, is available along with Greenberg to construct an individualized plan to meet any goal.
"I've been with four teams, it's the best nutrition plan I've ever had when it comes to assortment, health, good taste," fullback Patrick DiMarco said. "Usually when stuff does taste good, it's not good for you. It's not that way here. … If we go up or down two pounds, they have meal plans for us. If you need 1,200 calories, here you go — eat this meal. It's very detailed. It's top notch."
The Bills embarked on a renovation of their cafeteria in 2014. The end result has wowed anyone who comes across it.
"This is definitely the most intricate as far as all the resources we have, and people with different knowledge bases," said veteran linebacker Lorenzo Alexander, who like DiMarco has been with four teams. "There are some other organizations that do it well, but I think ours is one of the best."
"It's absolutely a recruiting tool," DiMarco added. "When guys come in on free-agent visits and they see how nice the facilities are, that has its perks. The weight room that's being built is going to be impeccable. The training room is brand new. The players really appreciate that. There's a lot of perks to being here."
Alexander and DiMarco are perhaps the two Bills most fixated on their diets.
"I've dived in much more so this year, based on my practice that day. Did I squat today? What does my day look like? I match up my nutrition to that," Alexander said. "It helps me maintain my weight as we get later in the year.
"It's more of a lifestyle versus a diet. It's the way I decided to live my life, and it's one of the reasons I'm still able to play (at 35). When you're at a healthy weight and you're eating good foods, it's going to lead to better health overall in general."
Taped above Alexander's locker stall are two pieces of paper that spell out an exact nutrition plan. On Sundays and Thursdays, he follows a low-fat, high-carbohydrate diet. On Tuesdays, that's reversed. The rest of the week, he aims for 150-200 grams of protein, 100 grams of fat and 200-300 grams of carbs.
An example of a Thursday meal for Alexander looks like this:
Breakfast: 6-ounce egg-white omelette, one cup of berries, three ounces of chicken, three buckwheat pancakes. Total calories: 805. Carbs: 65, Fat 6. Protein: 56.
Lunch: 6-ounce salmon, one cup steamed vegetables, ¼ cup almonds, ¼ cup dried blueberries, one cup rice, ½ cup beans. Total calories: 1,059. Carbs: 114. Fat: 40. Protein 27.
Recovery: Poliquin protein power. Banana. Calories: 226. Carbs: 33. Fat: 0. Protein: 25.
Dinner: 6-ounce chicken breast, six ounces of potatoes, two cups of spinach or kale, low-fat dressing, any vegetables. Calories: 480. Carbs: 43. Fat: 10. Protein: 47.
Snack: 2 slices toast, two tablespoons peanut butter, two tablespoons jelly, one waffle, one apple, protein bar. Carlories: 785. Carbs: 108. Fat: 25. Protein: 28.
The final tally: 3,355 calories, 363 carbs, 81 grams of fat and 183 grams of protein.
"That's the benefit of having certain vets that take care of their bodies and showing the younger guys the way," Greenberg said. "If knowledge was the issue, everyone in the world would have a six-pack. Everyone knows what they should be eating — I'm supposed to eat the broccoli instead of the Oreo — but it's the action and the habits that are the hard thing. Vets who last long in the league tend to have those habits."
Alexander is in his 12th season and DiMarco is in his seventh. They attribute at least part of their longevity to their focus on nutrition.
"I try to designate one or two things an offseason to truly improve," DiMarco said. "Two years ago, it was my diet. I got blood testing, urine samples, hair samples, all the genetic stuff you can get to find out what my food sensitivities were. They gave me a packet 40 or 50 pages long, so I learned a lot in that year."
DiMarco was able to maintain his 234-pound playing weight, while shaving 5 percent of his body fat.
"My body transitioned incredibly," he said. "I was able to develop muscle mass and lose fat. Strength went up dramatically. My diet had a lot to do with that. It's something I really focus on."
In training camp, the menu is heavy with carbs and protein, which helps keep muscle mass when a player is working hard in hot weather. Now, with the colder months having arrived, Greenberg's focus has shifted to providing nutrients to boost the immune system.
"We're looking at an athlete holistically — how much they're doing on the field, how much they're lifting in the weight room. Even their mental stress from the classroom to the stress of everyday life," he said. "Sleep and nutrition are the two things that support all of that that's going on. It's not, 'this person's going to have an unbelievable year just because they ate this,' but on the flip side, if they're not taking care of themselves through sleep and nutrition, things can deteriorate fast."
Second-year wide receiver Zay Jones had an issue this season with dropping weight from his listed 200 pounds. He met with Greenberg, who advised him to drink more shakes during the week as a way to increase his calorie intake without feeling like he has to stuff himself.
"He instantly told me what to do and my weight got right back up," Jones said. "Honestly, I need to eat more. I need to eat as much as I can because I burn so many calories running and sprinting. As far as what I'm putting in my body, I'm very careful with it. Not a whole lot of snacks, except for maybe Reese's cups. I actually just tweeted at Reese's, and they're going to send me some."
Greenberg recognizes that those "cheat" meals, or snacks, are necessary to keep people happy. That's why the team has a "suggestion box" that players can make meal requests.
"We've had everything from sushi to a Peruvian dish to beef stroganoff," he said. "We call it a cheat meal, but we keep it as healthy as we can."
Greenberg graduated from the University of Maryland in 2010 with a degree in kinesiology and also spent three years on the Terrapins' baseball team. He's in his second season with the Bills. He came to the NFL from Southern Utah University, and before that spent time at Army and Appalachian State University. The challenges there are from different from the resources-rich NFL.
"At West Point, they ate in the mess hall. Everyone was standing at attention. They got 10 minutes to scarf down what was in front of them, and it was premade, frozen, not-good food," he said. "Southern Utah, it's low budget, how do you get these guys to gain weight and eat well when they have a part-time job and are playing football, trying to support a family? So you have different challenges."
Coming to the NFL, then, has been an eye-opener. Every meal offers a chicken, beef or fish option. Salmon is the most popular, but there are frequently other options, like halibut, tilapia, cod and sea bass. Each meal also includes a green vegetable and a starch, along with a salad and soup bar. Greenberg said all the food in the cafeteria is cooked in either coconut oil or grass-fed butter. No processed oils are used.
"I can't compare it to all the other teams, but I know that we get a ton of support from everyone here," Greenberg said. "This is important. We're constantly told, 'be the best in the world.' That's what we try to do every day."
Greenberg pulls ideas for how to construct menus from everywhere, including rugby teams.
"The thing about food is, there's a lot of preference. There's an emotional attachment to food, too," he said. "You put one thing out, someone's going to hate it and someone's going to love it, so we put tons of options out there so that guys do get what they need and what they want."
The kitchen staff will even send players home with meals. For younger players who may not have a family — or know where to go to eat — that's an invaluable resource.
"We want to put as much food in front of them that we can control," Greenberg said. "Buffalo has plenty of food places to eat, and there's plenty of healthy places, but if you can have control over how it's made, what it's made with, you have peace of mind that they're putting the best fuel that they can in their body."
Greenberg also does his best to keep things fresh. Once a week, the Bills have a themed meal based on the upcoming opponent.
"Wherever we're going, it's going to be similar to that," Greenberg said. "You might have lobster if you're playing New England, or fish tacos and avocado toast if we're going to L.A."
The week before the bye, it was a New York City-deli inspired spread before playing the Jets, complete with deli sandwiches, bagels with lox and the like. This week, however, Thanksgiving took over the cafeteria.
"I'm trying to eat light this week so once Thursday comes, I can pig out a little bit," said 315-pound offensive lineman John Miller. "I'm going to definitely enjoy myself, but then after Thursday I'm going to throw the leftovers in the trash, because I'll be too tempted to go back in that fridge."
Offensive lineman or not, that's something we can all relate to.