Jon Feliciano was about six weeks removed from left shoulder surgery when the Bills' offensive lineman was filmed roughing up some guy he'd never met in the hallway of a private residence in downtown Buffalo.
"Which was so hilarious to me, personally, because Jon is just a massive human being and the actor that they picked for this particular scene looked like just a little rag doll next to Jon," said Feliciano's publicist, Frances Reimers, recounting a day of filming the pilot episode for an unreleased mafia-themed TV show in late February. "In no reality would this human being ever be able to take on Jon, so for me personally, I was sitting off set while they were shooting that scene and kind of laughing hysterically because it just looked like Jon was throwing a child, even though it was a grown man."
Feliciano, listed as 6-foot-4 and 325 pounds, has started at right guard, left guard and center since joining the Bills in 2019, and is expected to move back to guard Sunday against the Los Angeles Chargers after playing center for most of the last three games.
His versatility on the field has been mirrored, if not exceeded, by his many exploits outside of football.
Bills' Jefferson is happy to have his family with him as he navigates his first season in Buffalo during the Covid-19 pandemic.
The 28-year-old heavily tattooed husband and father of two is a budding actor, model, gamer, philanthropist, cook, social media influencer, creative consultant and aspiring author, blossoming from a teenager living in a condemned trailer in South Florida into the Bills' somewhat reluctant Renaissance Man.
"Honestly, I get ideas and then I tell Frances and then she is the driving force that makes me do all this," Feliciano said. "It's always that thing where, 'Ahhh, do I really want to do this?' Because I don't love talking. I don't love being in the public eye. But then, like the acting thing, the night before I was like, 'Ahhh, I don't want to do this.' I was all nervous. And then I get there and I do it and I had a ball. I had a great time."
Last offseason, Feliciano was cast for a speaking role in the pilot episode of "For Nothing," a proposed television series based on a crime novel of the same name by Buffalo native Nicholas Denmon, who said the project is being shopped to studios.
Days later, in early March, Feliciano was photographed in spandex tights by renowned New York City photographer Howard Schatz for his project, "The Shape of the NFL," which won first place in sports photography from the International Photography Awards and might become a coffee table book.
While he was in town, Feliciano filmed an unreleased cooking segment with acclaimed New York City chef and Bills fan Allison Fasano, who has appeared on the Food Network shows "Beat Bobby Flay" and "Chopped."
Earlier this month, Feliciano was named the first U.S. influencer for Fortmen's, a U.K.-based online fashion retailer that sells "big and tall" men's clothing for sizes 2XL to 8XL from premium European brands. Customers can save 15% by using the code JON15.
Feliciano described his style as "relaxed but sexy."
As for the best-dressed player in the Bills' locker room?
"Me. But if I wasn't going to say me," Feliciano said, "I'd say the guy who dresses the best but also dresses the worst is Trent Murphy. Because Trent will dress like a freakin' redneck from the boonies and then the next day come in with like a suit. Last year, when we went to away games, the first away game I was so surprised to see Trent in a freakin' suit and pull it off the way he did."
Tyler Kroft's newborn daughter became the Buffalo Bills' saving grace.
What does Feliciano know about fashion?
Not much. But he carries himself with a natural confidence and a style all his own.
"There's different type of people, right?" Bills left tackle Dion Dawkins said. "There's people that are swaggy. There's people that really don't care about swag and they're just like a default, clean cut, just-get-the-job-done, classy, honestly. And then you have guys that try to add a little spice to it, naturally. And Jon is one of those guys that is just a natural spice guy.
"You can just tell, 'OK, he has an edge to him.' When he walks around, when he talks to you, he speaks from the heart, and what he's saying, he means. A lot of guys can't be like that. A lot of guys try to, but they fake it. A guy like Jon is just natural. He cares. He's a family man. And he likes video games. It's the best of all worlds."
Feliciano has made charity a priority.
At the start of the pandemic, Feliciano funneled $25,000 to Feeding South Florida and Meals on Wheels of South Florida. He donated more than $4,500 to Latinos in Action. In September, while on injured reserve with a torn pectoral muscle that forced him to miss the first seven games of the season, he hosted an esports tournament that raised $3,500 for the Hispanic Scholarship Foundation.
Josh Allen, who helped care for Feliciano while he was injured, participated and contributed signed merchandise for the cause.
"He brings some nasty when he's on the field, for sure," Allen said. "He's a relentless effort type of guy, a guy that's not afraid to step up for his dudes. He's shown that to me a few times. I love him."
As for why they're such good friends?
"It's hard to describe," Allen said. "I just think that he's always in a good mood, for one. He's always trying to find light situations. I think we have very similar humor. So he's just easy to talk to, easy to joke around with, his laugh is infectious. He's got a lot of bromances with a lot of the guys in the locker room."
Feliciano also recently collaborated with 26 Shirts for a "Felic Navidad" T-shirt, which bears his likeness and will generate proceeds for The Belle Center, a community center and human services agency in Buffalo. It's available through Dec. 3. 
"I love it," Feliciano said. "They were trying to do 'Feliciano Navidad,' and I was like, 'No, no, no, we've got to do 'Felic.'' I saw the design and I was like, 'Dang, dude that is perfect.' It's definitely the best Christmas shirt out this year."
"What he did in high school, he's doing in the NFL," said Tom Westerberg, Murray's coach at Allen. "Nothing's changed."
Feliciano met Reimers through his accountant, former Miami Hurricanes teammate Tyler Horn, shortly before he signed with the Bills.
"He was like, 'I have a guy, he's really ready to really buckle down and focus on his brand and start cementing his legacy for his football career and beyond, and I think that you guys would work really well together. Would you like to meet him?'" Reimers said.
"And I was like, 'Absolutely.'"
Reimers has been in public relations and marketing for nearly two decades and founded her own company, Firestarter, in 2016. Her clients have included the Denver Nuggets, the NFL Alumni Association, Aaron Donald's AD99 Solutions Foundation and Dale Earnhardt Jr.'s JR Motorsports.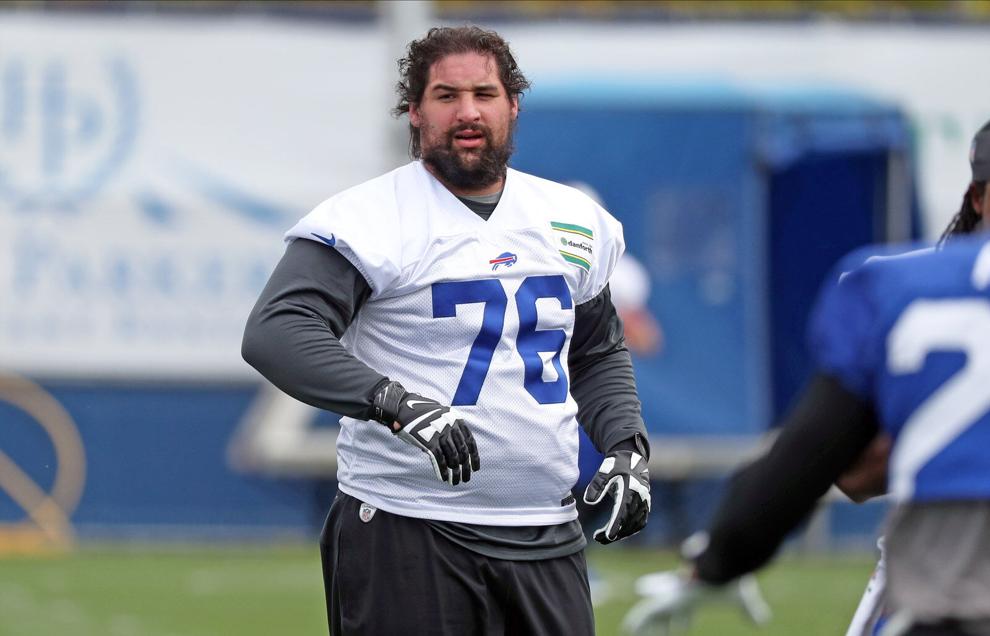 Reimers flew to Tampa to meet with Horn, Feliciano and his wife, Shannon, and listened intently as he shared his story.
"We sat and talked for probably a little over two hours," Reimers said, "and I just got a really great feel for everything that Jon is passionate about, what he enjoys doing … and as he was talking, I was just seeing so many verticals and niches and people and topics where Jon could fill in and be part of that narrative."
Feliciano was born on Long Island in 1992, the middle child of three brothers, and his parents, of Puerto Rican and Sicilian descent, divorced when he was 10. His father drove a bus in New York. His mother, who moved the kids to Florida, worked at a nightclub and twice survived cancer. His older brother was violent and abusive. His younger brother, one of his inspirations, was born deaf.
Feliciano turned to video games and sports as an escape from his home life.
When his mom's finances crumbled and she moved back to New York, Feliciano remained behind to finish his junior and senior years of high school while living at his friend Sean Cole's house in the King's Manor Trailer Park in Davie, Fla.
Feliciano played four seasons at the University of Miami, where he graduated with a degree in human resources management. Feliciano said he was a business major because he wanted to own a restaurant, a dream he might yet resurrect.
"I like making people happy," Feliciano said. "When you cook a big meal and everyone's eating and everyone's smiling – the best part is when everyone's quiet and everyone shuts up, because they're just trying to eat. That brings me some joy."
He was drafted in the fourth round by the Oakland Raiders in 2015.
Cole, the best man at Felciano's wedding and namesake for his daughter, died after a single-car accident in 2016. He had been in a coma for four months when he was taken off life support. He was 22.
Feliciano's entire right leg is tattooed in his memory. It includes the words "born sinner but I'll die better than that," lyrics from their favorite song by J. Cole, as well as planets, stars and an image of his friend climbing a stairway to heaven.
That was his first leg tattoo, but he already had both arms and his chest and back filled. His other leg includes tributes to Pokemon, Dexter's Laboratory and the Fresh Prince of Bel Air.
"When I look back at it, I wouldn't trade my upbringing for anything," Feliciano said, "because it made me – no one can mess with me. People can't really get in my head."
Reimers left the meeting enthused and eager to get to work.
"He's just so approachable," Reimers said. "He's so real. And he really puts himself out there in a way that I think anyone from East Coast, West Coast, upper class, lower class, middle class, there's something about him that is very versatile to just a myriad of different audiences."
But there was nothing but radio silence.
"A couple of weeks went by and I didn't hear anything and I reached out to him again and I'm like, 'Hey, do we want to get something started here?'" Reimers said. "And he was like, 'Oh, yeah. Sure. Yes.' And we were off to the races after that. And that was literally right before he got picked up to come to Buffalo."
Feliciano didn't earn a full-time starting job in the NFL until he signed with the Bills in 2019, following offensive line coach Bobby Johnson's move from Oakland to Buffalo.
Feliciano is in the final year of a two-year, $7.25 million contract and is slated to become an unrestricted free agent after the season. It seems a foregone conclusion that the Bills will try to bring him back, but Feliciano knows that football won't last forever.
"Honestly, I'm dipping my toes in a lot of different areas so I know what to do after football, really," Feliciano said. "Besides diving into my kids, which I will do, I'm going to need some kind of hobby or thing to keep me motivated throughout the day-to-day."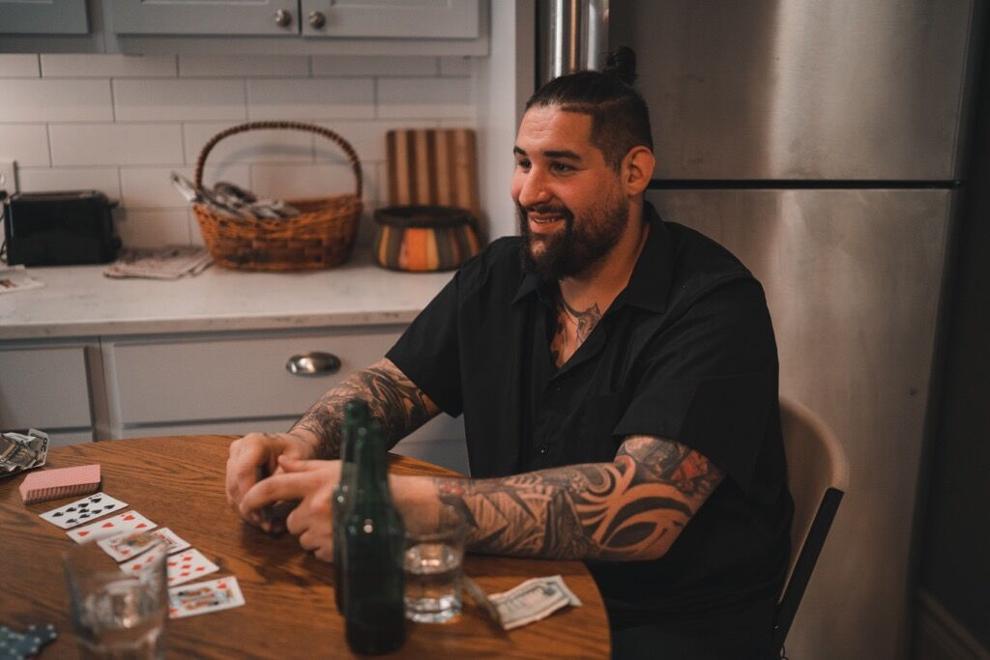 That's how Feliciano ended up practicing lines of dialogue with Reimers in an idling car one freezing day in February, before stepping on set for a long day of filming a TV pilot.
Denmon, a massive Bills fan, wanted local cameos in his production and reached out to Reimers to gauge Feliciano's interest in participating, despite his lack of acting experience.
"I knew that the limited lines wouldn't be a huge issue," Denmon said. "And the fight choreography was easy enough – plus he is a massive guy so he fit the part we were casting. Then he showed up on time, prepared, and really did a great job. We couldn't have been more pleased."
Reimers said she pitched the idea to Feliciano late last season, when the Bills were playing in Pittsburgh and she was in the area working for Donald's charity in his hometown.
She said Feliciano trusts her judgment.
"I'm not opposed to telling him if I think something is going to be a waste of his time or if somebody's using his visibility to raise their visibility," Reimers said. "We have those conversations. But by and large, I know what he likes and what he doesn't, and so I usually filter things to what I know he's actually going to like, and I try to make it as digestible as possible and easy for him to get himself involved in, if he's interested.
"And he's not opposed to pushing back and saying, 'No.' Or, 'Could we get this?' Or, 'Can I do this instead?' He's very vocal and very good at putting his two cents in. And by and large, he trusts that whatever I'm bringing his way, I've thought through and vetted and we have a pretty quick 'yes/no' conversation about a lot of the things that I put in front of him."
In that moment, he said yes, even though he had second thoughts the night before filming. But he followed through on his commitment, and just like on gamedays, showed up prepared.
Denmon said Feliciano "brought a lot of joy and energy to the set," but didn't inform his colleagues that he played for the Bills.
"I didn't want the focus to be on his career versus the work he was doing," Denmon said.
The scene where he roughed up the guy in the hallway took about three takes.
Another scene, where he was playing cards at a kitchen table, took almost 20, for various reasons.
It was sweltering on set, with so many people present, despite the windows being open.
"It was a great time," Feliciano said. "People don't understand how long days – they only needed me for one day – but that one day was one hell of a long day. Overall, I had a great experience."
Since the presence of a Bills player wasn't announced, Feliciano ended up going unrecognized for much of the day, even though a chunk of the cast and crew were from Buffalo.
"At the end of the day when the director or one of the producers was like, 'Hope you and the Bills have a really good season,'" Reimers said, "people were like, 'What? What? What?' You could tell the light bulbs finally turned on in their head and they were like, 'Oh my God! Oh my God! And they finally connected the dots of the whole day.' It was really funny.
"That's a perfect example of Jon. He's just not a person that is like, 'Hey, check me out, I play for the Buffalo Bills.' He's just an everyman. And so approachable."
It's uncertain whether the show will be picked up by a studio, and if it is, whether the studio will retain the same actors and actresses.
But there's a chance Feliciano could get another phone call.
He'd be just fine with that.
"I guess I'm a marketable guy," Feliciano said. "Let's just throw everything on the dartboard and see which ones stick. Football has turned into a lot of other opportunities and I would be silly not to take them."