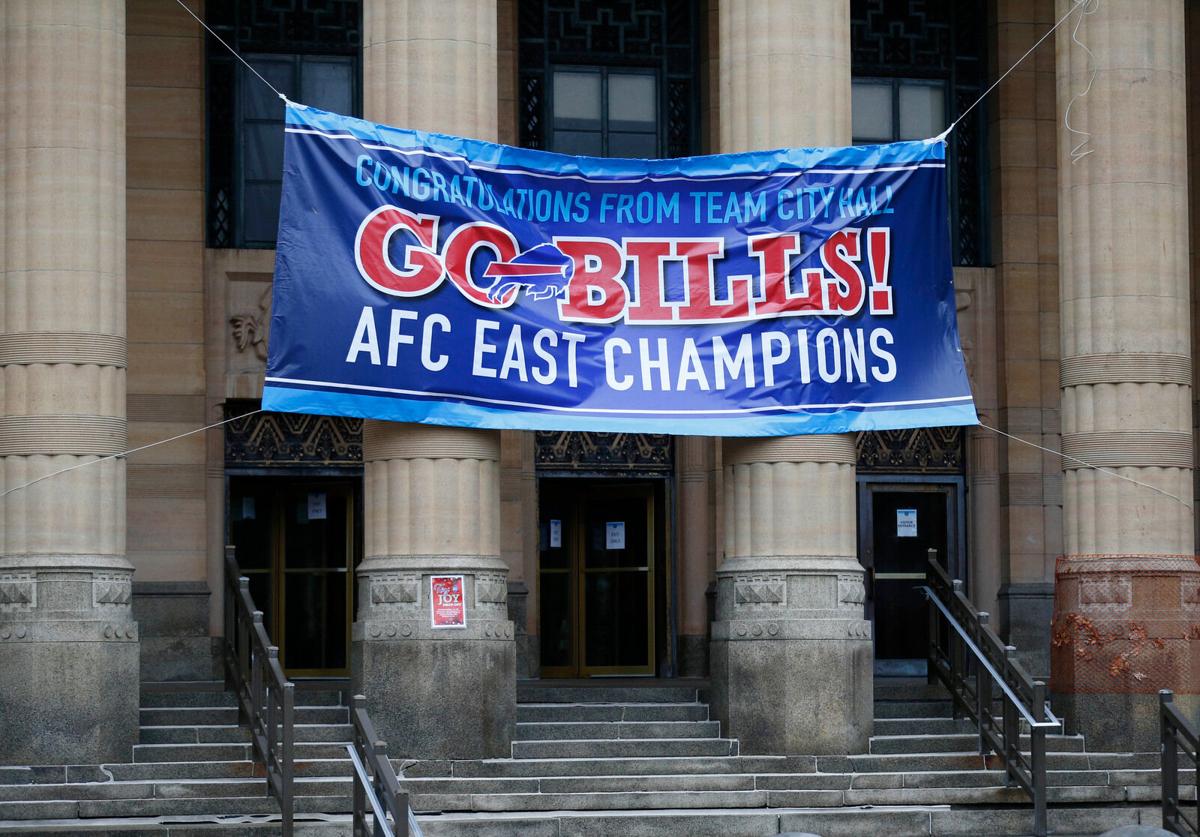 Two of the first words Gov. Andrew M. Cuomo uttered on Sunday's media call were: "Go Bills." 
"I would like to be at that game – a playoff game – as much as anyone," he said, the day after the Buffalo Bills became AFC East Division champs. "This has been a long time coming for Buffalo, and there are no fans like Buffalo Bills fans."
Cuomo holds the keys to the stadium when it comes to allowing fans to attend games in person, and so far the doors have remained locked during the pandemic.
But he reiterated his position from Friday that if state Health Commissioner Dr. Howard Zucker agrees that there's a safe way for Bills fans to attend games, he'll allow it, once again sharing his feeling about Bills fans.
"I'm a fan of the Giants. I'm a fan of the Jets. But Buffalo, they have really stood the course for many years, and they should be as excited as they are," Cuomo said. "We need some good news, and the Bills are delivering good news."
He also said the state has received the Bills' stadium reopening plan. The state is considering "some alternatives and ideas" and is comparing the Bills' plan to plans implemented at other league stadiums of similar size.
So what might it take to get fans in the seats?
The answer depends on two independent factors: How strong is the Bills' plan to keep fans safe if they're allowed in? And how good or bad will Western New York's infection and hospitalization rates be in early January?
The first part is easier to answer. Many other NFL franchises permit some stadium fan seating, offering some insight into what health safety measures would be enacted to safeguard public health.
But guessing at the infection and hospital capacity levels two to three weeks into the future is much more difficult. Although positive test rates recently have been falling in Erie County and Western New York, the Christmas and New Year's holidays are still ahead and could bring another surge in positive test rates and hospital admissions.
Cuomo said he's interested in looking at the region's Covid-19 data for the first week in January.
"What's the overall infection rate? What's the overall hospitalization rate?" Cuomo said. "That really makes a major difference, the environment that you're in." 
Tailgating could be 'greatest risk'
Health officials say it is possible to have a stadium reopening plan that lowers public health risk.
"I think we could do it relatively safely," said Dr. Thomas Russo, chief of infectious diseases at the University at Buffalo Jacobs School of Medicine and Biomedical Sciences.
But that requires addressing a number of potential trouble spots, he said, including tailgating and luxury boxes.
The Bills' plan to reopen the stadium to fans originally envisioned 17,000 fans being allowed through the doors. But Erie County Executive Mark C. Poloncarz and Health Commissioner Dr. Gale Burstein said they thought 7,000 was a safer number, based on the size of the concourses, public spaces and restrooms. That's roughly 10% of the stadium's seating capacity.
At the 13 other NFL stadiums that allow fans, including Cleveland and Pittsburgh, seating capacity limits during the pandemic range from 7% to 25% of the maximum.
The county executive said governor's officials are "seriously considering" permitting a return of fans.
The problem isn't social distancing between fans in the bowl seats. It's getting fans in and out of the stadium safely, addressing issues such as restrooms and food concessions, Poloncarz said.
The Bills would likely adopt some sort of timed entry and exit system and require mask usage, especially when fans are out of their seats. Some stadiums have adopted cashless purchasing requirements and enacted other safeguards regarding stadium food purchases. Restroom distancing could be dealt with the same way it is at other businesses, by closing off certain urinals and stalls.
But Russo said plan evaluators would need to take a close look at what they allow in luxury boxes – who is allowed in and whether food is permissible, and what access exists to outside air.
"Luxury boxes would be dicey – even with the windows open," he said.
Tailgating is another problem identified by both Dr. Zucker and Dr. Russo. 
"That's even more of a challenge than even trying to make sure you get fans into a stadium appropriately," Zucker said Sunday.
Even if tailgating is banned in the stadium lots, efforts would need to be made to forbid tailgating in private lots as well.
"I'd definitely have no tailgating," Russo said. "That would be the greatest risk, quite frankly."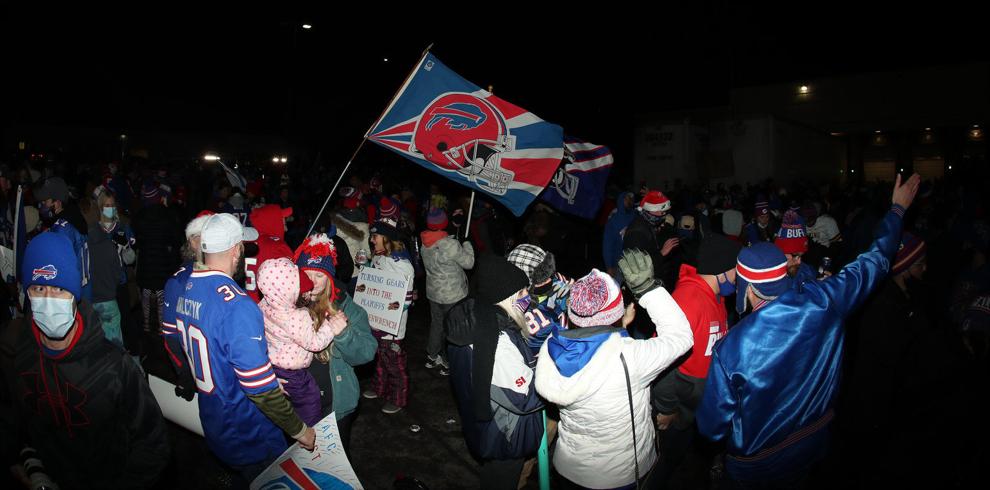 Even if a good plan is adopted, the issue of compliance still remains.
While many Bills fans have clamored for a full reopening of the stadium, others have pointed to the thousands of fans who descended on the Buffalo airport to welcome home the team after their Saturday night win. 
Both Cuomo and Buffalo Mayor Byron W. Brown said that wasn't a safe move for Bills fans.
"We want the Bills to go all the way this season, and we want all the Bills fans to be here for that long Buffalo Bills run," said Brown, after unveiling a new Bills banner in front of City Hall on Sunday. "So we have to continue to follow CDC guidelines. Avoid mass gatherings of any type for any reason. Let's celebrate, but let's celebrate smart."
Russo was more optimistic that the Bills fans would do the right thing if the stadium is reopened in a limited capacity with new rules. He noted that there was no giant surge of cases resulting from Thanksgiving, which suggests many local residents are playing it safe.
And if dangling the incentive to attend a Bills game in person is what it takes to get more Western New Yorkers to buckle down and be safe, he said, he's in favor.
"I have a fair degree of confidence that if a good plan is put in place and people say, 'Hey, these are the rules, please follow them,' I have confidence that people will follow them," he said.
Del Reid, co-founder of the Bills Mafia fan movement, said he knows some fans have threatened to storm the gates of the stadium, but he's deferring to health experts.
"I have a degree in computer science," he said. "I'm not an infection control specialist."
He had written off attending any Bills games for the season and was mentally prepared to stick with TV viewing, but said Sunday that he's now undecided about whether he'll try to see a game in person.
He said he takes comfort in the fact that the current Bills team is on track to be a great team for some time and that this isn't a flash-in-the-pan moment.
"This is just the first of many home playoff games to come," he said. "Out of all the new normal we've had to embrace this year, this is the best new normal I could ever imagine."