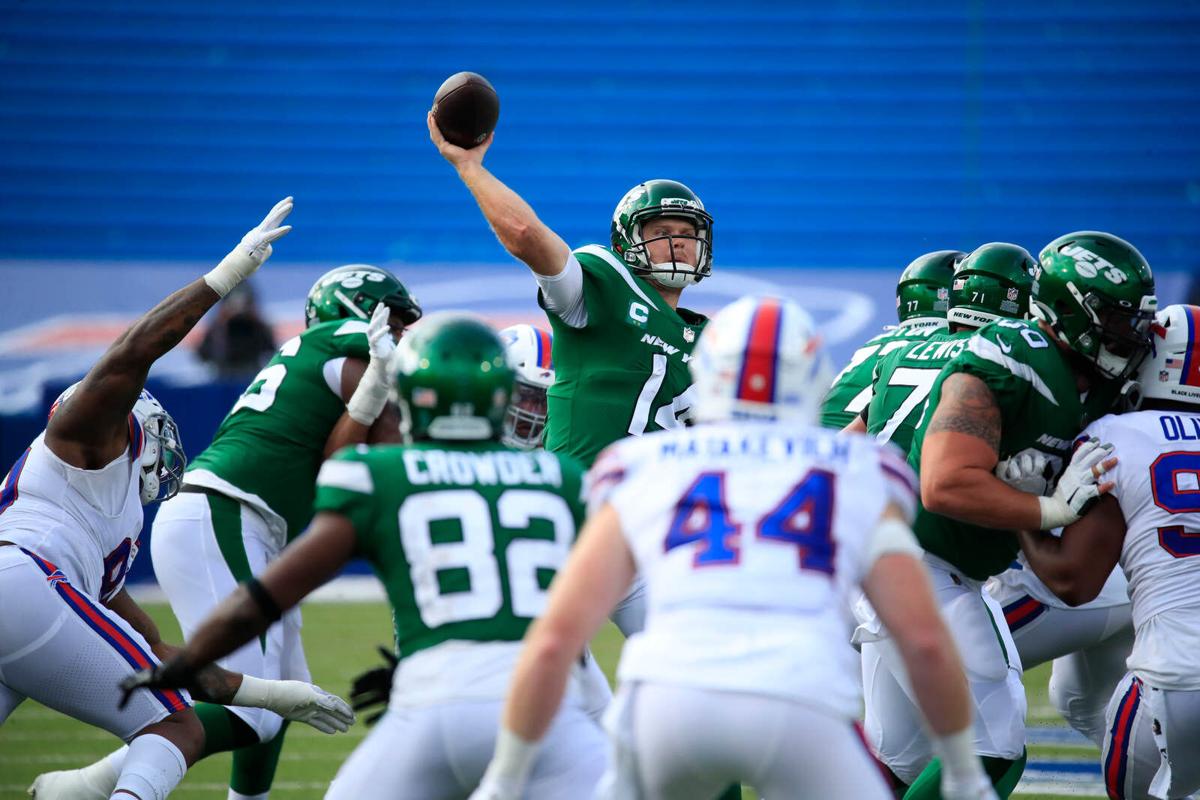 The Buffalo Bills' vaunted pass defense picked up where it left off last season in Sunday's season-opening victory.
The Bills allowed just 195 passing yards a game last year, fourth best in the NFL. The New York Jets managed just 205 net passing yards in their 27-17 loss to the Bills.
While the Bills' upgraded receiving corps got rave reviews, the Jets' overhauled wideouts did not. Jets quarterback Sam Darnold did not complete a single pass to a wide receiver that traveled 20 or more yards downfield, and he only attempted one such throw to a wideout. (Darnold did, however, hit a 30-yard downfield pass to running back Le'Veon Bell.)
The Bills' defensive backfield had a superb day. But there will be many more difficult tests for the secondary this season against more talented receiving units.
Here's a position-by-position grading of the Bills' game on a scale of 0 to 5, based on video review.
Defensive backs (5.0): The competition was far from elite. The defensive backfield was sound as usual. Tre'Davious White had a third-down pass breakup early to force a punt. The only pass he "allowed" in his direction was a completion to Chris Hogan for zero yards against zone coverage.
Defensive coordinator Leslie Frazier did not seem too worried about the Jets' receiving corps. Frazier blitzed Darnold with five or more rushers on 38.5% of dropbacks (15 of 39). Keep in mind, Frazier blitzed only 24% of pass plays last season, according to Buffalo News charts. The Jets beat a Bills blitz on the 69-yard receiver screen TD pass to Jamison Crowder, but that was due to a missed tackle.
Frazier kept safeties Micah Hyde and Jordan Poyer busy. They combined to rush the passer on 10 different plays. Poyer read the tight end screen to Chris Herndon and forced a fumble on the play.
Linebackers (3.5): Tremaine Edmunds missed the tackle on Crowder. That spoiled an otherwise strong day for the middle linebacker, and he was injured on the play. Matt Milano, who also was injured Sunday, again showed his elite range by getting back into zone coverage and leaping for an interception. The knock on Darnold has been that he tries to do too much and forces throws. That was Exhibit A. Tyrel Dodson had a sack when Darnold forgot to throw the ball away.
Defensive line (4.0): The Jets averaged just 3.5 yards a carry. Darnold was sacked three times and hurried plenty. Defensive tackles Ed Oliver (5 hurries) and Quinton Jefferson (4 hurries) gave guards Greg Van Roten and Alex Lewis troubles. Oliver had a hurry on the interception. Mekhi Becton likely will be a capable left tackle for the next decade, but Jerry Hughes got low to get three hurries on him, while Mario Addison dipped underneath him for a sack. Hughes' best play: Hustling to catch Le'Veon Bell from behind on a screen. Trent Murphy had a sack. Newcomer Justin Zimmer had a tackle for loss and a hurry.
Quarterback (4.0): It's too bad Josh Allen missed a wide-open John Brown in the end zone. It got a lot of social media attention. People who didn't see the game won't realize how dynamic the Bills QB played. He kept his eyes downfield in "muddy" pockets. He made tight-window throws to the sidelines to Stefon Diggs and Brown. He showed touch on the 22-yard deep over to Diggs. He used voice inflection to draw the Jets offsides. He audibled on the TD pass to Brown. He used his big frame to shrug off pass rushers. He kept a couple of those zone-read handoffs when he should have handed off. When Jordan Jenkins doesn't play the dive, the running back should get the ball.
Offensive line (4.0): Dion Dawkins was a rock at left tackle, allowing just one pressure. New right tackle Daryl Williams did a solid job, giving up a handful of hurries but no sacks. Cody Ford was stout in pass protection. He stoned mighty Steve McLendon on an early, 20-yard pass and blocked up McLendon on a 7-yard run. Quinton Spain might have been the best of the linemen. His stout blocking neutralized Quinnen Williams. Granted, this was not one of the more talented edge-rushing teams the Bills will face. Allen held the ball for 6.42 seconds on the 4-yard TD pass to Zack Moss and for 6.19 seconds on the 20-yard sideline throw to Brown in the first quarter.
Running back (3.0): Devin Singletary and Moss combined to average just 2.28 a carry. But this game was about passing and avoiding the Jets' stout run front. The Bills will need to run better out of the spread. That's on the to-do list. On the plus side, Moss had two good blitz pickups, and Singletary had one. Moss showed good awareness to "sit down" in the hole in the zone on the TD catch.
Receivers (4.0): Diggs and Brown produced as expected. Gabe Davis got 43 snaps, which shows how much the coaches trust him. Isaiah McKenzie got 16 snaps, keeping the jet-sweep action in the minds of defensive coordinators. Dawson Knox only got three targets, but he made two nice catches.
Special teams (3.0): Kicking game grades always are problematic because there are so many different units. Andre Roberts finally got to face his old team and was sensational. The average punt return last year was 7.6 yards. Roberts gained 31 yards over the average on his five punt returns and had a kickoff return to the 32-yard line. That's four "extra" first downs Roberts gave the offense. On kickoff returns, Taiwan Jones drew a penalty, and Dean Marlowe made a tackle inside the Jets' 15. Corey Bojorquez's lone punt boomed for a hang time of 4.9 seconds (4.5 is good). Of course, the mitigating factor is the two missed field goals by rookie Tyler Bass.
[BN] Blitz Daily Updates
Feed your obsession. Start every morning with a guide to the latest news from One Bills Drive and stay informed about what is going on elsewhere in the NFL.