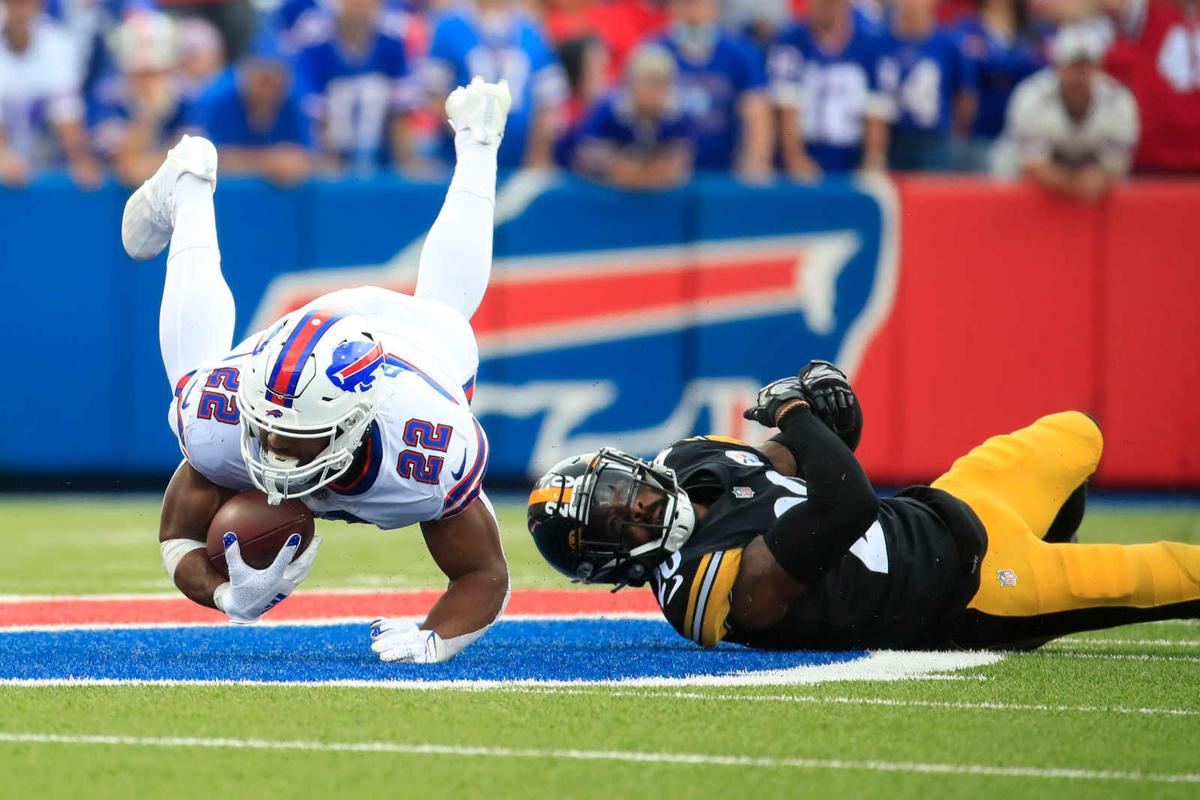 Needing just one yard Sunday against the Pittsburgh Steelers, the Bills went backward. 
On fourth-and-1 early in the fourth quarter, the Bills ran a play where Josh Allen pitched to running back Matt Breida, who was behind Allen. The play was sniffed out immediately by Steelers cornerback Cameron Sutton, resulting in a seven-yard loss. The Steelers went on to win 23-16, with the following few drives bringing the lead change. 
"Yes, it's still very early in the season, but another loss would turn the disappointment of the defeat to the Steelers into full-blown panic," Jay Skurski says.
"I think anytime a play doesn't work, you always want it back. But we're trying to call plays that give us a chance here, and maybe spring a big one, and they did a good job," offensive coordinator Brian Daboll said Monday. "We motioned 19 (Isaiah McKenzie) across, and he stayed, and they got us. We were trying to be aggressive there. And certainly, you'd like to have all those calls back that quite don't work out the way you hoped, but we're trying to be aggressive."
The Bills were 8-for-10 on fourth down last season, which tied Miami for best conversion percentage. However, those same teams also tied for fewest fourth down attempts overall. Buffalo was 1-for-3 on Sunday.
The ill-fated Breida attempt came from the Pittsburgh 41.
The Bills probably left their offensive tackles on an island too often in Sunday's 23-16 loss to the Pittsburgh Steelers.
Daboll pointed out a different theme as changing the game: The Bills' inefficiency in the red zone.
Buffalo was 1-for-4 from inside the 20 on Gabe Davis' 3-yard touchdown reception in the second quarter. 
"That was the game right there. Look, there's plays here or there throughout the game that you're hit, you're gonna miss, but 1-for-4 in the red zone, we're down there and we're settling (for field goals), that's hard to win particularly against a defense like that," he said.
The Bills also attempted a flea flicker on third down early in the game, needing just one yard. In balancing playing aggressive with being effective, Daboll said the results were on him.
"You put a lot of work and effort into it, and a lot of studying, and you have a plan, and that plan kind of adjusts throughout the game, and you'd like them all to work. There's no question about it. Unfortunately it didn't, and I'll take responsibility for that," Daboll said.
Emmanuel Sanders finished with four catches for 52 yards in his first game with the Bills.
He did note it's worked in the past for the team, though.
"I'd say the Bills ran it a while back with (Drew) Bledsoe, and they hit a big one on it," Daboll said.
Bledsoe was the Bills' quarterback in 2003 and '04. Daboll was the New England Patriots' wide receivers coach at the time.
The Steelers quickly capitalized on the botched fourth down, scoring 17 consecutive points after it, including a blocked punt returned for a touchdown. Coach Sean McDermott acknowledged the issues spiraled a bit from there.
"I thought just overall we've got to give ourselves a chance to get the first down and we didn't give ourselves a chance to get the first down. That's probably the most disappointing thing about it," McDermott said.
McKenzie tweaks other shoulder, returns
When wide receiver and return specialist Isaiah McKenzie left the game with a shoulder injury Sunday, it seemed possible he had reaggravated an injury that kept him out toward the end of preseason. On Monday, McDermott said it was actually McKenzie's opposite shoulder. McKenzie returned to the game, but his longest return of the day had already come.
"I thought he did some good things. Obviously, got us off to a good start with that return," McDermott said. "He did bang his other shoulder – actually, it was his other shoulder this go-around, but I thought he did some good things for us particularly on special teams."
McKenzie's 75-yard kick return at the start of the game resulted in just three points for the Bills, who were able to get a first down on the opening drive. While McKenzie got them to the Pittsburgh 24, McDermott said that settling for a field goal that early was indicative of a larger problem Sunday.
"You go back to the first (quarter) after the kickoff return and we've got the ball at the plus 20-some yard line and we come away with three points. That's a moral victory for the opponent at that point, right?" McDermott said. "There were opportunities for us in the game, and we didn't take advantage of them."
No concern on Dawkins' health
The offensive line struggled for a few reasons Sunday, but McDermott said Dion Dawkins' health was not one of them. The left tackle missed the beginning of training camp after a hard bout with Covid-19, and has been candid about his four days in the hospital from the virus. Ahead of the game, Dawkins spoke about the challenges of balancing conditioning and recovery, but said he felt physically ready.
"I don't think he was affected. That's probably more of a direct question for him, but as far as I'm aware, he was not affected by the Covid piece (Sunday)," McDermott said Monday. "As I said, along with the entire offensive line, I didn't think we won our one-on-one matchups enough."
Guard rotation week-to-week
The Bills rotated Cody Ford and Ike Boettger at right guard Sunday, with Ford getting the start and the bulk of snaps. Ford finished the day playing 88% of offensive snaps for the Bills, Boettger the other 12%. McDermott said it was a matter of trying to go to "the hot hand," though he acknowledged it was hard for anyone on the offense to get into a rhythm. Daboll intimated that the Bills will keep rotating.
"Yeah, I think we'll take it week by week. We felt Cody was doing a pretty good job in there, so (offensive line coach) Bobby (Johnson) thought that would be a good guy to keep in there for awhile," Daboll said. "He did a pretty good job in there. Obviously got to do better, but we'll take it week by week."
A day after he was inactive, running back Zack Moss tweeted Monday morning about living by the mantra "Control your controllables." McDermott said Sunday it was "just numbers" factoring into the decision for the second-year running back, and Daboll said he's comfortable with the level of play from the group as a whole.
"I'm pleased with that room. They've had a good training camp. I thought Motor (Devin Singletary) played well yesterday. I have confidence in that room," Daboll said.
Singletary had 72 yards on 11 carries.
"He made some cuts and got north and made some nice plays," Daboll said. "Devin had a good camp. I think he had a good game yesterday. We'll keep working with him."