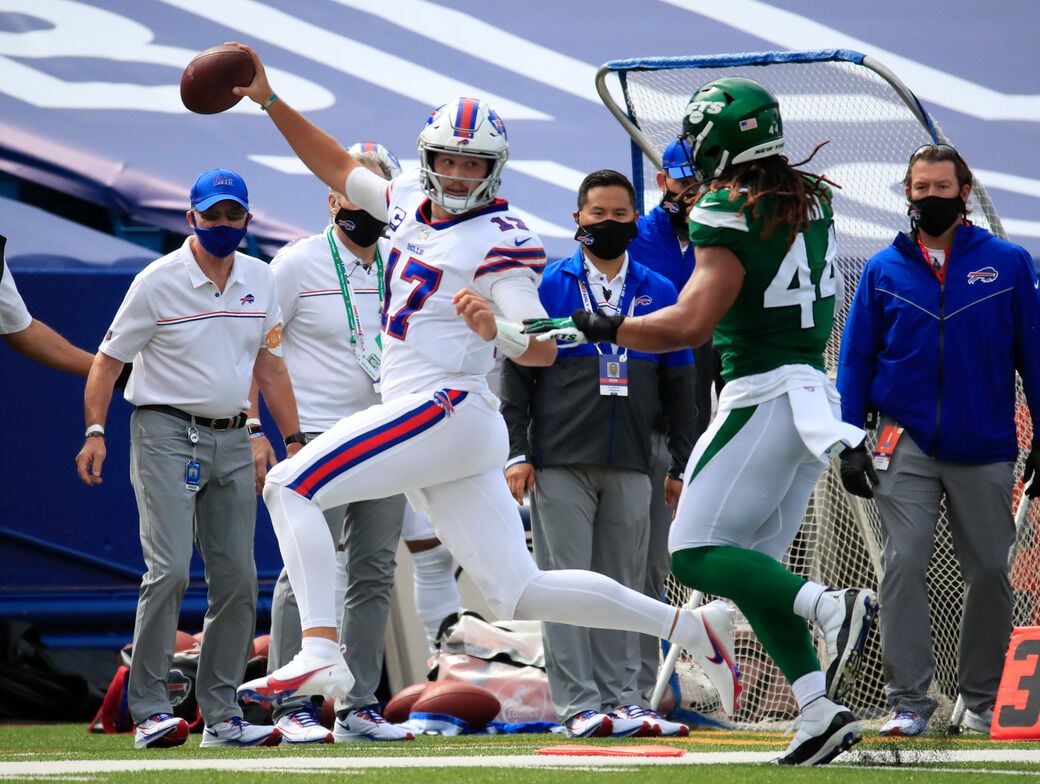 In this most bizarre of NFL offseasons and opening days, Bills fans were not allowed to witness the 27-17 shellacking of the New Jersey Jets live at Bills Stadium. But on television, from anywhere on Earth, you could see whatever you wanted to see – about the league, game, franchise and its franchise quarterback, Josh Allen.
For Allen, reception is reality.
His receivers had 33 of them for 312 yards and two TDs. Allen had no interceptions and a 104 passer rating.
If you're an Allen fan, and wanted to see progression, he went through them and was consistently on target. He checked down, checked off, and checked all the boxes. He tooketh what was giveth him and taketh away much of his criticisms. His 300-yard bugaboo vaporized.
If you're an Allen hater or skeptic, you saw him gift the Jets with two aggravating fumbles and a couple of wild misses that were sure scores. He cost us 13-20 points, which you can't do against good teams.
But it was Sam Darnold who looked like what Allen detractors see in Allen. Inaccurate. Ill-advised throws. Little awareness. Not taking the team on his shoulders regardless of his teammates or coaches.
Bills offensive coordinator and play-caller Brian Daboll was the epitome of you see what you want. For many, if not most fans, he had a great game plan, early scripted play-sheet, play design and play-calling for the most part. The offense was inventive, unpredictable and almost unstoppable.
For many fans, Daboll was absolutely infuriating, calling far too many designed runs for Allen. If you were inclined to absolve or excuse Allen's fumble-itis, you could blame it on Daboll.
I went both ways. I like many of the Allen-designed runs but was yelling at my TV well before his second turnover. Allen runs enough in scrambles. I like it a lot close to the end zone. But up 21-0 was just criminal.
Outside of one miserable set of downs in the red zone when Allen threw two ill-advised bullets into so many Jets tight in one spot it looked like the Blue Angels – sandwiched around the excruciating John Brown miss – Allen was efficient, effective, and often exquisite. He hit on 71% of his passes with a series of darts, lobs, anticipations, on the runs, and precision decisions.
The Bills had a good screen game for the first time in any millennial's lifetime. Daboll and Allen smartly and successfully called and executed screens to the RBs, TE and WRs. Allen's observant audible to a WR screen to Brown smoked the Jets for an embarrassingly easy TD.
Stefon Diggs was as advertised and then some, catching eight of nine targets, moving the chains, displaying a toughness and awareness the Bills rarely possess from WRs; plus separation, solid blocking and leadership. And Diggs' biggest enrichment may be making Brown and Cole Beasley, who were pretty good No. 1 and No. 2 wide receivers last year, into extremely good No. 2 and No. 3. The Bills got rookie Gabriel Davis into the game early and ran 20 plays out of the "10" formation with one back and four wideouts.
The OL was mostly excellent in pass protection and excrement in run blocking. New right tackle Daryl Williams was surprisingly stout the entire game, and could be a steal as a low-key free-agent signing.
All three defensive units were stellar, albeit, granted, against a pitiful Jet offense. The DL is deep, versatile and confounding to any team's OL. Justin Zimmer literally came out of nowhere to make a tackle for loss and another couple of nice plays. Whipping Boy, Trent Murphy, whom many Bills fans wanted to be dropkicked, whipped past Jets offensive tackles for a sack and sound run defense. Don't look now, but Murphy has seven sacks and two forced fumbles in his last seven games.
The Bills' roster is so deep across the board that even our whipping boys are solid NFL starters.
Mario "Value" Addison quickly showed his worth. Addison and Jerry Hustle tortured the Jets top draft pick, Mekhi Becton, much of the day and Hughes recovered a fumble. The Bills frustrated Darnold more than bullied or bulldozed him, but did their collective job.
The linebackers stalled the Jets all day, except for a horrendous missed tackle by Tremaine Edmunds on the first NYTD. Edmunds, who is still remarkably 18 months younger than Bengals star rookie Joe Burrow, got injured and had to leave the game, along with stud Matt Milano, who had a spectacular leaping INT. As of this writing, both are day-to-day and expected back soon.
The defensive backs were sticklers. Tre White was barely challenged. Levi Wallace regained his starter's job and threatened not to give it up again with blanket coverage. Jordan Poyer caused a fumble and headaches for Jets receivers all game. Playing hurt, Micah Hyde played a helluva game. Taron Johnson and Dean Marlowe both provided consistent dependability sideline to sideline.
The special teams shined, excluding the lingering Tyler Bass Pro Shops fiasco. Another "eye of the beholder" example, with some Bills fans even blaming Corey Bojorquez for a missed hold. Bass barely made a chip shot 22-yard FG, too. He wasn't even all that accurate in college, finishing at a career 79% with his longest kick 50 yards, and was at 71% as a senior, regressing almost 20% from his solid junior year.
But if you want to see it the way you want to see it, his percentage was 81st all-time in college football history and better than some fantastic NFL kickers.
Bills fans already fret over Bass and some are ready to throw him back after one game. Others point to famous Bills blunders like releasing Gary Anderson after a terrible rookie preseason. He went on to four Pro Bowls. That is an excellent point; until one considers the 50-plus other kickers with terrible preseasons that the Bills released who went on to only kick their dog.
But Bojo didn't beclown himself on his punts as he often did in years past, booming each one. Andre Roberts was in beast mode all afternoon, gaining about as many yards as were humanly possible each return. Bass' kickoffs were as advertised and a boon to the ST.
The Bills were well-prepared in this most extraordinary of openers. GM Brandon Beane and coach Sean McDermott did an exemplary job getting the team together and ready, and they played a relatively mistake-free game, Allen's fumbles and several harmless penalties notwithstanding. The Bills doubled the Jets in first downs and held a 41-19 TOP advantage. Plus seven points and 80 yards of the Jets' meager team totals came in garbage time with 3 minutes remaining and trailing by 17. The game was not as close as the score.
As far as the actual fan experience goes, we all saw what we wanted to see as well. If angered at the politicalization of the game, we were angered by the national anthem and pregame absence. If we like the players doing what they can for equality on their platform, we loved the awareness they were promoting and the class in which they came together and did it.
The Bills players providing Internet access for underprivileged kids in Buffalo is awesome any way you look at it.
Some fans, like myself, didn't often notice the difference of the game in empty stadiums unless it was brought to my attention by camera operators, TV directors and announcers.
But NFL football and Buffalo is back. The Bills are good, scary good, and most of us are eager to know what is next for this well-built contender, with a lot of players and human beings to love.
We all cannot wait to see what is next, and will next get a peek Sunday in Miami against the blowholes.
As Van Miller might say, It's Pandemic-Fandemodium!
Pete Rosen is a screenwriter in Los Angeles, lifetime Buffalo fan, and may be found blathering daily at twobillsdrive.com.
Be the first to know
Get local news delivered to your inbox!