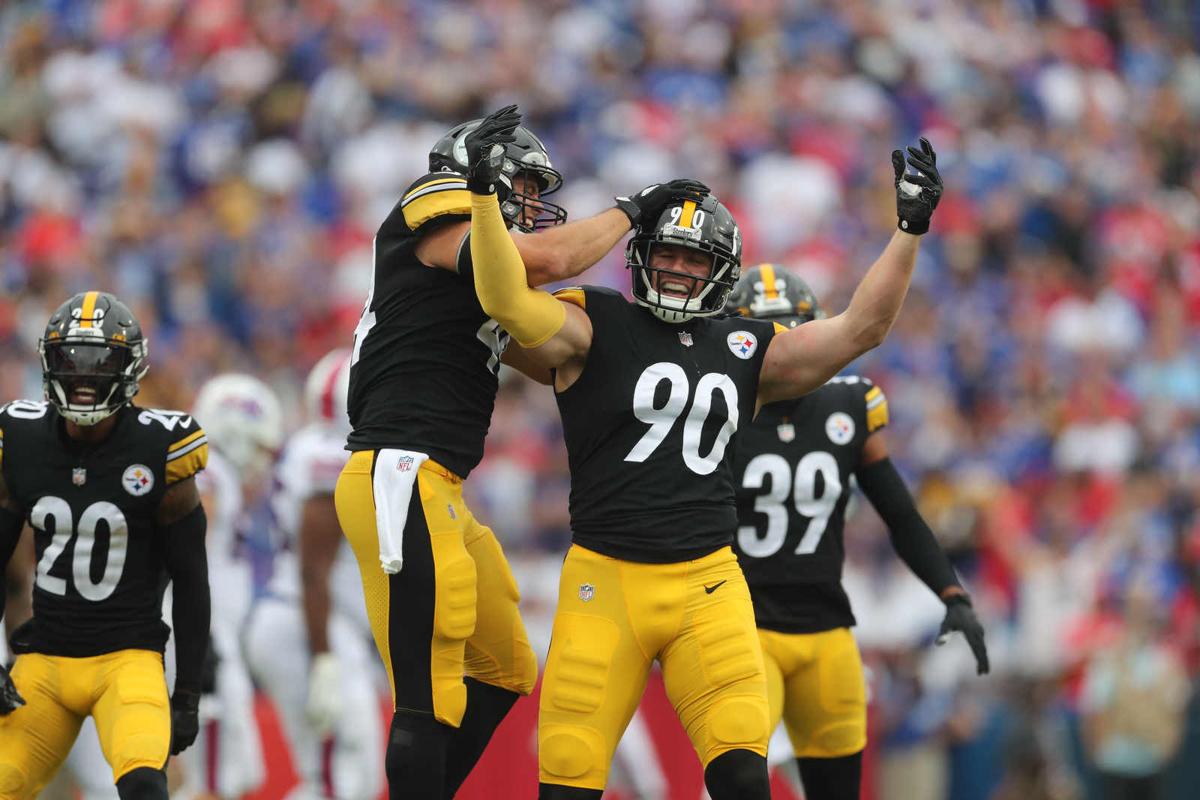 The Buffalo Bills entered the 2021 NFL season as a Super Bowl favorite. The season opener was overhyped, overcast and windy. But the fans were back in full throng and the Bills Mafia brought the noise. The opening kickoff could not have gone much better as Isaiah McKenzie ran a 75-yard dash to the Pittsburgh 24.
But the Bills squandered the opening salvo, the Steelers held, and three hours later had stolen all the thunder.
Sugar-high QB Josh Allen was a touch overamped, and a tad off most of the game, although he completed a number of trademark howitzers. Allen overthrew a sure touchdown to Emmanuel Sanders, and yet on an important third-and-1 flea-flicker, lofted one, giving Steelers defensive back Cam Sutton time to knock the ball away from Stefon Diggs. An everyday gun from Allen was a first down in Pittsburgh territory and not a punt.
Allen had little help from his blockers and faced constant pressure, but there were plays to be made that he most often makes. Granted, on a second viewing, Allen played pretty well overall, and hardly the main reason for the disappointing loss.
The offensive line resembled a chorus line. Dion Dawkins was ill-prepared for Melvin Ingram and not in game shape. Bills fans were weirdly overconfident that Daryl Williams could handle TJ Watt, arguably the NFL's second-best defender, because Williams did it last year. What is more likely, Watt being abused twice in a row by a decent OT, or Watt returning to his normal form when seeking revenge? Jon Feliciano was particularly woeful against nimble giant Cameron Heyward.
Offensive coordinator Brian Daboll often got too cute. It is well-known that Allen has never thrown a red zone interception and yet Daboll calls two runs and a swing pass inside the 10-yard line on a crucial late drive. The one series inside the 10 that Allen threw to the end zone, he fired a laser that Gabe Davis caught for a TD.
On a third-and-1, Daboll called a flea-flicker (incomplete), and he called a WR bubble screen behind the line (incomplete) on a second third-and-1. On fourth-and-1, he called the ill-fated pitch for a five-yard loss. On another third-and-1 at the 5-yard line, a one-yard swing pass went nowhere. It was appalling, atrocious play-calling with a QB like Allen and sure-handed, crisp route-running WRs.
In the run game, Devin Singletary looked twitchy but had misleading stats. Zack Moss being inactive was costly as he's the team's best pass blocker and short yardage back. Speedy Matt Breida was a good idea, and then Daboll ran him up the middle a few times. Once he missed a first down by a crushing tackle but Moss likely makes that.
The receivers reflected Allen. Sanders made a diving reception for a first down, and got free deep for a sure touchdown that Allen overthrew. But Sanders later dropped a ball right in his hands that was a tad late, but if immediately secured, would not have been tomahawked out of his hands. A couple plays later, the blocked punt completely alters the game and the Bills' fortunes.
Cole Beasley and Diggs gobbled up eight and nine balls, respectively. Dawson Knox locked up all four thrown his way like it was Fort Knox, and had some nifty YAC for a first down. But the 4-5 WR sets were ill-advised, overused, and less effective than the more common 1 RB-1 TE-3 WR formations as the OL was AWOL most of the game.
The entire defense was stellar, until we really needed them. Ed Oliver was a menace. Greg Rousseau played quite sturdy in his rookie debut regardless of stats. Groot has a great reputation for pass rushing but is also strong against the run and was a force. Mario Addison had a sweet strip sack on Large Ben.
Tremaine Edmunds, Taron Johnson and mostly identical twin safeties, Jordan Poyer and Micah Hyde, were stingy and stout. Levi Wallace had a tough day, with a crucial penalty, and giving up a score, albeit a great pass and catch against good positioning. Tre White got absolutely robbed on a mystery hold that negated a game-changing takeaway.
The special teams had a highlight return from McKenzie to open the game but a mistake-laden punt was blocked and returned by the Steelers that reversed the score.
Likewise, penalties knee-capped the Bills. Buffalo's suspect OL couldn't hold the Steelers' stalwart DL, so they literally held the Steelers' stalwart DL six times that stalled drives, including three on the second series of the game that cost the Bills 46 yards and forced a punt.
Coaching was poor, except for Leslie Frazier's D. The Bills were sloppy, the play-calls were suspect and head coach Sean McDermott made a couple of head-scratchers.
Whether the disheartening loss to a good team was a wake-up call will soon be answered when the Bills travel to South Florida this week to play the Dolphins, who eked out a win against the Patriots in their opener.
Expect the Fins to be struck by lightning from a Bills hurricane, and unable to steal Buffalo's thunder for a second-straight week.