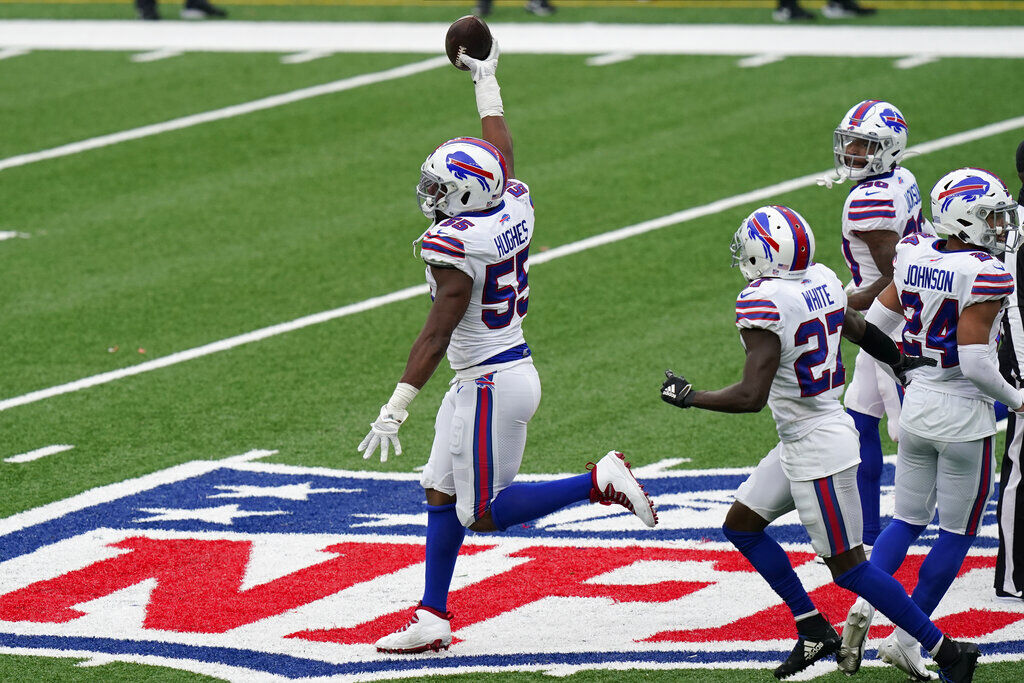 Sometime around halftime Sunday, the Buffalo Bills shrugged off their third consecutive lethargic performance against the low-flying New Jersey Jets, and airlifted home with an 18-10 win to remain in first place atop the AFC East.
In the first half, on offense, defense and even some special teams, the Bills just could not get their sluggish legs moving. Although only traveling downstate instead of cross country, the team appeared to be in a jet lag-type funk, and all but sleepwalking.
Then finally, perhaps luckily, the team just snapped out of it after halftime and woke up. Perhaps just in time.
The Bills were woefully unprepared for two nationally televised prime-time games against Tennessee and Kansas City, and promptly scared the snot out of their fans again, this time against far inferior competition. 
Playing the 0-6 Jets was a classic trap game; if one subscribes to these superstitions. And the Bills collectively walked right into the enemy cave in the dark. The foot-hold claws didn't snap back quickly enough, however, and Buffalo just barely got out unscathed before they got it together.
The first few series were an assault on our senses, and all but drove us out of our individual and collective minds. The defenseless D was being shredded by 48-year-old Frank Gore and soon a raw rookie, Denzel Mims, playing his first game. 
It got so bad early that the Gang Green Jets fans were actually reconsidering Adam Gase. 
Sam Darnold was 10 for 11 in the first 25 minutes and then 2 for 12 the rest of the day for 120 paltry yards. The Jets sputtered, choked, and then stalled; only logging 4 total second-half yards on 16 pitiful plays; the fewest yards of any Jets team in the last four decades.
Sudden Sam abruptly stopped performing and attempted only one pass of 20 yards or more the entire game (that counted), a sweet 22-yard completion to Braxton Berrios. Otherwise, Darnold was grounded, sometimes by his team's ineptitude, but often by the resurgent Bills defense.
Jerry Hughes dominated, and had arguably the best series a defensive lineman can have, first drawing a 10 yard-holding penalty — then recording a sack — followed by an interception on three consecutive plays. Hughes also had a sack and forced fumble earlier. 
Seemingly deflated in the first half, the defense suddenly caught their wind and then dominated the rest of the day by land or air.  
A.J. Epenesa flashed the skills and production that made him the Bills' top draft choice. Seventh-round steal Dane Jackson made a splash in his first real NFL action, thrust into the starting defense and performing like a cagey vet. Jackson had two pass breakups, including a stellar knockdown on an important early third down in the red zone, a timely and shrewd interception, plus some staunch run support. He never looked lost in space, or out of place. A welcomed addition to a hobbled unit. 
Matt Milano returned on a pitch count and solidified the defense in his 19 snaps; just 33% of the team total. Twin safeties Micah Hyde and Jordan Poyer were their rock-solid selves, with Poyer getting a sack and Hyde lowering the boom on a controversial roughness penalty. 
The defensive coaching brain trust finally dialed up more blitzes and — who knew? — the Bills terrorized Darnold and racked up six sacks. 
Fans love to blitz more than coaches as part of our birthright, and it is extremely fortunate for our beloved team that we do not actually coach them ... 
But that said, there was a clear need for more pressure up front, and much less of a worry that we need to win 17-14 like season's past. Furthermore, the front four just was not getting it done. All of this warranted more gambling on defense, more five- and six-man rushes were called, and it clearly, promptly, paid off. 
Then again these were the winless Jets.
On offense, inarguably, the Bills need to score more touchdowns when we don't punt the entire game and have repeated trips to the red zone. Josh Allen was shaky early but like the rest of his team, shook it off and then settled in, distributing short sharp darts all over the field, often to Cold Beastley, er, Cole Beasley.
The diminutive, dependable slotman had 12 targets, 11 catches, 112 yards (66 after the catch) and a month's worth of clutch grabs and first downs. An amateur rapper, Beasley should front a band called the Chain Movers.
Allen was his normal fearless, reckless self with the ball, but rarely looked for a hero ball or home run; more methodical than maniacal. 
Devin Singletary and particularly Zach Moss sparked a semblance of a run game for the first time this season. And both displayed patience, hands and sturdy pass protection.
The offense had nine total drives, one lost fumble by Allen, and eight field goal attempts, six of which were converted by rookie kicker Tyler Bass. The final kneel-down drive doesn't count.
The Two Tylers were the embodiment of the entire game. Tyler Bass scored all of our points, drilled a careerlong 54 harder, was 6-8, and made them when we needed him. But he still scares me, I assume you and your loved ones, and the Bills probably need Bass to be 7-8 on those tries. 
Who's-your-new-daddy Tyler Kroft missed the Covid-19 quarantine list by being bedside with his pregnant wife, Lexi, who is now thankfully resting comfortably with their new baby girl, Grace.
Kroft was superb in blocking and caught all four targets. Granted, he also recorded one tackle when he downed himself on a sure TD down the sideline. Some will say a better pass hits him in stride and he runs in easily. I say a better receiver sees and tracks the ball, catches it easily on the dead run without jumping and prances into the end zone untouched. 
Special teams were strong across the board (excluding two ill-timed penalties and two Bass misses) as the team never punted, hit six FGs, had a couple of sizable Andre Roberts returns, and kept the Jets in a holding pattern on the tarmac on their returns. 
But the Bills' jet lag was just a set up for this week's galactic battle against the struggling Patriots that the Bills Mafia has waited all season for. A win puts the Bills in the cockpit for the AFC title, the first and most important item of business for the season: Win your division and get in the playoffs. This is Buffalo's best chance in a couple of decades.
Last week, Cam Newton was benched, Bill Belichick was embarrassed, the Patriots were trounced and the Bills are now champing at the bit for a piece of the perennial champs.
Jet lag and slow starts will not cut it this week. The Bills need to be well-rested, ready to go full throttle, start fast, get going on the ground and in the air, lift off and then soar.
Otherwise, members of the faithful Bills Mafia will quickly crash back down to earth.