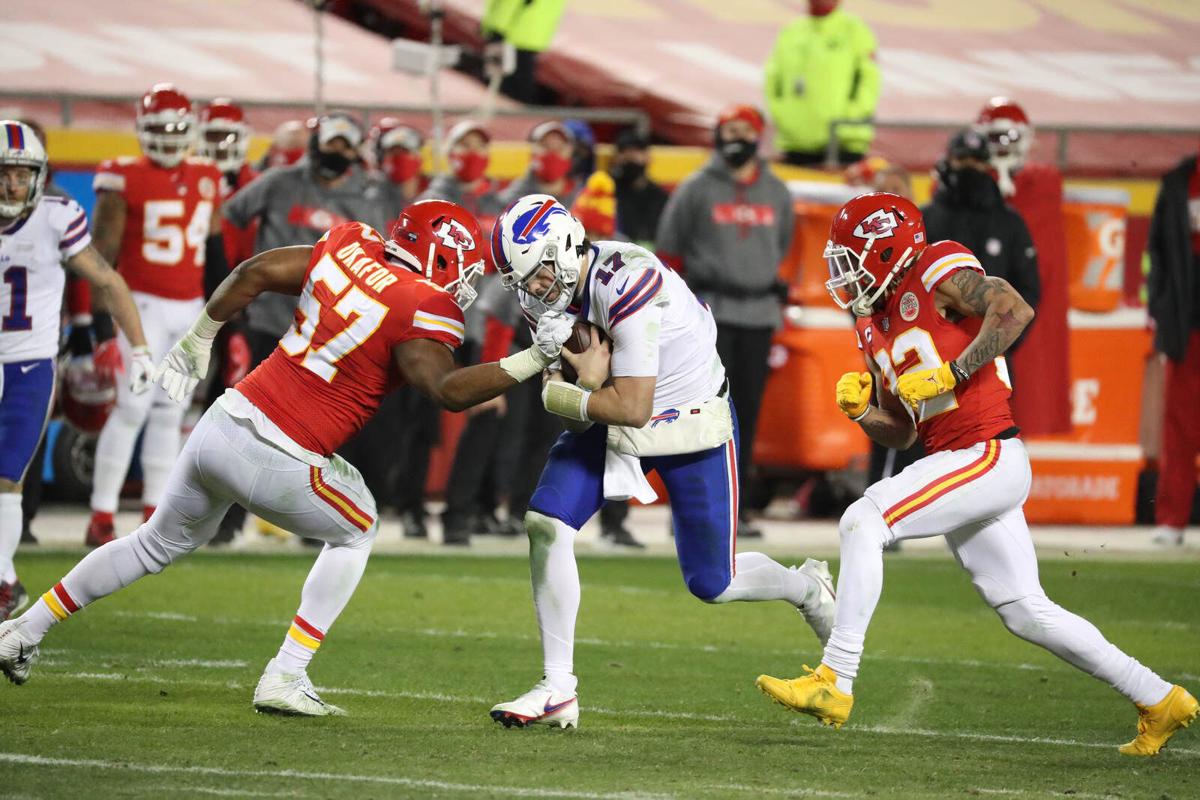 You've got Buffalo Bills questions.
Nick Procopio: Josh Allen had an amazing year, but my concern is he didn't really play great against Indy in the first playoff game, he didn't play that well against the Ravens in the second playoff game, and we know what happened against KC. I know those are all tough defensive teams, but should we be concerned about a little bit of a regression with Allen's play next year? Thanks, Vic.
Vic Carucci: There's no ignoring the fact, after an MVP-caliber regular season, Allen looked far less impressive in the postseason. His play wavered between ordinary and, at times, downright poor. The same could be said for the rest of a passing offense that had a spectacular season and was the primary reason for the Bills' 13-3 finish.
I think it's fair to say Sean McDermott and Brian Daboll have been taking a hard look at all that contributed to the offensive struggles in the postseason. Allen's play, no doubt, is a large part of that review, but I strongly doubt there's any internal concern of Allen regressing.
I don't have any such concern, either. I believe Allen did run into strong defenses, as you mentioned, but I also think his game continues to evolve and those performances will be part of what he and his coaches use as areas to address through the offseason. In making the dramatic improvement he showed from 2019 to 2020, Allen displayed exceptional diligence and work ethic that should, again, serve him well.
Kevin Harnett, York, Pa.: Three Bills players were rightly fined for their behavior near the end of the AFC championship game vs. the Chiefs. Why wasn't Chris Jones disciplined for his punch to the head of Jon Feliciano in the first half, even though the game officials somehow missed it? It's clearly on film. Why did the league seemingly ignore this?
Second, why do you think the Super Bowl game was officiated more tightly than our game with KC? Was Tom Brady's presence a factor? Thanks.
VC: I, too, questioned Jones not being fined. It appeared, at least to the naked eye, there was culpability on both sides and there should have been some measure of equal punishment.
As to what you saw as tighter officiating in the Super Bowl, I'm inclined to think that such inconsistency results more from the fact there are different crews working each game than the presence of a particular player or coach or team. We'd all prefer to see officiating handled the exact same way in each game, but that's not the case because the NFL continues to insist on having humans rather than robots wear the zebra stripes. The same goes for those often mind-boggling replay review decisions made from the league office in New York, even with the sharpest and clearest television technology known to man.
Rick McGuire: Vic ... might be tough to guess now, being just days removed from the Super Bowl, but do you think there's any chance at all of Brandon Beane bringing Buccaneers pending free agent linebacker Shaq Barrett to Buffalo? If not Barrett, maybe Pittsburgh's Bud Dupree?
VC: Even with the Bills' crying need for a difference-making edge rusher, I'd put those chances at slim to none. Both players figure to be big-ticket free agents and I don't see the Bills making that sort of investment this year.
I expect most of their spending to be on a massive contract extension for Josh Allen. Everything else, from a salary cap standpoint, will be handled in conjunction with that deal.
Though Beane probably will likely have an eye out for mid-tier edge rushers in the open market, I expect him to address the position early in the draft.
Mike A. Meas: With many questions concerning the offensive line, where does Trey Adams stand? He was once projected as a first-round talent before injury. After a whole season on the Bills' practice squad, has he made progress?
VC: Despite those O-line questions, probably the best-case scenario for Adams would be to emerge as a solid candidate for a swing backup tackle spot. As you mentioned, there is/was talent there, at least at one time. However, he also was seen as needing to get much stronger coming out of the University of Washington. His lack of durability remains an issue.
The bottom line is that if Adams is to have any hope of overtaking Ryan Bates in the line's pecking order, he needs to have a tremendous offseason.
RdFast: Do you think Leslie Frazier's "bend but don't break" defense is obsolete?
VC: I don't. I'm also guessing that neither you nor most Bills fans had a problem with the approach in the divisional-round playoff game against Baltimore.
I think the majority of the reason for the Bills' defensive decline from '19 was driven more by personnel than scheme. The team must find upgrades on the exterior and interior of the line, at linebacker (with or without Matt Milano) and cornerback.
Hall2Wayne: Will Star Lotulelei's return make linebackers better? Is there potential edge rushing pressure? Will Ed Oliver ever live up to hype?
VC: I would have to think that having Lotulelei's size and strength back in the middle of the defense – assuming he comes back – would benefit the linebackers. It also could help with enhancing edge-rushing pressure, though I think that mainly will come from the draft and/or free agency.
As for Oliver, I think he, too, would benefit from Lotulelei's presence. But I also believe this is a critical offseason for him to do more to hone his game and himself, from a strength and stamina standpoint, to become more consistently effective. So far, I don't see a player performing up to the level of a ninth overall draft pick.
Liebz: How can Tampa have a team full of Pro Bowlers but we might not be able to bring back Milano?
VC: Your comparison doesn't quite fly. First of all, the Buccaneers, while loaded with high-end talent, are going to find themselves struggling to retain more players than will be the case with the Bills.
The question with Milano isn't that the Bills are unable to afford him under the cap. It's about to what extent they would wish to spend to keep him. Given his injury history, and the fact the Bills did not extend his contract before now, my sense is they don't view him as a player they would keep at all costs. They are going to allow him to see what sort of market there will be for him, and it could very well be a case of him returning for what Bills see as an affordable number.
Remember, the Bills will likely be spending a lot of money in other areas, not the least of which will be quarterback.
Weathervane Jesus: Do you think we need a new OL coach?
VC: Not at all. I think Bobby Johnson has done a terrific job, and I know the Bills feel the same. They love the teaching and toughness he brings to the offensive line room.
For the record, the line, for all of its questions, was part of a record-setting passing offense. It can get better, especially when it comes to run blocking, but that will come from the addition/shuffling of players and more commitment to the run.
Lennon Landry: Running back! What's going to be done? Draft, signing, status quo with improved O-line?
VC: I don't see any major moves to improve the running game. Backs are more easily found than almost any other position. I would expect the Bills to look to the draft and free agency to address the position, but I also think they can get better with some of the people they already have, including a healthy Zack Moss.