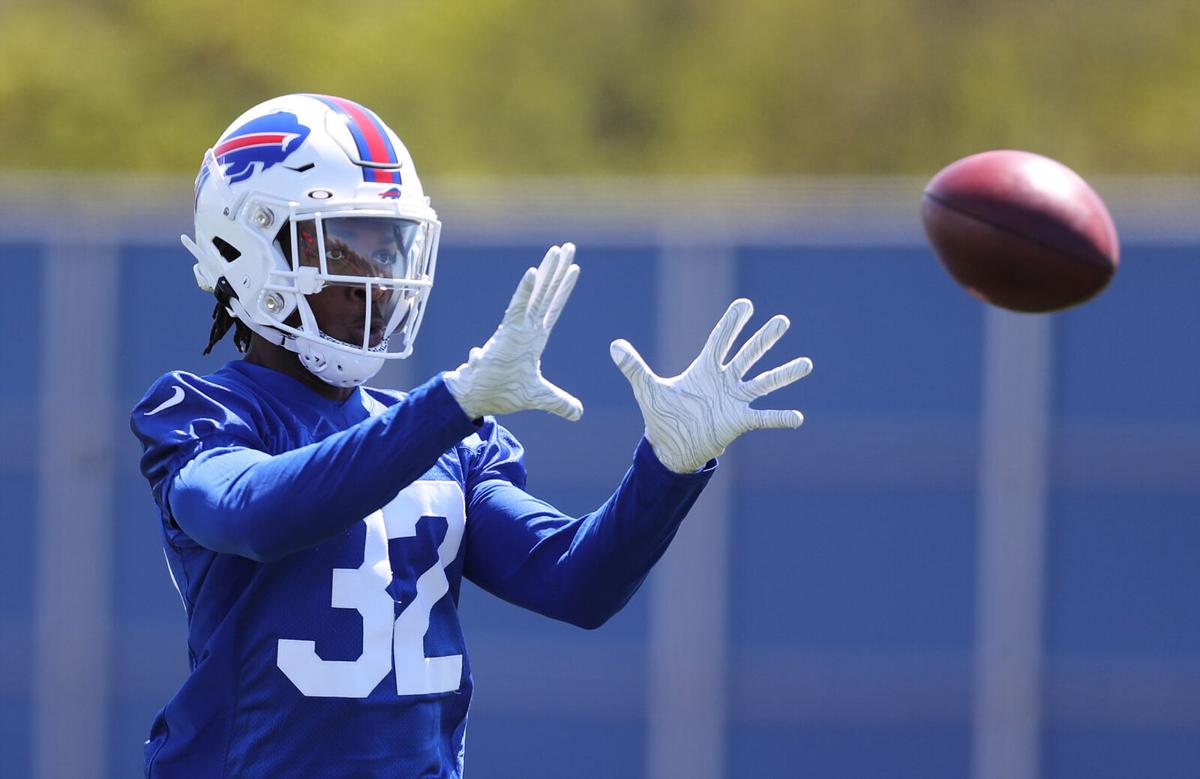 Rachad Wildgoose had just gone through his first rookie minicamp practice with the Buffalo Bills.
At best, it qualified as a preliminary introduction to the NFL. No pads. No contact. Just Wildgoose, his fellow Bills 2021 draft picks, some undrafted free agents and other players brought in on a tryout basis mainly to provide enough bodies for something resembling a football workout.
Calling it an initial step of a career journey would be a bit of an overstatement. At best, it was a baby step. In fact, for more than a few of the participants, it was likely the beginning of the end.
Yet, in his mind's eye, Wildgoose was already focused on something far greater than merely dipping his toe in the massive pool that is the NFL.
When asked during a video call with reporters after that first practice Friday what it was like to "actually" see his name on a locker at the Bills' facility, Wildgoose hardly seemed awestruck.
"We grew up together, we played football at Pitt together, and now we get to play at the highest level together," Jackson said.
"It was pretty cool seeing all that stuff," the cornerback said. "But I've got bigger goals in mind."
"I want to be a Hall of Famer," Wildgoose said matter-of-factly.
At first, it sounded more than a little ambitious for a player drafted in the sixth round, 213th overall. Choices from near the bottom of the draft face a reasonably tall challenge just landing a roster spot, let alone a place where the bronze busts are displayed in Canton, Ohio.
Cracking the lineup of a Super Bowl contender returning most of its starters is even harder. There will be competition for the starting corner spot opposite Tre'Davious White, but moving ahead of incumbents Levi Wallace, Dane Jackson and perhaps even Cam Lewis will require exceptional, eye-popping stuff through the offseason and training camp.
The 6-foot-2-inch, 234-pound Giles-Harris played in nine games for the Jaguars last season and five as a rookie, and has made two starts.
But when you consider Wildgoose's background, his perspective is more understandable.
Start with the fact that he played at Miami's Northwestern High School. When you make that football team, the NFL feels less like a pie-in-the-sky dream than something highly attainable.
Consider this list of NFL players from Northwestern: Denver Broncos quarterback Teddy Bridgewater, Dallas Cowboys wide receiver Amari Cooper, Tampa Bay Buccaneers linebacker Lavonte David, Chicago Bears cornerback Artie Burns, Kansas City Chiefs cornerback Deandre Baker and Los Angeles Rams wide receiver Tutu Atwell, a second-round pick last month.
Wildgoose did far more than play ball at Northwestern. In 2017, he was a starting cornerback on the team that won the Florida state 6A championship. Atwell was the quarterback. It was the school's fifth state title in the last 25 years.
"It was a goal," Wildgoose said of his NFL thoughts while in high school. "You don't just figure it. There's a bunch of trials and tribulations to get here. I've been playing football since I was five. I've had a bunch of ups and downs. I've played O-line, center. Now I'm at DB in the NFL.
Rousseau and Basham have quickly hit it off after becoming teammates.
"That school is definitely a pipeline, but it's a lot of hard work because there's a lot of guys from that school that don't make it to the NFL. It's a lot of hard work that you have to put in."
Consider, too, that Wildgoose played for a big-time college program, Wisconsin. His defensive coordinator was former NFL safety Jim Leonhard, who played briefly for the Bills. Leonhard gave him plenty of encouragement that he had the goods to make it in the NFL.
And there's this: His uncle, Elvis Dumervil, was a five-time Pro Bowl defensive end who led the league in sacks in 2009 as a member of the Denver Broncos.
So it shouldn't have been a surprise that nothing about his inaugural practice in an NFL uniform was overwhelming. "Fun" was the word he used to describe it.
"I wasn't too nervous or anything like that," Wildgoose said. "I was just trying to focus and remember my assignment and alignment. It felt kind of normal. It didn't really feel different.
One thing is certain: rookie Bills wide receiver Marquez Stevenson is fast. You don't get the nickname "Speedy" by being slow.
Though he acknowledged the game is "very different from college," the mindset is the same whether he's wearing the colors of the Northwestern Bulls, the Wisconsin Badgers or the Buffalo Bills.
"I've just been playing football for so long," Wildgoose said. "It's just second nature, to be honest."
He acknowledges that nothing can be taken for granted and that he understands that he must be willing to pour considerable time and effort into having any sort of level of success as a pro. Leonhard reminded him of that. He's undoubtedly heard it more than once from uncle Elvis.
"I'm pretty sure it's going to take a lot," Wildgoose said of reaching the Hall of Fame. "I really just want to be the best teammate I can be and help my team out in the best way possible. I feel like everything else will take care of itself."