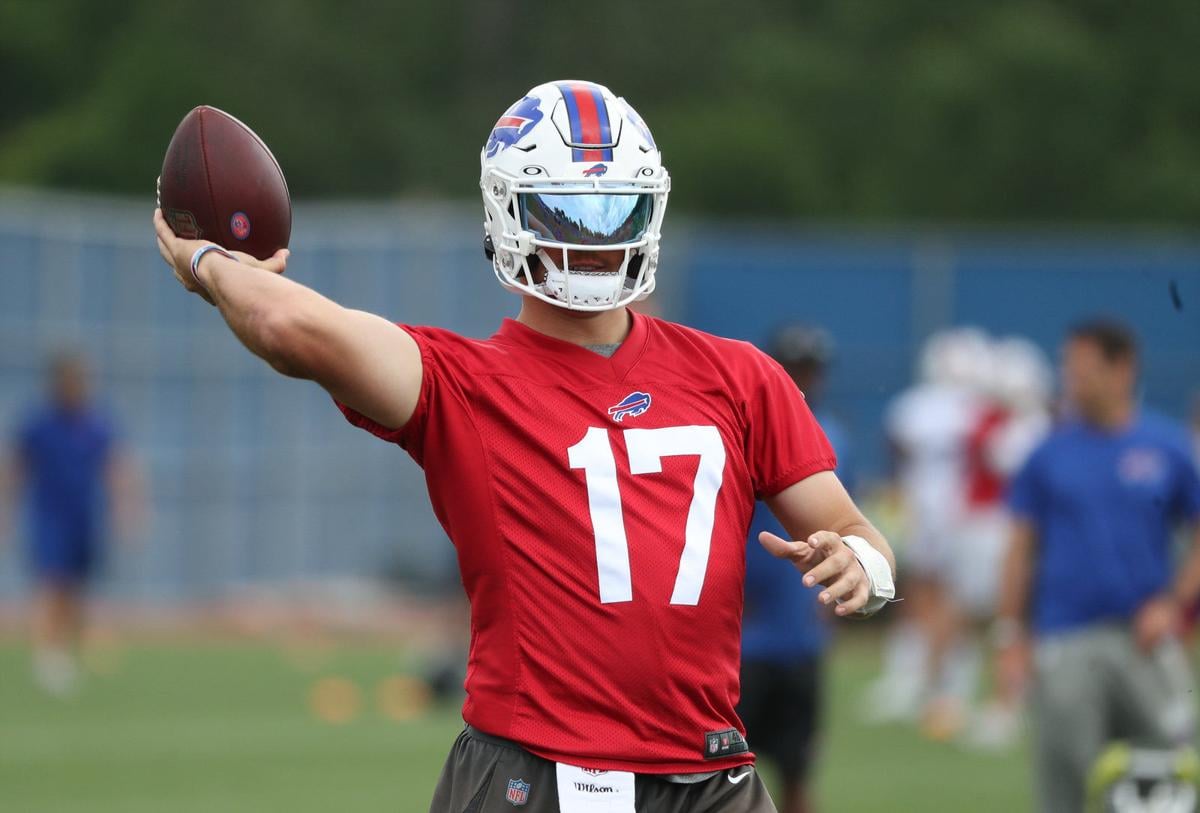 Say what you will about Josh Allen's elite NFL quarterback status.
Marvel all you like at the spectacular 2020 season that shattered franchise records, made him a runner-up for league MVP and positioned him for what likely will be the richest contract in the history of the game.
But as you sit on that figurative red, white and blue cloud, anticipating an Allen-led run all the way to the Super Bowl, know this: Nothing he did or will do comes as easily or as automatically as it might seem.
Just ask Brian Daboll, chief architect of the offense Allen's passing arm and overall talent made one of the most dynamic in the league.
As Daboll pointed out while talking with reporters before the Bills' organized team activities practice Tuesday, what happened in the 2020 season stays in the 2020 season. Whatever happens in 2021 might very well be different.
Social media was abuzz Sunday night when Jill Kelly posted a photo of her husband and former Buffalo Bills quarterback Jim Kelly with current Bills quarterback Josh Allen. 
It could be better. It could be worse.
To simply assume it will be the same from one season – let alone, one game – to the next is more wishful than practical.
"You wish you could bottle it up and just throw it out there and the next week, it's all the same," Daboll said. "But reality is, it's not."
There are new teammates, even if the majority of the starting lineup remains intact. There are new strategies, as Daboll and other members of the Bills' offensive coaching staff strive to stay ahead of the competition's search for antidotes to Buffalo's offensive prowess.
Sunday's trade that sent Jones from the Falcons to the Tennessee Titans means the Bills will face him in Week 6 on Monday Night Football.
There are new ways of seeing the NFL landscape, which has the Bills as one of the foremost contenders to win it all.
Allen, perhaps more than anyone else on the team, needs to have a firm grasp on it all.
"You start over, you reinstall things, tweak things," Daboll said. "I'll give him input as to some of the stuff that he likes or didn't like. I mean, he's out there doing it.
"We have almost 15 new guys on offense. It's not just the talent and all those things. It's how can we develop relationships with the people that we're working with. That's important, because you're going to hit some tough times here and there. And he's such a good leader in that regard.
"He's just a consummate pro in terms of the things each year that he tries to work on."
Tempers flared between second-year defensive end A.J. Epenesa and guard Jon Feliciano.
Allen must adjust his game accordingly, but not his approach.
In that regard, the Bills are more than satisfied to have him remain the same guy he was when he arrived in 2018 as the seventh overall draft pick from Wyoming.
"He is really the same guy every day since he's been here," Daboll said. "He's got an underdog mentality. He's a grinder, he's never satisfied. He loves to practice. He's competitive in the meeting rooms. He's not relying on what happened the year before or anything like that.
"That's what I appreciate about him, too. He's turned the page really quick."
Daboll has always been impressed with Allen's offseason plan, which features a constant effort to improve every aspect of his game. The coach wouldn't get too deep in the weeds on all of the specific areas he is trying to address with his quarterback.
"It has been a hot topic, but in the building the guys have been very focused on football here," Beane said.
"We've talked a little bit about some in-breaking routes and things like that," Daboll said. "Each year, he's obviously learned a little bit more about the system. We've tried to tailor the system specifically to him. We add things and take things out. We've got a lot of good give and take between the two of us in terms of things he feels comfortable with, and maybe things we can do a better job of."
For the most part, though, the focus is in the finer physical points of playing quarterback. It's not unlike what players on the PGA tour routinely do between tournaments and rounds.
"It's like a golf swing, right?" Daboll said. "His mechanics, his follow through, his base, his movement in the pocket. He does those things, I would say, religiously throughout the offseason.
"We get him back here along with all the other quarterbacks and Ken Dorsey and Shea Tierney are working on those things."
Dorsey is the team's quarterbacks coach and Tierney his assistant.
The driving force behind all of it is Allen's lack of satisfaction. That's what Daboll mentions repeatedly about his quarterback.
"He's never satisfied, and none of us really are," the coach said. "Never satisfied with what you did the previous year. ... Again, the ultimate goal is there's only one team at the end of the year that's going to be happy. If you're happy because you made it to a certain point, but you didn't make it to that point then we're all in the wrong business."
Reaching the AFC championship game was nice. It was exciting for the Bills and their fans, who have opened their wallets wide as they invest more heavily in the prospect of taking the next step.
But the step isn't taken merely because that's the hope or the dream. It takes work.
Brian Daboll, for one, believes the Bills have that kind of worker at quarterback.