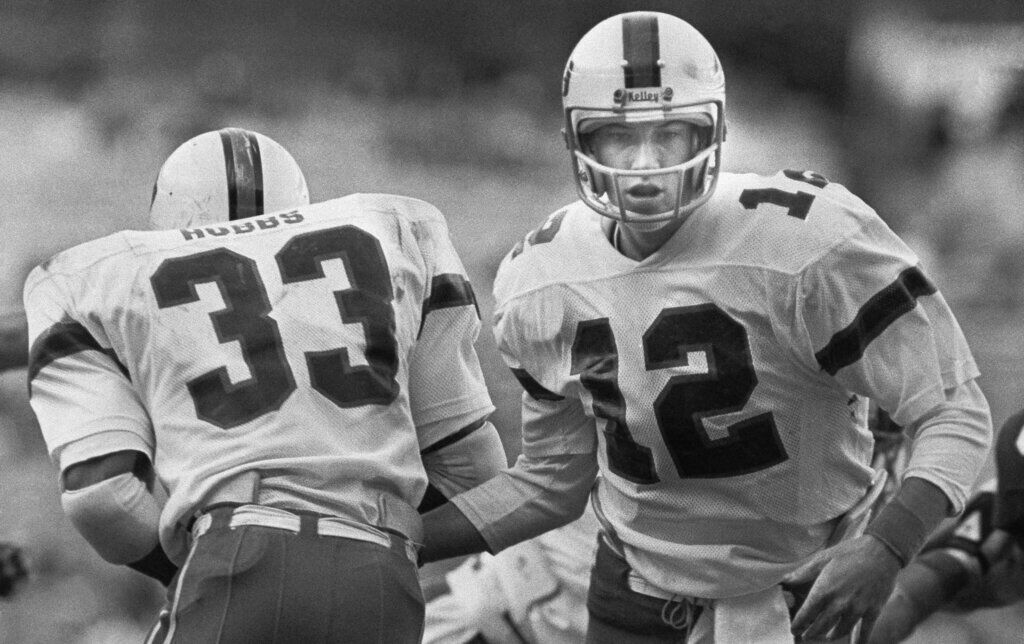 Jim Kelly had a school. Now, all he needed was a coach.
Lou Saban, who had recruited Kelly to play quarterback at the University of Miami, was suddenly gone after Kelly's redshirt freshman season, opting to take over the football program at Army. Jumping jobs was a staple of Saban's career, dating back to his time with the Buffalo Bills.
A disenchanted Kelly was ready to walk away from Miami, too, contemplating a transfer to Tennessee. That was before the eldest of his five brothers, Pat, recommended he wait to see who would replace Saban.
When Kelly learned the new coach was Howard Schnellenberger, who had been the Miami Dolphins' offensive coordinator and was Pat Kelly's head coach with the Baltimore Colts, he happily stayed. Schnellenberger's resume also included five seasons as OC at Alabama, where he tutored future Pro Football Hall of Famers Joe Namath and Ken Stabler.
As it turned out, the coaching change proved pivotal in Kelly's development into the Hall of Famer he, too, would become.
It still ranks high among many reasons he'll always have fond memories of Schnellenberger, who passed away March 27 at age 87.
"Coach Saban started running the veer offense, because the guy who wound up getting the starting job, Mike Rodrigue, was more of a running quarterback," Kelly recalled by phone. "I was like, 'This is not for me. I didn't come here to run the veer offense and option. I'm not a runner.' And when Schnellenberger came in, it became a pro-style, pocket-passing team.
"That's exactly what I excelled in."
As a bonus, Schnellenberger brought along former NFL quarterback Earl Morrall to tutor the Hurricane QBs. The result was an almost immediate ascension of Kelly's game.
Kelly was long known for having an ultra-strong arm, but it was Morrall who helped him unlock the secret to getting greater distance and accuracy on his long throws. Until that point, Kelly would concentrate on making the ball travel as straight as a rope, often causing him to overthrow receivers. Morrall introduced Kelly to the advantages of putting more air under the ball, which allowed his passes to go farther and sail like rainbows. It also provided additional time for receivers to get deep and have the ball drop right into their hands as they ran past  defenders.
Through Morrall's instruction, Kelly enhanced the quickness of his release by learning to hold the ball by his ear rather than by his belt. An extra motion before the throw was instantly eliminated. "And he taught me not to watch the football, but follow through and visualize connecting with my receiver," Kelly said.
By 1979, Kelly's second season, he began feeling right at home with Schnellenberger and Morrall. He got to switch jersey numbers from 7 to 12, the same number as his childhood hero, Terry Bradshaw. He also moved up the depth chart to No. 2 behind Rodrigue.
In the seventh game of the season, when Syracuse was using Rich Stadium as one of its home fields while the Carrier Dome was being built, Miami was trailing by 18 points in the third quarter. Still, Kelly couldn't believe his ears when Schnellenberger told him he was about to take over.
Though Kelly would throw a touchdown pass in a lopsided loss, he saw nothing in his performance that would warrant supplanting Rodrigue. He couldn't have been more wrong.
On the morning of Miami's next game, merely four hours before kickoff, Schnellenberger told Kelly he would be starting. That set the stage for a major turning point in Kelly's football career.
This wasn't any opponent. This was 19th-ranked Penn State. And this wasn't any opposing coach. This was Joe Paterno, who thought Kelly would make a better linebacker than a quarterback after a career at East Brady High School where he received All-Pennsylvania honors and honorable mention for All-America.
This was the chance, at Penn State's Beaver Stadium, to deliver the ultimate, "I told you so!"
"He had the confidence in me," Kelly said of Schnellenberger. "And, really, there was the shock factor, letting me know the day of the game that I was going to be the starting quarterback that day."
After returning the pregame meal he had eaten while leaning over a hotel toilet– a ritual carried from high school through the USFL and NFL – Kelly found a comfort zone that helped him complete 18 of 30 passes for 280 yards and three touchdowns. Miami 26, Penn State 10.
Sweet vindication, which helped ease the pain of a dislocated jaw that Kelly suffered when two Penn State defensive linemen sandwiched him.
"I've never seen a quarterback play as well and as poised in his debut as Kelly was today," Schnellenberger told reporters.
He was impressed enough with Kelly's performance to let him continue in the No. 1 spot through a brutal stretch that would do wonders for Kelly's growth, but not so much for his health.
"I mean, how many quarterbacks start off their career against Penn State, Alabama, Notre Dame and Florida?" Kelly said. "Hello! Thanks for throwing me to the wolves.
"The roller-coaster ride started then ... and it still hasn't ended."
Schnellenberger was an intimidating presence. His big, burly frame and deep, gravelly voice were exactly what a Hollywood producer would want in casting the role of a head football coach. (Schnellenberger did, in fact, play the part of a football referee in a scene in the 1970 war film "M*A*S*H").
In addition, there were those menacing eyebrows, which made Schnellenberger look as if he were in a perpetual state of anger.
"He was a guy that turned boys coming out of high school into men real quick," Kelly said. "He was one where, what he says, goes. And you knew, when he spoke, people listened. It was almost like a drill sergeant, somebody who's in control, somebody who knows what he's talking about.
"Coach Morrall was very, very stern, too. We'd run gassers, width of the field four times, and we had to make it in no more than 38 seconds. There were times when I'd make it in 39, and he'd make me run it again. I cussed at him under my breath."
But Kelly knew then what he knows now: He was being molded into one of the greatest quarterbacks in the history of the game.
He also knew, in Schnellenberger, he had someone in his corner whose support was unwavering.
"I don't think any one kid has meant so much to a program and its turnaround as Jim Kelly," Schnellenberger told reporters. "Pitt was good before Dan Marino. So was Georgia before Herschel Walker. Jim's the most productive quarterback I've been around, and that includes Joe Namath and Ken Stabler.
"He's the grease that makes our offensive machine run, and our kids have a great deal of confidence in him. Every time he handles the ball, they know they have a chance to score."
Kelly's college career ended prematurely when he suffered a shoulder separation against Virginia Tech. He underwent extensive surgery to reattach torn ligaments connecting his collarbone with the top of his right (throwing) shoulder blade. The operation required the insertion of three 5-inch metal rods to help accelerate healing.
The surgeon, while pleased with his own handiwork, told Kelly it would be "very hard" to get his throwing motion back. The doctor left him with this less-than-encouraging line for someone on a path to professional stardom: "I sure hope you've been studying hard in your classes, Jim."
With the help and encouragement of his brothers, Kelly poured intensive work into his rehabilitation. He was determined to prove the injury was only a minor setback rather than a major derailment.
Schnellenberger told Kelly that, when he was physically ready, the coach would round up representatives of teams from the NFL, the USFL and the CFL to watch Kelly throw.
"He said, 'Son, you let me know when you're 100%. Not 90, no 95.  When you're 100% I will call all the teams to figure this out and we'll go from here,'" Kelly said. "I told him when I was 100%, they came down to Miami to visit me, and, boom, the rest was history.
"I owe so much to Earl Morrall and Coach Schnellenberger. Throughout my career, I only had like four coaches. Terry Henry was my high school coach; Howard Schnellenberger; Jack Pardee was my head coach in the USFL, and Marv Levy (after Hank Bullough coached the Bills through half of Kelly's first NFL season).