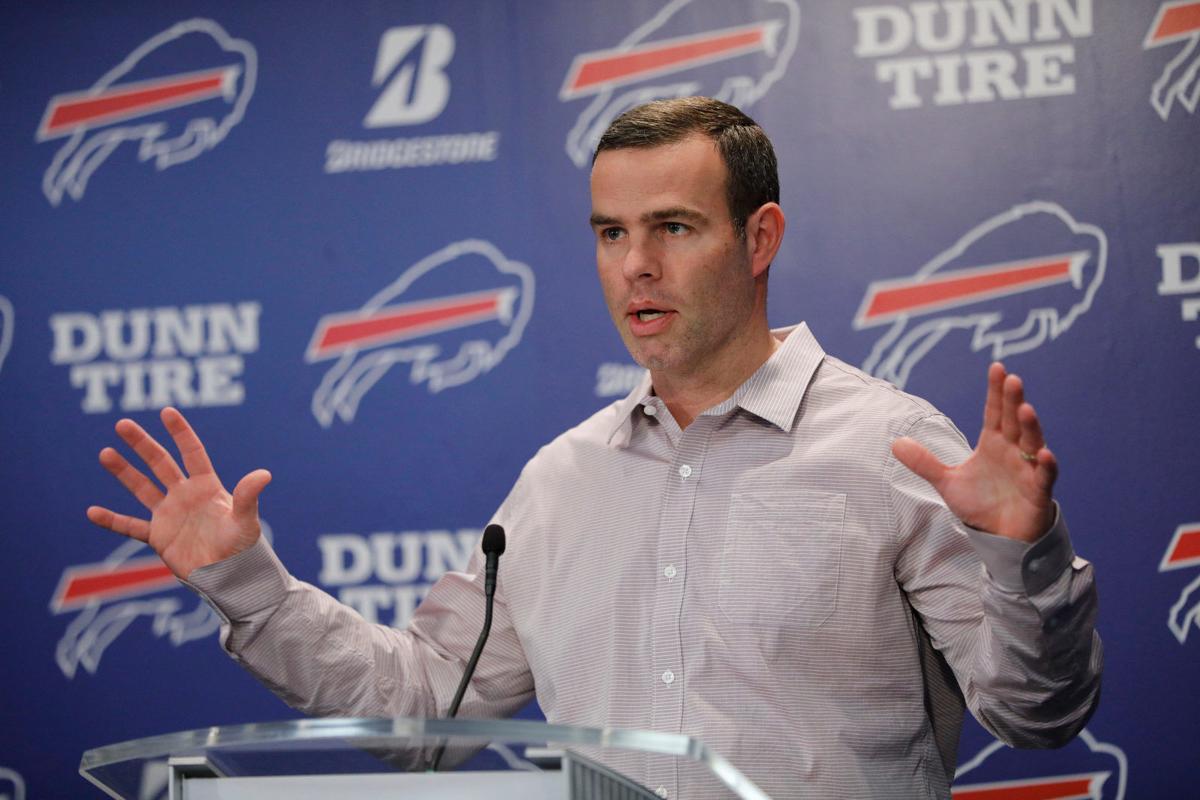 This is what it's like to be the hunted and not the hunter.
You don't go into the NFL draft with the idea that you must make your team immediately better. It would be a fairly big stretch to say anything the Buffalo Bills did in the past three days of selecting college players achieved that.
Significant improvement through the draft becomes less necessary when you already have one of the top teams in the NFL.
You're not nervously pacing through the draft room or holding your breath while hoping a specific prospect falls your way. You certainly don't have to make trades to maneuver your way up the board to land a transformative talent at quarterback.
That has already been done, successfully, with Josh Allen. Once that happens, everything else tends to fall in place.
The Bills no longer are taking the incremental steps that teams in building mode must take. They're no longer having to preach, "Trust the process." They trusted it, so much that all their top players headed to free agency – Matt Milano, Daryl Williams and Jon Feliciano – chose to re-sign.
Now, the team is enjoying the payoff, which began with winning 15 games in 2020-21 and continues with realistic aspirations of playing in the next Super Bowl.
Let the other guys in the AFC East do the pacing and the hoping. They're the hunters. They're the ones looking to get somewhere close to an even footing with a team that ran away and hid with the division title with two weeks left on the schedule. Those also-rans had to come out of this draft with substantial help.
That's why the New York Jets used the second overall pick for Zach Wilson, the quarterback they pray will be the franchise answer that Sam Darnold, whom they made the third overall choice in 2018, wasn't.
That's why the New England Patriots used the 15th overall pick for Mac Jones, the quarterback they pray will provide even a sliver of the franchise answer they lost when the GOAT, Tom Brady, left for Tampa Bay last year and won another Super Bowl.
That's why the Miami Dolphins used the sixth overall pick on a game-breaking receiver, Jaylen Waddle, who they pray will do his part to bring out the best in the franchise QB they hope they found last year in Tua Tagovailoa.
That's why the rest of the division drafted with a sense of urgency, seeking specific targets they intend to put on the field right away as starters and/or regular contributors to dethrone the king of the AFC East.
General Manager Brandon Beane, with that well-deserved contract extension he received last season, could sit back with the rest of the team's decision-makers and comfortably pluck from their highest-rated remaining players when their picks arrived.
Beane understandably objected to the notion that the Bills' drafting focused more on the future than the present. He knows anything can happen in the 100% injury world of football, so every player is one snap away.
"I think we got guys that are going to be part of the equation in 2021," he said during a video call with reporters Saturday.
Still, he also recognized that this draft was a bit different from his previous three since becoming GM.
"I think, at the end of the day, we build up the depth over time," Beane said. "We build it up and we've added pieces in free agency, so it's harder now than it was two or three years ago to enter the starting lineup or make the roster.
"But we didn't go into this draft, to be clear, and say, 'Hey, we just want to draft for the future.' We wanted as many impact players this year as we can. It's just, we brought back a lot of our guys that started and played a lot of minutes for us on this team that went to the AFC championship. So I think it's just, where we are, it's hard to crack the lineup and it's harder to make the roster, which is what I want it to continue to be that way."
The Bills did address what was widely perceived as their greatest need, edge rusher, with their top two picks. But neither can be described as necessarily falling into the instant-impact category.
First-rounder Greg Rousseau is as raw an athlete as you'll find. He has tremendous physical ability, but his limited football career and general lack of football instincts make him someone who will need to be coached and molded into the sort of player that performs in a manner commensurate with his draft status. The Bills aren't entirely sure where he fits, which is why they like that he demonstrated the ability to play inside as well as outside at the University of Miami.
The same goes for their second-round choice, Carlos "Boogie" Basham Jr., of Wake Forest. Rousseau and Basham should contribute in some way as rookies, but their contributions won't be of the make-or-break variety.
"We rotate our D-linemen," Beane said. "I'm not going to promise either one of them a starting job, but they're going to have an opportunity to start and I expect them to be part of the game-day rotation of our crew."
As presently constructed, the Bills can be every bit as good as they were last season. Perhaps, if Rousseau and/or Basham, as part of a D-line rotation help put a little more teeth in their pass rush, the Bills can get past Patrick Mahomes and the Kansas City Chiefs.
After those picks, the Bills essentially went to auto pilot. They collected a pair of giant offensive tackles, Spencer Brown and Tommy Doyle, who are developmental projects that probably won't see the field in 2021, given all that was done in free agency to keep the O-line intact.
The Bills added a receiver, Marquez Stevenson, who will have to find a seat in the back of another crowded position room and be exceptional as a kick returner if he has any chance of playing as a rookie.
Remember all the talk about the Bills needing to come out of this draft with a cornerback to compete for the opening opposite Tre'Davious White? Never mind. They got a corner, but not until the 213th pick, where they landed Rachad Wildgoose of Wisconsin. Remember all the talk about a running back? The Bills skipped that position entirely.
They drafted as a team with the 30th overall pick usually drafts. There was really nothing that they absolutely positively needed, but things they were generally pleased to get. They were luxury shoppers.
"As painful as it is to draft in the 30s," Beane said, "I would love to sign up for any year that we can do it."