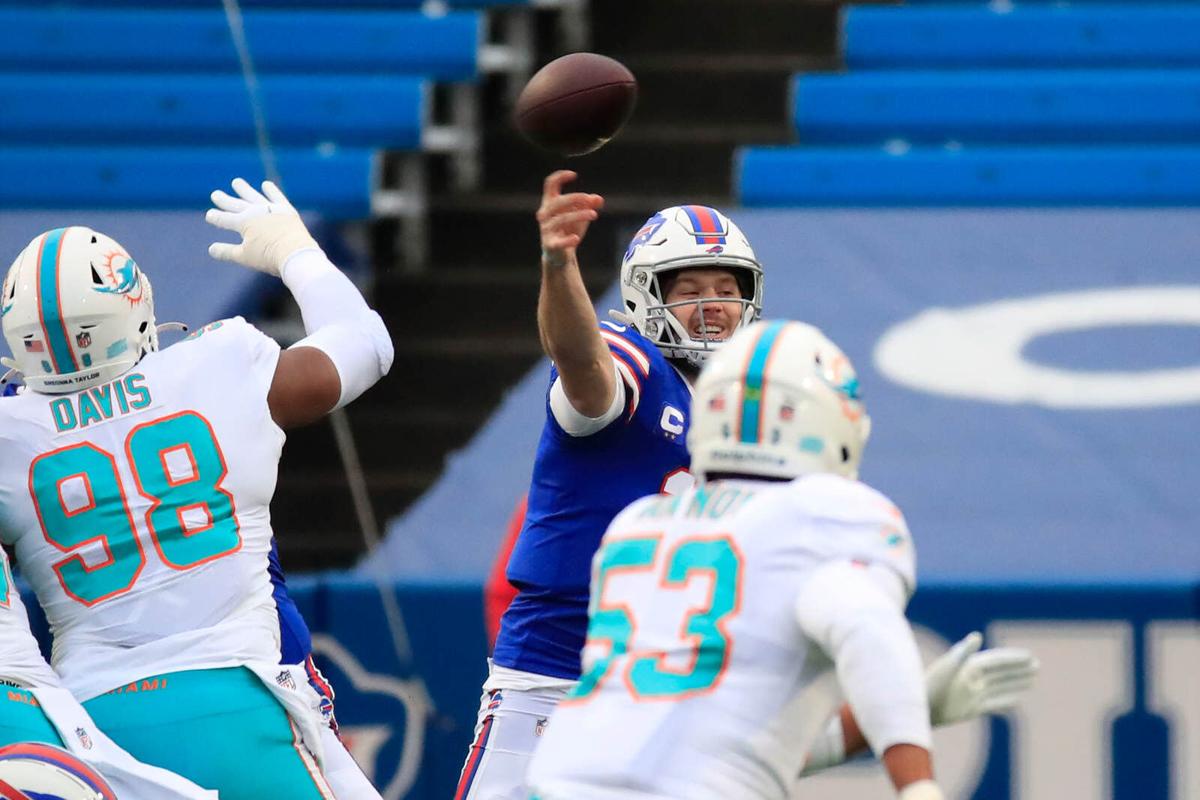 Momentum doesn't get any stronger than the runaway train that is the Buffalo Bills entering the postseason.
It isn't only that they've won six games in a row. It's that all the victories, including a 56-26 pounding of the Miami Dolphins in Sunday's regular-season finale at Bills Stadium, have been by double digits. The last playoff-bound team to finish their schedule that way was the Seattle Seahawks in 2004.
"We've played some pretty good ball lately, we understand that," safety Micah Hyde told reporters. "But we've got to keep it going. I think it starts in practice this week. We're coming off some big wins, so we gained a little momentum, we'll assume that. ... At the end of the day, we got some momentum, so we'll keep it going."
The Bills – who play the Indianapolis Colts (11-5) in an AFC wild-card game Saturday at 1:05 p.m., the Bills' first home playoff game since 1996 – made a point of giving themselves the best chance possible of being on a roll by not taking the cautious route against the Dolphins.
The jump Josh Allen has made from his second to third professional season has been nothing short of remarkable, writes Jay Skurski.
If they did, it would have been understandable. With no first-round bye coming from the No. 2 playoff seed, which the Bills earned with the win, it wasn't such a huge prize that demanded the Bills play Josh Allen or their other starters for any length of time.
But, after not revealing his plan during the week, coach Sean McDermott chose to go with Allen and most of his other starters through the first half.
"I just felt like it was right," McDermott said. "We wanted to get some guys opportunities and do what we've been doing, honestly. I feel like we knew we were going against a good Dolphins team and wanted to put another good week of work in, and that's really it."
After a bit of a slow start, they got in gear and dominated in all phases.
"Obviously, we feel good," said Allen, who threw for three touchdowns, two to Isaiah McKenzie, and kept up his assault on the franchise record book before giving way to Matt Barkley in the second half. "We've got to keep things rolling. Obviously, this (win) doesn't mean anything if we can't do anything in the playoffs. We understand that. We've got a very veteran-run team, guys who care about each other, guys who just want to work hard and do their jobs."
At 13-3, the Bills have their most wins since 1991. In scoring 40-plus points for the third time this season, the Bills hit their highest total since producing 54 against Kansas City in 2008, and the second-most against the Dolphins in series history. The previous high was 58 in 1966. That the offense accounted for 42 points Sunday is no small accomplishment, considering the Dolphins entered the game allowing the fewest points in the NFL and were No. 1 in third-down defense.
On the way to going undefeated (6-0) in the division for the first time in team history, the Bills also set a franchise record with 501 points, a testament to Allen's ascension to elite status, the offseason addition of NFL receptions and receiving yards leader Stefon Diggs, and brilliant scheming and play-calling by offensive coordinator Brian Daboll.
Asked how well he thought the offense was playing heading into the playoffs, Allen said, "We're playing good. Guys are getting open, catching the ball, doing their job. Guys up front are blocking. Coach Daboll's calling excellent games and we're going out there and executing. But, again, finding better ways to get the ball out, getting the ball out of harm's way, trying to limit the turnovers, obviously, is something that we're going to need to do in the playoffs."
The Miami Dolphins have a major Josh Allen problem, writes Mark Gaughan.
After throwing an interception on his first series and having two possessions stall, Allen got down to business in the second quarter and made a solid closing argument for league Most Valuable Player consideration. He shattered Drew Bledsoe's franchise record for passing yards in a season with 4,544 to Bledsoe's 4,359, set in 2002. Allen also extended his club records for touchdown passes in a season with 37 and completions in a season with 396. His total yards of 4,987 would rank No. 10 in league history for a season since 1969. 
Allen is the first player in NFL history with at least 4,500 passing yards, 35 touchdown passes and five rushing touchdowns in a single season.
Regardless of the minimal gain from winning and the risk of playing front-liners, the Bills had no intention of taking their foot off the gas Sunday.
"That's our job on offense, to score the ball, and until Coach McDermott tells us to take it easy, we're going to keep doing what we do," Allen said. "And that's why I love Coach Daboll. He's not afraid to keep throwing the thing. I think the identity of our offense, we know who we are.
"We know how to get out of a rut early on. Things weren't going the way we wanted them to, and we started calling some of my favorite plays and we got things rolling. It feels like it just didn't stop."
Isaiah McKenzie and John Brown – in his return after missing four games on injured reserve and one on the Covid-19 list – caught Allen's TD throws. McKenzie also had an 84-yard punt return for a touchdown, the Bills' first since 2014. The Bills kept pouring it on, with Josh Norman returning an interception 16 yards for a touchdown, Antonio Williams (activated from the practice squad Saturday) running for a pair of scores and Gabe Davis connecting with Barkley for a 56-yard touchdown.
Isaiah McKenzie had a field day against the Miami Dolphins on Sunday.
The Dolphins (10-6) still had a chance to make the playoffs despite the lopsided loss, but those hopes were extinguished with victories by the Colts and Tennessee Titans later Sunday. 
"The Dolphins came out and they played hard, but the Buffalo Bills played a little bit harder," left tackle Dion Dawkins said. "We're a different team. We play to kill."
As with Sunday, the spark in the playoffs must begin with Allen. He felt lingering emotional pain for the Bills' allowing a 16-point lead to vanish on the way to losing in overtime in last year's wild-card game at Houston.
Allen carried much of the responsibility for showing a lack of poise because of the urge to try to do too much on his own. He sees himself as a far different quarterback.
"I feel like I'm night and day, compared to what I was last year," Allen said. "Obviously, I feel like I still have the same confidence when I step on the field. Just understanding this offense better, understanding the plays better, having an understanding of the (opponent's) defense a little better allows us to be in a better spot.
"Having a home playoff game ... we've got to go in there and do our job and go try to do what we set out to do before the season. And (winning the division) gave us a chance that we wanted. Now, we've got to go take it."