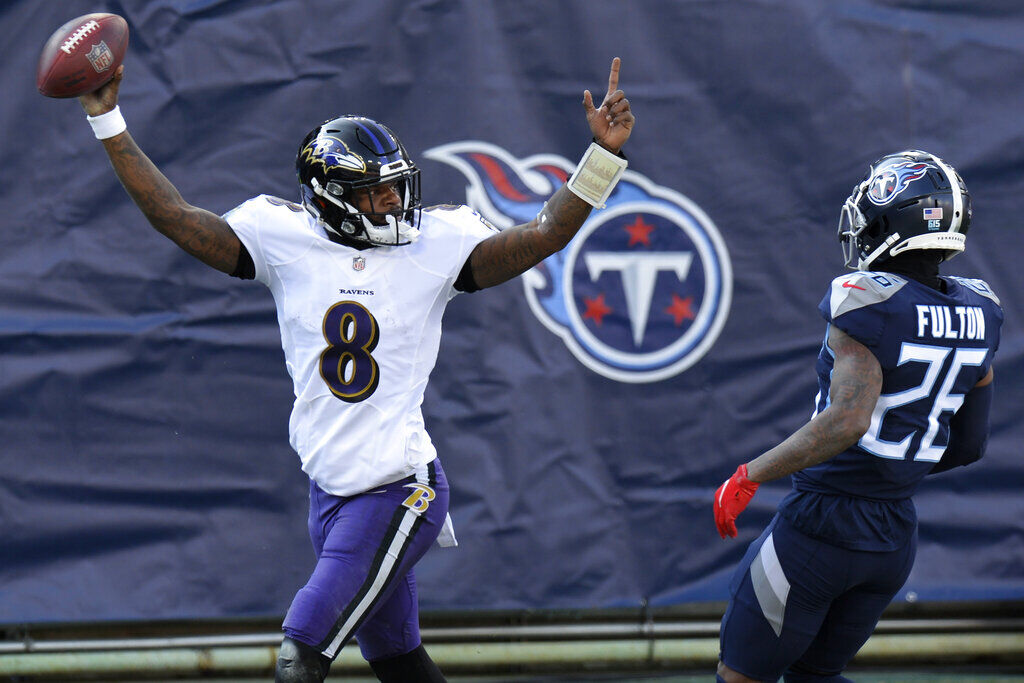 The Buffalo Bills fully grasp the enormity of the challenge that is Lamar Jackson's running.
It starts with the realization that describing the movement of his legs as "running" is a vast understatement.
"He's like a bolt of electricity," defensive end Jerry Hughes told reporters Wednesday. "You don't want to let that out."
Last year at Bills stadium, the Bills did a good job of not getting zapped when Jackson took off with the ball in his hands. He gained, by his standards, a relatively modest 40 yards on 11 carries.
The problem for the Bills was that the rest of what the Baltimore Ravens did allowed them to leave with a 24-17 victory. That included Jackson throwing for three touchdowns in Week 14 of his NFL MVP season.
High school football coaches from the Baltimore-Washington area still harbor a fondness for the competitor and the person who became a trailblazer for high school football in Maryland.
"We had an idea how talented he was, but once our players got on the field and the rest of the coaches got a chance to see him up close, we were like, 'Wow! This guy is really special,'" defensive coordinator Leslie Frazier told reporters earlier in the week. "The tape doesn't do him justice."
During what would be his final NFL season, Lorenzo Alexander was part of the Bills' 2019 defensive effort against the Ravens. He played a season-high 41 snaps, 37 at strong-side linebacker.
At the core of the Bills' ability to prevent Jackson from doing what he did in the Ravens' 20-13 wild-card playoff victory against the Tennessee Titans Sunday – when he ran for a game-high 136 rushing yards, including a 48-yard touchdown – was forcing him to throw. The Bills frequently bunched defenders near the line of scrimmage, cutting off running lanes inside and outside.
Though Jackson generated the three TDs with his arm, he only threw for 145 yards. Alexander believes they should employ similar strategy for Saturday night's AFC divisional-round playoff game because he doesn't see Jackson beating the Bills on the strength of his passing.
"I don't think (the Ravens) have changed too drastically," he told The Buffalo News by phone this week. "They may have some more passing concepts, feeling a little bit more comfortable with (Jackson's) development there. But that was one of the big things we did last year was we dared them to have him beat us with his arm. We had pretty much almost 10 men in the box at times, played up. Obviously, they had that one big (throw for a 61-yard touchdown) where it was more of a miscommunication than them winning a matchup that led to a touchdown.
"Last year, I think we did an excellent job, just because people were very disciplined in our plan. It was something that we just kind of came up with that week, or at least it was installed that week from a coaching standpoint, and for the most part, we communicated well, everybody did their part. And then, at the end of the day, I think we were very physical with them, because they are a physical-natured team, from playing in that (AFC North) division, being a very physical one. So, I think we matched that, and we were able to sustain that for four quarters.
"Even when he got out (of the pocket), he didn't destroy us with a 60-yard touchdown run like he did (Sunday). A couple of times he got out and made a couple of guys look silly, but we didn't dwell on them. We continued to fight, continued to hit him, continued to kind of corral him and were able to do that for four quarters. And that's really the only way you can do it because he can break out at any second. Anytime you feel like you've contained him, that's when he explodes."
Ravens defensive coordinator Don "Wink" Martindale said Allen was like a young Ben Roethlisberger with his size and the way he extends plays, but with Dan Marino's arm.
With Jackson's extraordinary speed and explosiveness, the Ravens' offense is heavily rooted in an option-style running attack that ranked first in the NFL. The Ravens produced 3,071 yards on the ground, an average of 192 yards per game. Their 2,739 passing yards were last in the league.
Rookie running back J.K. Dobbins leads a backfield that includes Gus Edwards and massive blocking fullback Patrick Ricard. However, Baltimore's most dangerous offensive weapon, especially as a ball-carrier, is Jackson.
With cornerback Tre'Davious White and talented safeties Micah Hyde and Jordan Poyer, the Bills should be able to handle the Ravens' receivers without utilizing double-coverage. Most, if not all, of the Bills' defensive focus must again be on minimizing Jackson's impact as a runner.
That won't be easy for the league's 17th-ranked run defense that had problems with other dual-threat quarterbacks. Most notably among them was Arizona's Kyler Murray, who ran for 61 yards and two touchdowns before delivering a miraculous last-second pass to beat the Bills 32-30 in Week 10.
"Everything is through the run game," Alexander said. "If they don't stop that run game, it's going to be lights-out. They have to force Lamar to be uncomfortable. He can throw from the pocket, but that's not where he's comfortable."
The Bills can make Jackson feel less comfortable by taking a substantial lead early. Their offense is more than capable of scoring quickly and often, though that won't be easy against the league's No. 2 defense in points allowed and seventh in yards permitted.
The Titans managed to jump to a 10-0 lead last Sunday, and Jackson still was able to be as effective as ever as a runner. The Ravens finished with 236 rushing yards.
"One of the big things the Bills can do is, really, the offense taking (the Ravens) out of it," Alexander said. "People said (Sunday), it's kind of put to bed that he can't play from behind. It was really a 10-point lead. That doesn't change it too drastically. I think the offense doing their job and continuing to put up 30-plus points the way they've been doing, I think, it's going to help significantly. So, it takes them out of some of that zone-read, power-read stuff they like to do."
Diggs (oblique) and Beasley (knee) were limited in the early part of last week, but ended up playing in the wild-card win against Indianapolis. 
For Hughes, the primary concerns for the Bills are:
1. Make sure the defenders they have on the field are as fresh as possible throughout the game.
2. Whoever is out there is swarming Jackson and delivering as many hits on him as they can.
"We've said, 'Everybody be tuned in on every play, and the minute you see anybody tired or breathing hard, get your butt on that field just because we need fresh bodies; we need people who need to have fresh legs chasing this guy,' " Hughes said. "Lamar Jackson is somebody that can go from 0 to 60 and score that fast, and you've got to just keep him contained and then rallying to the football. Put bodies on him early. Let him know that it's going to be a physical, four-quarter ballgame."