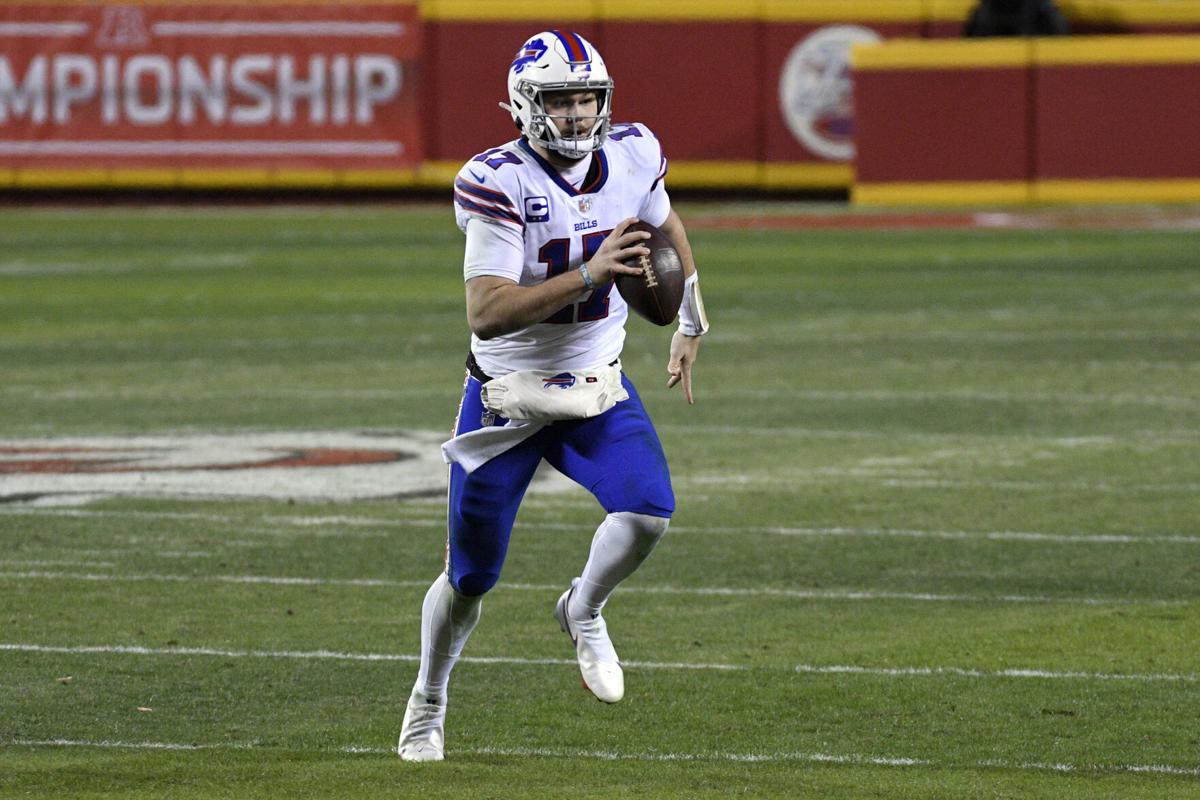 Let's take Brandon Beane at his word, and assume the pin that has apparently been placed in a Josh Allen contract extension won't budge any time soon.
That is, at least, not before the April 29-May 1 NFL draft.
Contract talks with the QB and linebacker Tremaine Edmunds will be "front and center as soon as the draft is done."
The question is, how far beyond that will it take to get a deal done?
Watching Beane on Tuesday during a pre-draft video call with reporters, his facial expressions and the tone of his voice would have made the world's best poker players proud.
The Bills' general manager wasn't giving up anything.
Maybe the extension will happen later in the spring. Or, perhaps, the summer. Who knows? It might very well be next year before an agreement is reached.
"There's no rush," Beane said, pointing out that he has spoken with Allen and has "had a conversation with one of his representatives" and that everybody is fine with being patient and allowing it to "happen when it happens."
The Bills' GM said enough to make it seem like last year's draft experience – in which the Bills stood pat for each of their seven selections – was an aberration.
The potential for this to drag out is understandable. We're talking about a massive undertaking, involving stratospheric dollars that no professional athlete in the history of Buffalo and, very likely, the NFL has ever seen. Arriving at a place where all parties are satisfied does take time.
But there's also no forgetting that this is still a negotiation. The dancing has begun.
"And, listen, we would love to get Josh extended, no doubt," Beane said. "But it has to be a number that works for him and works for us. That's been my conversation with them and they know the same. ... Josh wants to be here. That gives me hope we'll get something done at some point. I can't guarantee you it will be this year, but the good thing is we do have time."
Suggesting the possibility of a prolonged timeline makes sense for the team, which isn't in any hurry to stroke a check for a mega-millions signing bonus and has the added benefit of buying more time by picking up the fifth-year option in Allen's rookie contract because he was a first-round draft choice.
On the other hand, Allen and his agents would, of course, prefer to be paid as soon as possible.
This is the first in a series profiling players the Bills could select in the April 29-May 1 NFL draft.
Pressure points are being pushed by both sides.
"We tried in Carolina to get Cam Newton done at this time and it didn't work," Beane said, recalling when he was assistant GM of the Panthers. "We just weren't on the same page with his agent on where the value is to where we saw it. So we said, 'Hey, no hard feelings, we're all on the same page here.' We pushed pause.
"He played that season and then after that season, we got it done pretty quick that next offseason. We were all on the same page. I guess what I'm saying is, you can't force it. It happens when it happens. If it happens this year, great. If it doesn't, I'll be very positive that we'll get it done next year."
Beane's role, above everything else, is to do what's right for the Bills. Making and keeping Allen happy are important considerations, but not his primary concern.
The GM has to see a much larger picture. Along those lines, he mentioned that he didn't expect a "huge increase" in the 2022 salary cap, which was significantly lower this year because of decreased revenues from pandemic-limited stadium attendance.
Bojorquez spent the last three seasons with the Buffalo Bills and ranked first in the NFL last season in gross punting average with 50.8 yards per kick.
He also addressed the fifth-year-option decisions the Bills must make by May 3 with Allen and their other first-round pick in 2018, linebacker Tremaine Edmunds.
Beane's answer seemed to give at least a partial hint as to the potential of an extension for Allen happening sooner rather than later.
"Josh's (fifth-year-option) number is in the 20s because of a Pro Bowl. Tremaine has made a couple pro bowls. He's pushing $13 million. So you can't really be flexible with those cap numbers.
"We've got to make sure, if we pick them both up, that we're going to have close to $35 million of space in next year's cap," he said.
That's because Allen's fifth-year-option salary would be $23 million in 2022, because he was a ballot selection to the Pro Bowl, and Edmunds' would be about $12 million because, though he made two Pro Bowls, he was an injury substitution for one and that does not count in fifth-year-option calculations.
"It's not an ideal scenario to pick them both up and not extend them," Beane said. "So we've got to figure out how we can make that work in our system."
The Houston Texans provided a model of sorts last year when, just before the start of the regular season, they extended the contract of quarterback Deshaun Watson. That deal put Watson's 2021 cap number at $15.9 million. An Allen extension coming before the '21 season, with multiple years allowing for flexibility in its structure, would figure to keep his cap number well below $23 million next year.
The Bills know they have a franchise quarterback in Allen. He has been an ascending talent since his rookie season and reached elite status in 2020, when he firmly established himself as the best QB the Bills have had since Jim Kelly and finished second in league MVP voting to Aaron Rodgers.
The Bills don't have the same certainty when it comes to Edmunds. He has been up and down in three seasons, and left more than a little to be desired with his performance last year. Picking up his option is a possibility, but it wouldn't be a surprise to see the Bills choose to wait on what he does this season before determining whether to lock him up long-term.
Neither Beane nor team owners Terry and Kim Pegula need another year to be convinced of Allen's value. And Allen and his agents would undoubtedly prefer to avoid the risk of him suffering a major injury before he signs a contract extension.