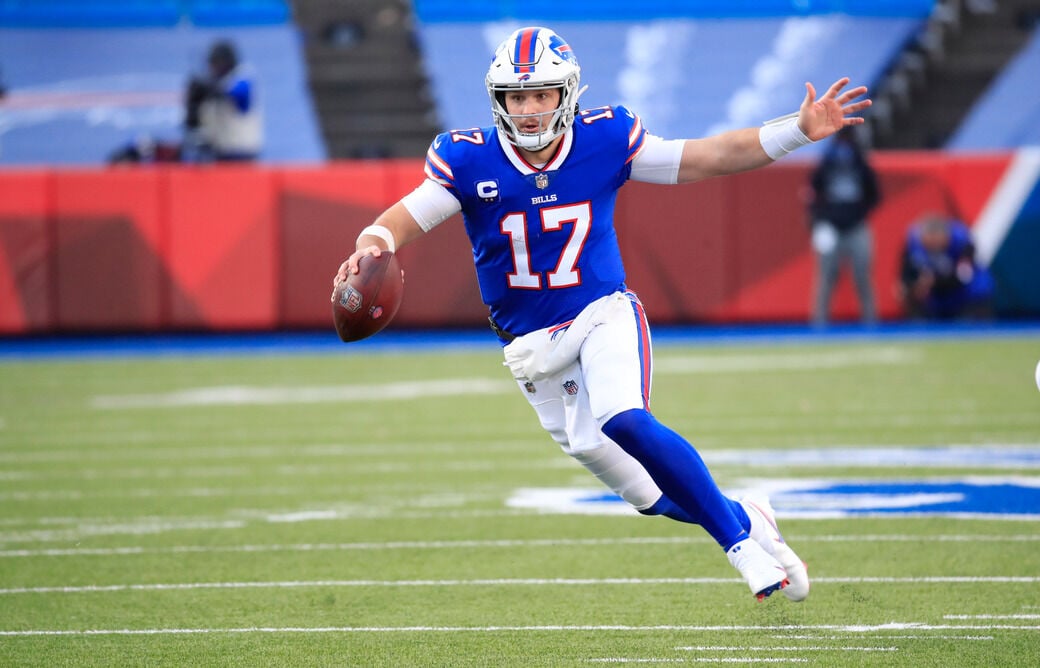 It's bound to happen. It already has, to varying degrees, in a handful of games during the regular season.
Josh Allen won't perform at the dominant level that is the primary, if not sole, reason the Buffalo Bills are playing an AFC divisional-round playoff game Saturday night.
What then? Who steps up? Who disappears?
The questions only intensify as the Bills move a step closer to their first Super Bowl appearance since the 1993 season, the last of four straight trips to the big game. Back then, every conversation about the team's fortunes began with Jim Kelly, but there were others who figured prominently in the discussion: Bruce Smith, Darryl Talley, Cornelius Bennett, Shane Conlan, Thurman Thomas, Andre Reed, James Lofton and Steve Tasker.
Eventually, Kelly, Smith, Thomas, Reed and Lofton, along with coach Marv Levy and General Manager Bill Polian, would enter the Pro Football Hall of Fame. It's far too soon to have the slightest clue as to whether there are gold jackets in the collective future of Allen or Stefon Diggs or any of the current Bills.
Josh Allen has been sensational against the blitz this season. Don't expect that to deter the Ravens' defense in Saturday's game.
What we do know is that a substantial challenge, in the form of a postseason clash with Baltimore Ravens, awaits.
What we don't know is exactly how much of the load Allen will have to carry for the Bills to advance to the AFC Championship Game.
So far, it has been immense.
In the regular season, Allen accounted for 78.5% of the Bills' offense, which ranked fourth in the NFL. Of the top five players in that category, only two made it to the playoffs. The other was Russell Wilson of the Seattle Seahawks, who lost against the Los Angeles Rams in last weekend's wild-card round.
Translation: Your chances for success are far greater when others make their presence felt.
"Whether it's Drew Brees, Aaron Rodgers, Tom Brady, Patrick Mahomes, there are guys around them making plays, too," former Bills linebacker Lorenzo Alexander told The Buffalo News by phone. "And then defensive guys are taking opportunities to make plays as well. For me, it's not about what Josh is going to do. It's really about how well this defense consistently plays for the rest of the playoffs and finding those opportunistic times to take the ball away. And they did that (in the wild-card win) versus the Colts, but the review said otherwise."
The stat sheet from the 27-24 victory against Indianapolis had Allen throwing for 324 yards and two touchdowns and running for a score. The rest of the Bills' points came on Tyler Bass field goals of 46 and 54 yards, making the rookie kicker a clear example of someone other than Allen rising to the occasion.
Here are more sobering numbers: The Bills scored 56 offensive touchdowns in the regular season, with Allen throwing for 37, running for eight and catching a pass for one. That put the quarterback's signature on all but 10 of the team's TDs during a year when it generated a franchise-record 501 points.
Wide receiver Stefon Diggs and Cole Beasley, linebacker Tremaine Edmunds and defensive tackl…
Maybe Allen can keep the magic rolling for another game. Or two. Perhaps he'll continue to have much of the team's weight on the broad shoulders of his 6-foot-5, 237-pound frame all the way to Tampa for Super Bowl LV.
Chances are, though, there will be a hiccup. Or two. It has happened to some of the greatest players in the history of the game. It can happen to a player traveling a path to greatness.
That is when it is incumbent upon others to do something special. This is less about Diggs and Cole Beasley and the rest of the receivers, because they're inexorably tied to Allen.
This is about the running game. This is about the defense. This is about special teams.
"Josh is going to give you the opportunity to be in the game, and so at the end, you're going to be down one score and maybe you have to come down and kick a field goal," Alexander said. "It's going to be those times when (you find out) what do those other individuals do around him? Because I think Josh has grown up and matured to the point where I'm not really worried about him freaking out or getting outside of himself.
"What are the guys around him going to do and have they matured to that level where, when the moment's on the cusp, they don't fall apart? Is that a young player? I don't want to jinx anybody by saying names, but is it a young player that has the busted assignment? Or, like we saw Sunday night with (Pittsburgh Steelers center Maurkice) Pouncey and the ball was snapped over (Ben Roethlisberger's) head? Or just whatever it may be outside of Josh?"
Allen has proven that he's more than capable of maintaining composure. He's not the same guy whose desire to overcompensate as a 16-point lead was vanishing in a wild-card game at Houston last year led to mistakes that compounded themselves on the way to an overtime loss.
The Bills are being led by a more mature Allen, on and off the field.
"It goes back to not pressing, not forcing balls, not turning the ball over, making the right decisions, whether it's a check-down or a deep throw, just trying to make the right decision for this offense, just trying to end every (non-scoring) possession in a punt," Allen told reporters Wednesday.
The Bills' ground game has been an afterthought all season. It took a big hit Saturday when rookie Zack Moss suffered a season-ending ankle injury.
With Zack Moss out for the postseason, Freeman provides another option should he get called up to the main roster.
Still, Devin Singletary has displayed, more consistently as a rookie last season and occasionally in his second year, that he has the talent to be effective. If the Bills need him to come up big, will he?
"I do believe that if Brian Daboll finds a way to run the football, if he has early success with it, that he'll come back to it," CBS NFL game analyst Charles Davis, who was part of the network's coverage of the Colts' game, told The News by phone. "And the reason I say that is the first New England game, the Chargers game, there were some games along the way where he said, 'OK, I'm getting something here.' And having an almost intact offensive line, save Cody Ford, and (Ike) Boettger's really played a lot better than what people were giving him credit for in the first part of the year, that, I believe, can be something that can change things for them. Instead of getting into a flat-out shootout, maybe you slow things down a little."
That means Singletary must step up.
Based on what he did during the regular season (687 yards and two touchdowns on 156 carries) and against Indianapolis (21 yards on three attempts), it's hard to see it.
"The thing I loved about him coming out and what I thought about him last year was that first guy almost never got him," Davis said. "He was so good in the hole and making guys miss. Because he's not going to outrun you very often, but he's going to out-quick you, he's going to make it tough for you to get a hand on him, and it hasn't been quite the same. I'm not trying to bury him at all by any stretch. He could very well break out, but that's not the same guy we saw a year ago."
The Bills' defense hasn't been what it was in 2019, when it ranked second in points yielded and third in yards allowed. But it did show improvement through the second half of the season.
With the Bills generating an average of 31.3 points per game, second-most in the league, there is, in Alexander's view, virtually no reason for the defense to fail to protect leads. In other words, it's up to Jerry Hughes and Ed Oliver and Tremaine Edmunds and Matt Milano and Tre'Davious White and Levi Wallace and Micah Hyde and Jordan Poyer to clamp down on Lamar Jackson and the rest of the run-heavy (thanks largely to Jackson) Ravens.
Emblematic of one of Sean McDermott's favorite slogans for this season, Josh Allen "found a way" to win against a fast and talented Indianapolis Colts defense, writes Jim Kubiak.
"Anytime your offense puts up 30 points, you should win the game as a defense," Alexander said. "That's what your mindset is. We were trying to hold teams to our goal every week; I want to say it was 15 points. So now you have a 15-point wiggle room. If your offense is doing what they're doing, as a defense, which has probably been a little bit of a letdown here and there, they're not consistently taking the ball away and then allowing teams to have some explosion plays or run their way back into it."
"I understand that our defense has been able to get the job done at a consistent level and we don't expect that to stop anytime soon," Allen said. "We can help them as much as they can help us."
For now, it is Allen doing the lion's share of what the Bills need to reach their desired destination.
It's reasonable to believe that can't continue if the team intends to keep playing into next month.
"Obviously, the quarterback always gets the microscope," Alexander said. "But in actuality, it's everybody else around him that are also executing at a high level that allows them to thrive in those situations."