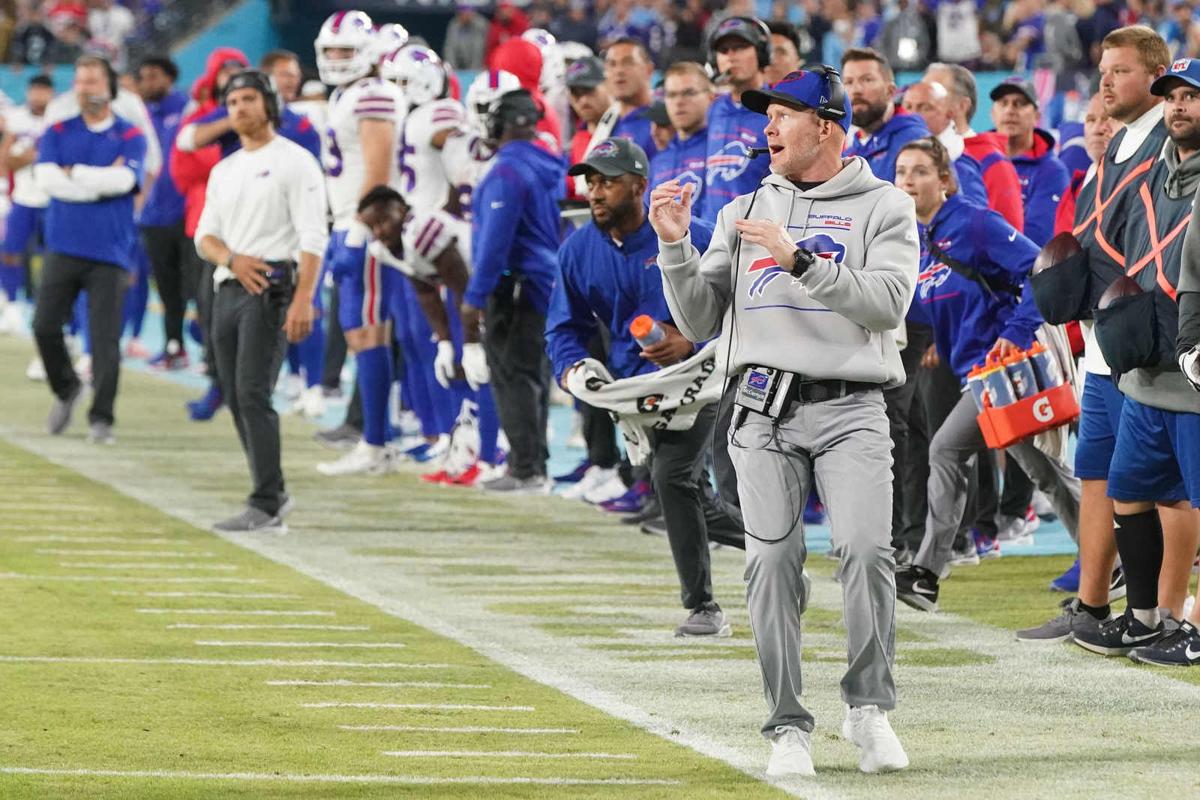 NASHVILLE – The Buffalo Bills – and their fans – have been here before.
Sure, Monday night's 34-31 loss to the Tennessee Titans at Nissan Stadium stings. It doesn't help that the team has to sit on it, either, with the bye week having arrived on the schedule.
If there is any solace to be found, however, it's that the team is intimately familiar with this type of pain. Last season, the Bills went to Arizona before their bye week. A late touchdown pass from Josh Allen to Stefon Diggs put Buffalo ahead, 30-26, with less than a minute to play.
What happened next has been replayed roughly a billion times. Cardinals quarterback Kyler Murray's desperation heave to the end zone was somehow pulled down by receiver DeAndre Hopkins – a play dubbed as "Hail Murray" that gave Arizona a 32-30 victory.
The Bills sat with that result through their bye week, but came out the other side in fine shape.
More than fine, in fact. The team wouldn't lose again until the AFC Championship Game, running off six consecutive wins to close the regular season and two more in the playoffs.
"The Bills have scored only 16 touchdowns in 29 trips to the red zone this season, confounding for a team with so many weapons," writes Jason Wolf.
"Every year's different. You know, I appreciate you bringing that up," Bills coach Sean McDermott said after Monday night's loss. "You want to win every game. Now we've got a week to sit on this one and learn from it and come back stronger. So that's the goal every week, and that'll be the goal next week."
It wasn't easy to tell if McDermott was being sarcastic when he thanked a reporter for bringing up the loss to the Cardinals. On one hand, doing so is like peeling off a scab, drawing fresh blood.
On the other, it's a reminder that, if processed properly, painful defeats like what happened Monday night don't have to linger.
"I think it's a double-edged sword. It's a Catch-22 in regards to the fact that we get extra time to work on what we need to work on, but at the same time that bad taste is going to be our mouth a little bit longer than we'd like," center Mitch Morse said. "It's going to be a tough film to watch, especially for myself. Then we'll go from there and be pros about it. All you can do is just point fingers at yourself. That's what we plan on doing. … It'll be tough, but we'll get through it and march on. This team's resilient."
While McDermott was hesitant to make an immediate comparison to the Arizona game, quarterback Josh Allen subscribed to that line of thinking.
"I think it's very similar feelings, the way we lost both of these games. Typically, you don't carry anything over from year to year, but we do have that type of experience, going back to last year and just coming out of the bye week really hungry, really ready, and we got to go and do that again," he said. "We got to put this one behind us as quickly as we, can get our bodies back ... I know we had a couple injuries tonight, so get back on track with those things and start looking to put together a game plan. I think we got Miami in two weeks."
Indeed, they do. On paper, it looks like a good opponent from the Bills' perspective. The Dolphins are in free-fall mode, sitting at 1-5 after a loss Sunday in London to the previously winless Jaguars. Their head coach is firmly on the hot seat and their young quarterback is being questioned.
The Bills have a chance in a little less than two weeks to get their season right back on track. Buffalo heads into the bye at 4-2, comfortably in first place in the AFC East ahead of New England (2-4), the Jets (1-4) and Miami (1-5). Buffalo is in fourth place in the AFC standings, and the goal of finishing with the No. 1 seed and home-field advantage throughout the postseason did get tougher with the loss to the Titans.
All the Bills' goals, however, are still firmly in front of them. After Miami, the Bills travel to Jacksonville and the New York Jets. Those three teams have a combined record of 3-14. The Bills' remaining strength of schedule is the easiest in the NFL, as its 11 remaining opponents have a combined winning percentage of .371, according to the website tankathon.com. McDermott also has been keen at making the most of the bye week, as the team is 4-0 in games after the bye week.
The Ravens, who lead the AFC with a 5-1 record, have the eighth-hardest remaining schedule, with an opponent winning percentage of .561.