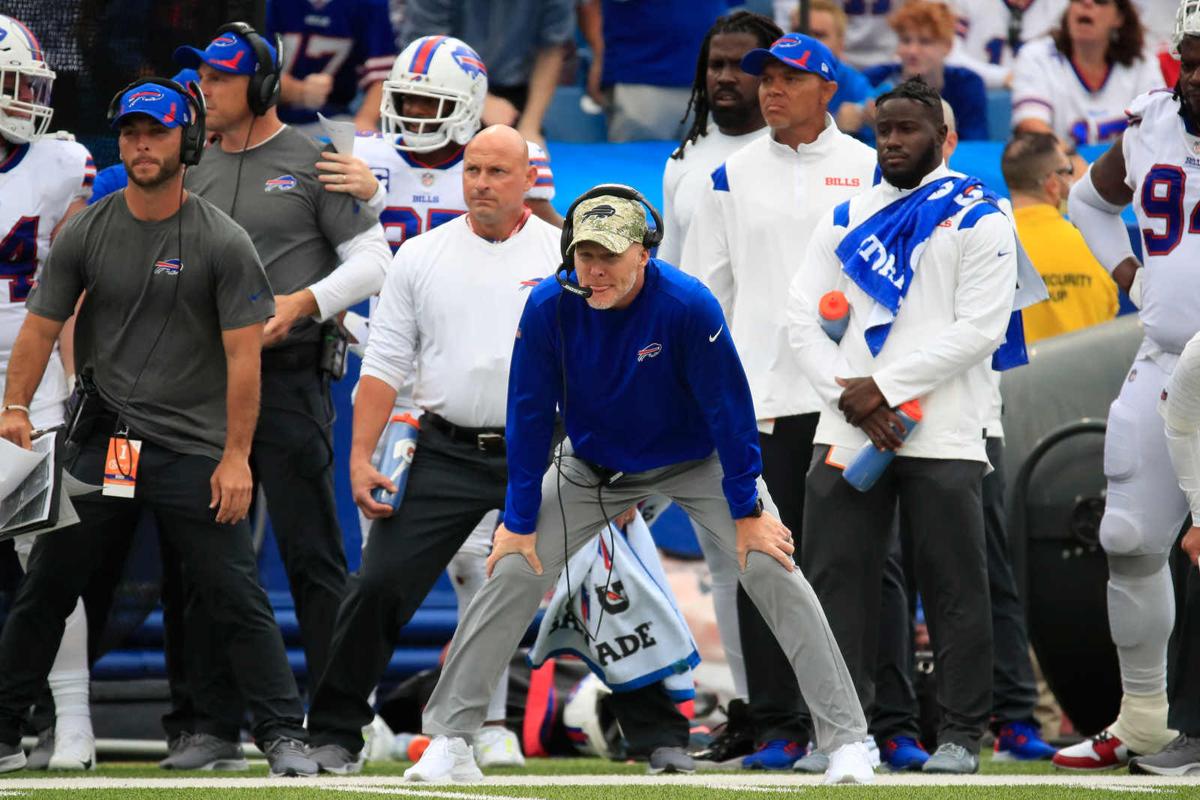 The Buffalo Bills were unified in their message coming out of Sunday's disappointing loss to the Pittsburgh Steelers at Highmark Stadium: Don't panic.
In fact, those were the exact words uttered by safety Jordan Poyer as he made his way out of the postgame news conference room.
Poyer's comment was not in response to any question, so he was clearly sending a message to the media members in attendance, and by proxy, the fans sitting at home.
"A lot of games left," safety Micah Hyde said as he exited, again unprompted.
The Bills' safeties are fully aware of the expectations facing their team this season – expectations that were, quite frankly, not met in a 23-16 loss to the Steelers.
"We understand we're a good football team and we're a better football team than what we showed today," Poyer said. "The best thing that we can do is learn from our mistakes today and continue to grow as a football team. We've got a lot of football left in the season. This is Week 1. I don't want to go into it.
"Y'all make it seem like we damn lost the Super Bowl or something. That was a good football team and we didn't play well enough to win, but the best thing that we can do now is watch the tape tomorrow and learn from it and bounce back next week."
It didn't seem like an accident Poyer brought up the Super Bowl. The Bills have been a chic pick among national media members to reach the big game for the first time since the early 1990s. That's a different kind of pressure than this team is accustomed to.
"Even without the hype and expectations coming from everybody, that's a tough one," Hyde said. "It really felt like we were in position to win the ballgame. Obviously, we go out at the half and keep playing the way we were in the first half, I'm speaking defensively ... they made some plays. And if we want to take the next step, then we can't let that stuff happen."
"That's how the NFL is and you gotta be able to handle it right," coach Sean McDermott said of learning to play under the weight of lofty expectations. "That's what we do, we go back and we learn from this. There's a lot of things out there that we can do better, I can do better, and starts with me.
"We've been here before. It's one game and I know the expectations are high and that comes with the territory. But with that said, you've got to stay humble and hungry in your approach every week. You guys know it's a week-to-week league and give credit where credit's due. Mike Tomlin and his team came in here and out-coached us and outplayed us, and I give them credit."
Hyde and Poyer lamented the defense's inability to force a turnover or get off the field in the second half. Offensively, the high-powered unit from a year ago managed just one touchdown.
"There's no loss of confidence at all. Part of it was a good job for them, but we know we didn't play our best offensively," receiver Cole Beasley said. "We've got to be a lot better than that. We know what we have with this group. So, there's not going to be any drop in confidence. We're still going to go out there trying to score 40 every game. We feel like we can accomplish that if we do it how we do."
Hyde brushed off the idea of the Bills having a target on their back this season based on what they did in 2020.
"This is the National Football League. We're going to get everybody's best regardless. It doesn't matter if you went to the AFC championship game or not," he said. "So hearing that, especially coming from the media, that doesn't make sense to us, because we're going into the game to win the football game and we know that was a good football team. Second half we couldn't stop the bleeding. The NFL, the games are about momentum and we weren't able to stop it."
The last time the Bills lost back-to-back games was in Weeks 5 and 6 last season, to the Titans and Chiefs. They'll try to avoid doing so again Sunday at Miami in the Dolphins' home opener. Miami opened the season with a victory against New England, 17-16. With the Jets also losing Sunday, that means first place in the AFC East will be on the line.
Yes, it's still very early in the season, but another loss would turn the disappointment of the defeat to the Steelers into full-blown panic.
"This will be a pivotal moment, I think," linebacker Tyler Matakevich said. "Just to get the season started, I mean it's a long year. One game definitely does not define your season, but we definitely got some work to do. We'll go back to the drawing board, we'll look at all of our mistakes, we'll make adjustments, we'll make changes, learn from it and get better. I mean, that's honestly the only thing you can do at a moment like this."