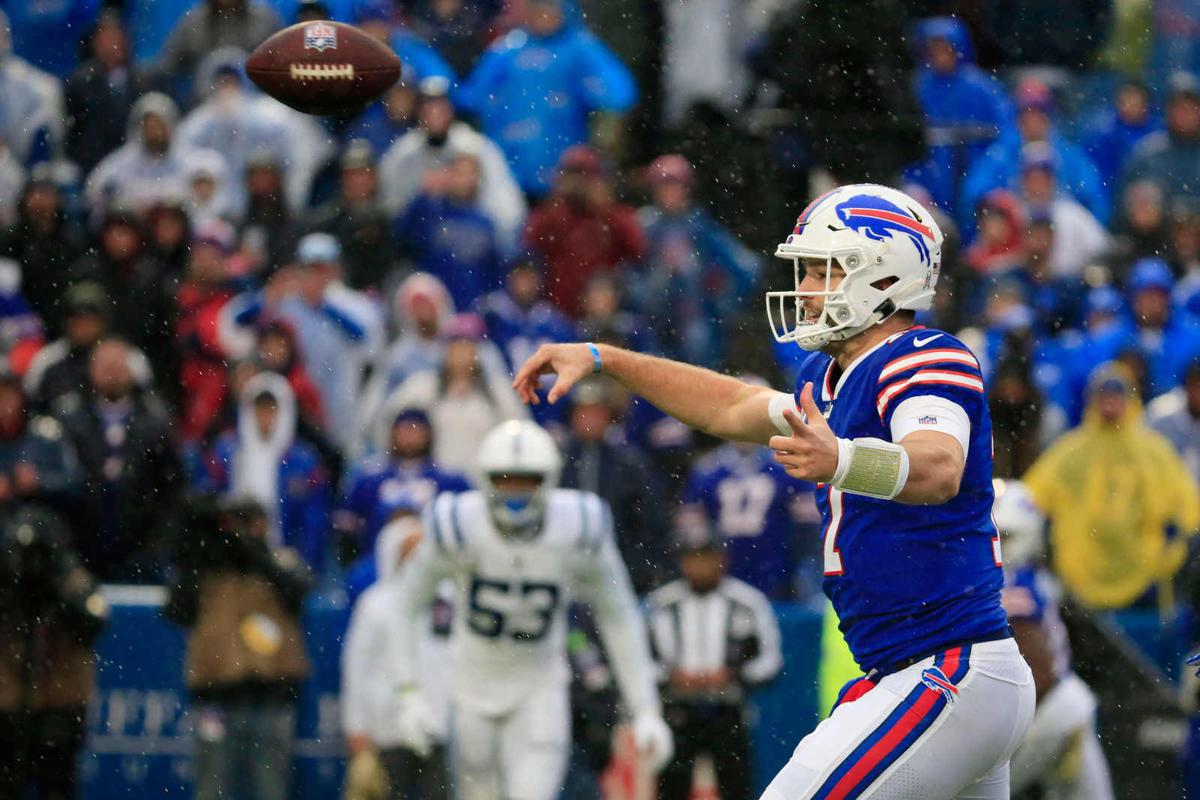 The Buffalo Bills have another game in three days.
Depending on your perspective, that can either be a really, really good thing, or a really, really bad thing.
After Sunday's embarrassing, 41-15 loss to the Indianapolis Colts at Highmark Stadium, the Bills are in a downward spiral. On one hand, they have a chance to reverse that against the New Orleans Saints on Thanksgiving night. On the other, there is precious little time to make any of the necessary corrections, and the list is lengthy.
Immediately after the loss to the Colts, Bills coach Sean McDermott wasn't sure which side of the fence he was on.
"I guess there's some bad, short turnarounds because you can't really get back on the practice field for all that much time and then there is some good to it so you can move on and move forward," he said. "I'm not really sure which one I like more, to be honest with you. At the end of the day, no one wants to go through what we just went through. Give the Colts the credit. I believe we're a better football team, but we've got to play a better, complete game than we just did in all three phases."
The Bills are expected to practice just once this week, and that won't be a physically demanding session.
"You've got to be realistic. The best thing, the most important thing we can do is get them rested," McDermott said when asked if there was enough time to fix the fundamental flaws the Bills displayed against the Colts. "Normally, I would say we're a pretty sound, fundamental team. We stress it a lot … but we didn't have it today, so we've got to go back and figure out why and get it back as soon as we can."
The opportunity to get back on the field was about the only positive thing Bills players could point to after that abysmal loss to the Colts.
"Very excited to get back and get back to work and play Thursday night," safety Jordan Poyer said.
"I'm excited to get back on the field quicker," added tight end Dawson Knox. "We'll get the corrections tomorrow, but we'll slap the taste out of our mouth. We have the 24-hour rule. This time tomorrow, we'll be done with it, we'll be moving on, and we'll be all focused on Thursday."
Quarterback Josh Allen echoed similar sentiments.
"It's a terrible feeling, but at the same time we got to play Thursday so this one's got to be out of our system before tomorrow," he said. "We got to be ready to go on Thursday. I think that's a fortunate thing for us that we get to play on Thursday and try to get this taste out of our mouth."
Interestingly enough, the road team has won on Thanksgiving in the last five games. That includes the Bills' victory over Dallas in 2019. That's at least a shred of good news that the Bills can try and use to their advantage at a time when their season feels like it's hanging in the balance.
"It's a journey every season," McDermott said. "It's going to ebb and flow. That to me, is part of the challenge, and I love that challenge, to be honest with you. Not that you want to lose, but making those adjustments to get our team exactly where it needs to be and learning who you are as a team, and we continue to grow and move forward. We'll see where we are. We'll see where we are after Thursday night, and just looking at it one week at a time right now."