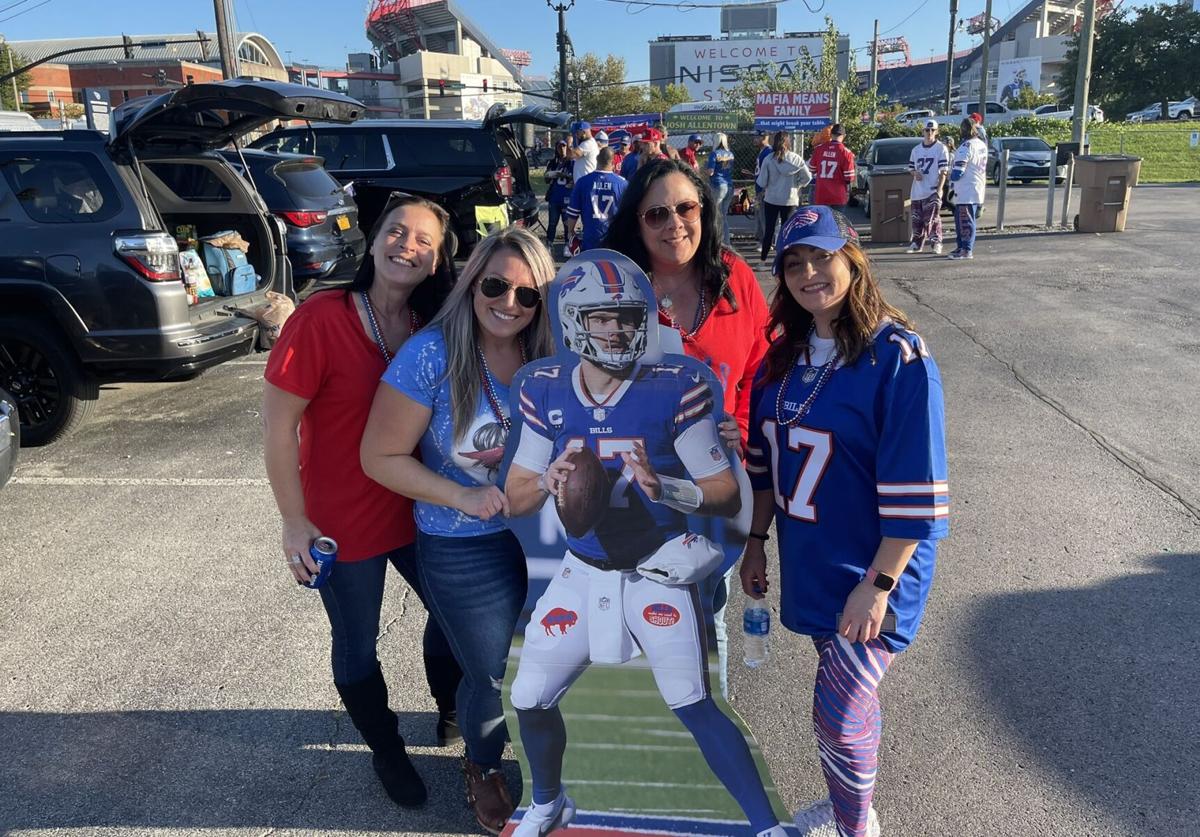 Thanksgiving update: Even though it didn't happen in Nashville, Flat Josh Allen has finally been united with the rest of the Allen family before the Thanksgiving night game between the Bills and Saints and New Orleans. Josh's parents, Joel and Lavonne, are joined by Josh's sisters Makenna and Nicala posing behind the Flat Allen sign.
It's a feel-good conclusion to Alyssa O'Reilly's lighthearted task, which we described below.
Amid the throngs of Bills fans that invaded Tennessee ahead of the Buffalo Bills vs. Tennessee Titans "Monday Night Football" game, one of the most visible supporters was two-dimensional, a rather rigid dancer and constructed from corrugated plastic.
That's a sign dubbed #FlatAllen, modeled after children's book character Flat Stanley, who's being toted around Nashville by Alyssa O'Reilly. The Texas-based Bills fan originally from Tonawanda has chronicled the adventures of the sign, designed and printed by ZoomBuffalo's Rory Allen and Josh Federice, through her Twitter account, @BillsMafiaGirl. 
Flat Allen's exploits around Nashville have included dancing in country bars, meeting Josh Allen's relatives and his girlfriend and her family, and even peeking through a photo stand-in outside Johnny Cash's Bar & BBQ. 
O'Reilly termed meeting Brittany Williams – Josh Allen's girlfriend – and her family on Sunday "as the best moment of my fandom and closest thing to meeting @JoshAllenQB himself." Williams and her family saw O'Reilly carrying the cutout from the second floor of a building and beckoned for them to come up and pose for photos.  
Just after the Bills' run to the AFC championship game, O'Reilly described how her homeowners association in Fate, Texas, demanded that she remove the Bills signs in her yard, as they were believed to be politically inspired. In her first-person account, O'Reilly delves deeper into her love for the Bills.
Zoom Buffalo's foray into Bills meme printing struck gold with the "Allen/Diggs" lawn signs, a playful imitation of those promoting political campaigns ahead of the 2020 U.S. Presidential Election, as well as a bundled-up, masked Bernie Sanders from the inauguration with the phrase "Bills by a Billion."
The Bills-tinged cleverness of Zoom was on display again this week, as Federice tweeted an image of a Josh Allen cutout – mid-hurdle from the remarkable run against Kansas City – above the "Welcome to Allentown" sign at the junction of Allen and Main streets near the Buffalo Niagara Medical Campus. Rory Allen confirmed that he and Federice installed the sign Wednesday.
The practice of turning any business or sign with "Allen" displayed into a chance to spread Bills fever hit its peak last winter, with Allentown Pizza, Allendale Road and the "Welcome to Allentown" sign again among the targets. There's even a photo gallery that tracked these clever changes.
The next quest for Flat Allen is to meet Josh Allen's parents ahead of Monday night's game, O'Reilly tweeted Monday afternoon. Josh Allen's parents, Lavonne and Joel, have been in Nashville this week as the game approached.