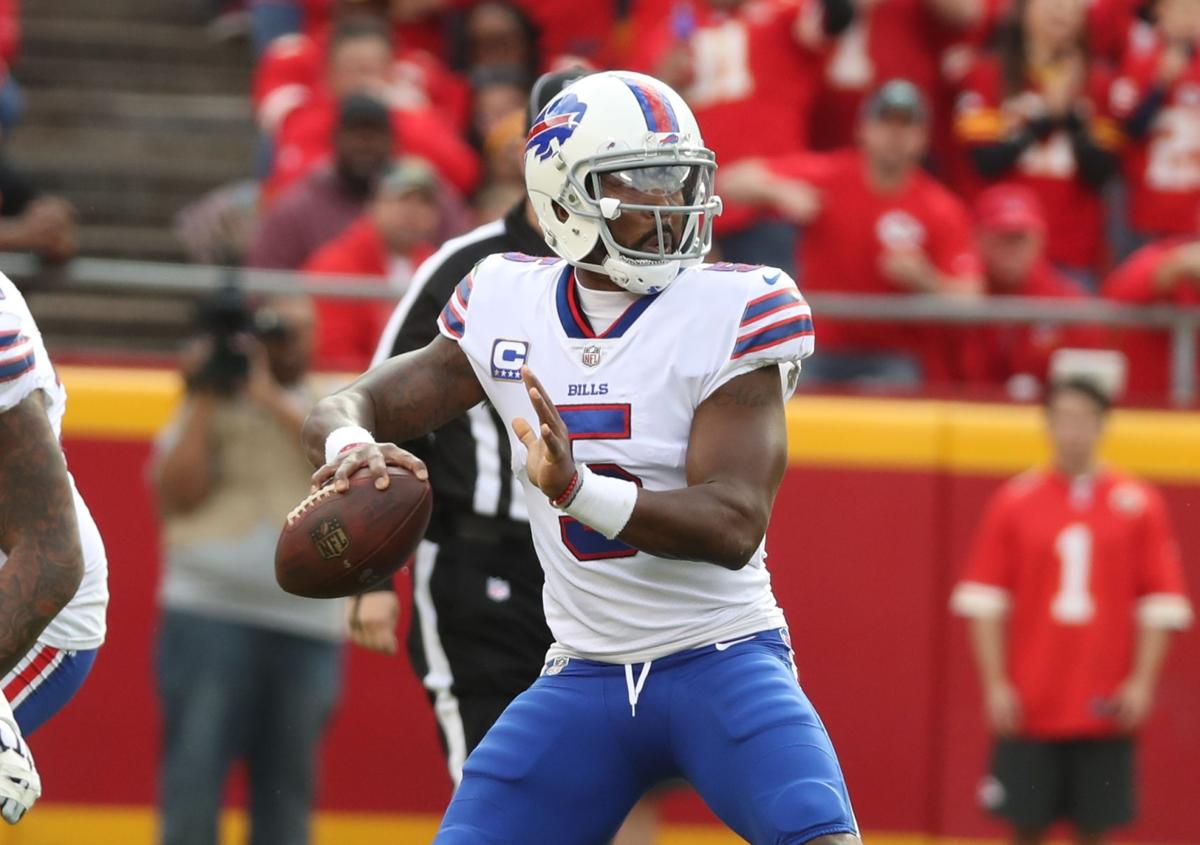 KANSAS CITY, Mo. – It's Tyrod Taylor's team for at least another week.
The Buffalo Bills' quarterback smiled widely Sunday when asked if he was OK with coach Sean McDermott not committing to him beyond Week 13.
"One week at a time," Taylor said following his team's 16-10 victory over the Kansas City Chiefs at Arrowhead Stadium. "It was a big game for us. We haven't played particularly well in away games this year, but for us to come in and weather the storm and overcome adversity throughout the year and even throughout this game … I just think in all phases we did enough today to get the job done. There is definitely some stuff that we can clean up, but I'm proud of the guys and the way they competed."
In his two-plus years as the Bills' starter, Taylor had started 38 games coming into Sunday. In those starts, he's averaged 18 completions, a little more than 200 passing yards and one touchdown per game. Taylor hit those numbers almost exactly on the nose Sunday, finishing 19 of 29 for 183 yards and one touchdown, along with 27 yards on nine carries. It was a start remarkably similar to several others he's made during his time in Buffalo.
"We can be better, of course," he said. "We'll correct it as a team and as a coaching staff moving forward and we'll get it done."
Asked what going back to Taylor a week after benching him for rookie Nathan Peterman did for the team, McDermott steered the question in another direction.
"Just overall going back to today, we played good team offense," he said. "We found the ball well. At times, I though Tyrod used his feet, and then we had some critical third-down conversions on some drives. There was some good things going on there and it wasn't just one guy. It was spread across the offense, which is good to see."
McDermott, however, wouldn't commit to Taylor for as long as the Bills are in the playoff hunt, saying only "Tyrod is our quarterback for next week."
If Taylor was shaken by his benching, he hasn't shown it.
"I wouldn't say I changed anything," he said. "I'm always a confident guy. I just appreciate the opportunity that I get to play with these guys each and every day. I see the work that every guy puts in in that locker room day to day, their preparation, and I want to be a part of that on Sundays.
"I'm thankful for the opportunity and I'm going to continue to play the way that I play."
Even if it was not an overwhelming statistical performance, Taylor's presence had a calming affect on the Bills.
"It felt normal," running back LeSean McCoy said. "Tyrod, he kind of gets us going with his arm and his feet. He made some plays, extended some drives, bought some extra time in the pocket. It was good to have him back out there."
[BN] Blitz Daily Updates
Feed your obsession. Start every morning with a guide to the latest news from One Bills Drive and stay informed about what is going on elsewhere in the NFL.