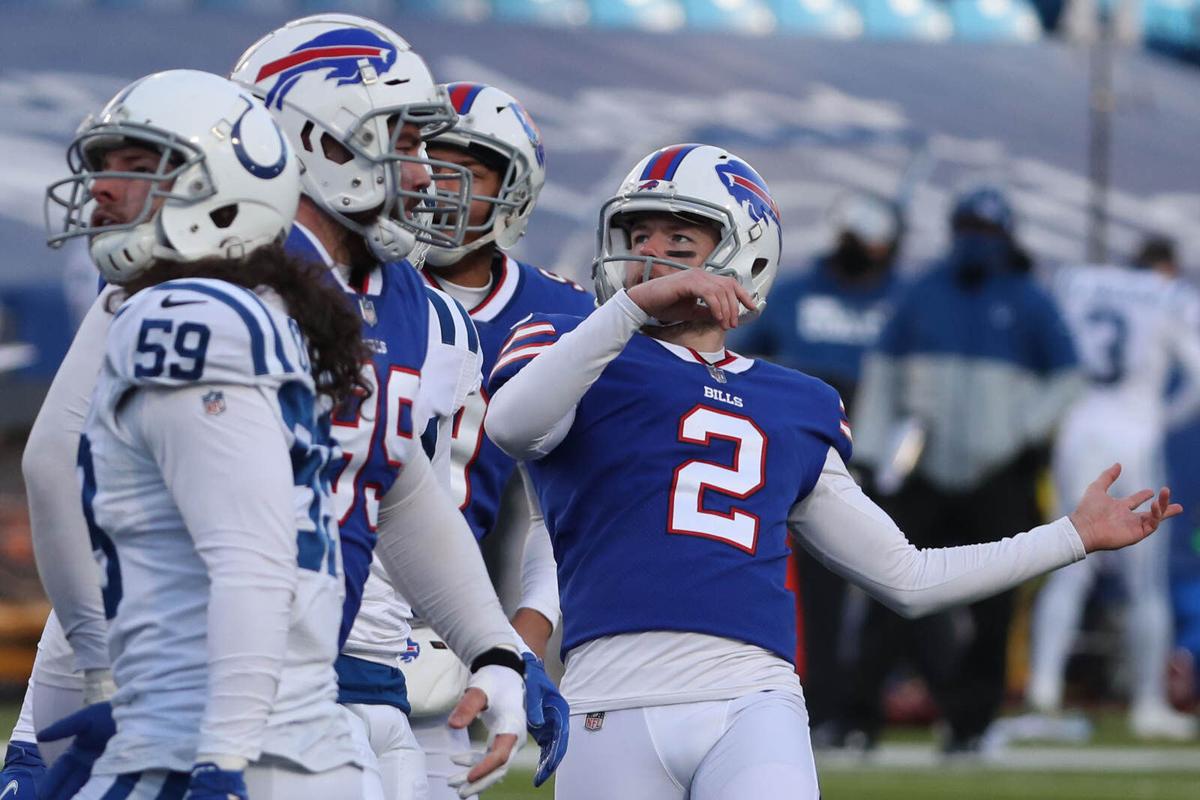 Here's an optimistic thought for Buffalo Bills fans: What if place-kicker Tyler Bass gets better in Year 2 of his NFL career?
It has become almost a cliché that NFL players take a leap forward in their development in their second season. There's truth to it. After a full year in a professional strength and conditioning program and a full year of experience, players tend to get better.
Of course, there's no guarantee of improvement. The Pro Bowl isn't filled with second-year players.
Yet the 24-year-old Bass is one of the Bills' players with upside after posting an outstanding rookie season in 2020.
The sixth-round draft pick from Georgia Southern set a franchise record for points in a season. He made 17 straight field goals late in the season and into the playoffs, tied for the second longest streak in team history. And he booted the longest field goal (54 yards) by a rookie in NFL playoff history. It was a clutch, fourth-quarter kick, and it turned out to be the decisive score in a tense wild-card win over Indianapolis.
"I'm not surprised," Bills special teams coach Heath Farwell said of Bass' play during the playoffs. "He's a guy who believes in himself. He knows we believe in him. His confidence never wavers. He does not act like a rookie. There's no question in my mind, even when he's missed a kick or two, he's never wavered. He does all the right things like you'd see an old vet do."
Still, there is room to grow.
Bass tied for sixth in field goals attempted and tied for ninth in field goals made. He made 28 of 34 field-goal tries, or 82.4%. The Bills were 17th in field-goal percentage.
Bass could produce more if given the opportunity.
And the Bills could tap into his long-range ability, if needed. Bass was 4 of 6 from 50 or more yards in the regular season. The six attempts tied for seventh most. Bass was 3 for 3 from 50-plus yards in the playoffs, becoming the first NFL kicker ever with three 50-plus field goals in a single postseason.
The Bills were second in the NFL in kickoff coverage, holding foes to an average drive start on kickoffs at the 23.7-yard line. Bass was part of that success. He averaged 70% touchbacks, which ranked ninth best in the league. But that was a strategic decision by Farwell.
"He could just about put every kickoff out the back of the end zone if we wanted him to," Farwell said.
Bass' ability to put good hang time on kickoffs allows the Bills to try to pin the opponent deep in its own territory almost a third of the time by kicking short of the goal line to force the opponent to return the kick.
The challenge for Bass now is the same as that of every successful rookie, to prove he can be consistent from one year to the next.