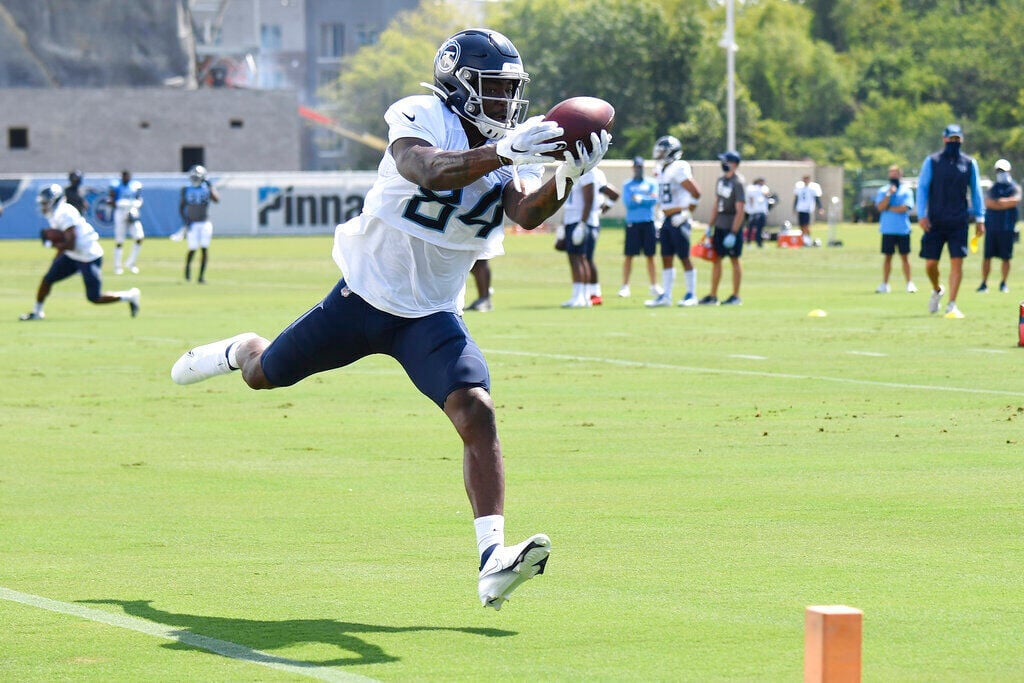 The Tennessee Titans have been studying the Buffalo Bills since Thursday, when the Titans' Covid-19 outbreak forced the cancellation of its Week 4 game with the Pittsburgh Steelers.
Now that the Bills can turn their full attention toward Tennessee, there's growing concern about whether and when the game will be played.
The Bills are scheduled to play the Titans on Sunday in Nashville, but 10 Tennessee players and 10 staff members have tested positive for coronavirus since Sept. 24, including 18 since Tuesday, with the count growing for six consecutive days. One Titans player and one coach tested positive Sunday.
There were no positive tests Monday, according to ESPN. That opens the door for the Titans to potentially return to their practice facility Wednesday, because NFL protocols require them to go two consecutive days with no positives before reopening.
"I'm concerned," Bills coach Sean McDermott said Sunday night after the team's 30-23 victory against the Las Vegas Raiders. "When people are sick, we're concerned, whether it's a competitor or not, so we hope that everyone is doing OK on their end, or improving."
The Bills' operations staff has been monitoring the situation, he said, and the coach planned to turn his attention to it on the way home from Vegas. McDermott gave his team credit for not worrying about the Week 5 game before their Week 4 game had been played.
"It was a mental challenge for our team," McDermott said. "We were being asked about it the back third of our week last week, and the guys, they know who's next on the schedule. To then come out here and focus like they did, I thought showed a lot."
Bills safety Jordan Poyer cut off a question about the Titans' outbreak.
"I'm 4-0, man," Poyer said. "I'm not even thinking about that right now."
"Whatever happens, happens," safety Micah Hyde said. "If the schedule goes through and we play on Sunday again, we'll be ready to play. If not, we'll be ready not to and move on to the next opponent. ... We're professionals at this. We'll be prepared."
It seems likely the Titans' game against the Bills would be postponed to Monday or Tuesday, if necessary, before the league considers rescheduling it to later this season.
Because the Titans' bye week was moved to this week, their next available opportunity to host the Bills would be in a "Week 18," or the week after the regular season, as scheduled.
Officials from the NFL and the NFL Players Association have been in Nashville since Friday to review whether the Titans violated protocols, according to ESPN and the NFL Network. The Titans believe they have followed the rules and regulations as required, ESPN reports.
On Friday, McDermott said his focus was on Sunday's game against the Las Vegas Raiders, but also noted it was hard to ignore the situation in Tennessee.
"All those thoughts are real and I wouldn't be human if I didn't have those thoughts in my mind," he told reporters on a video call Friday. "That said, it's a gentle reminder, I guess, when it's not happening to us, that it's still around and you can't get too comfortable. And because it hasn't happened to us, or before this past week, hadn't happened really too much in the preceding weeks around the NFL that we can afford to let our guard down.
"I hate to see it happen to anyone, because at the end of the day, even though we compete with one another, we're all human here. But I think it's something we can learn from. And it is a gentle reminder for us that, 'Hey, don't take this for granted. Let's not get too comfortable or let our guard down. We've got to make sure that we remain diligent in our approach and consistent with our approach.' "