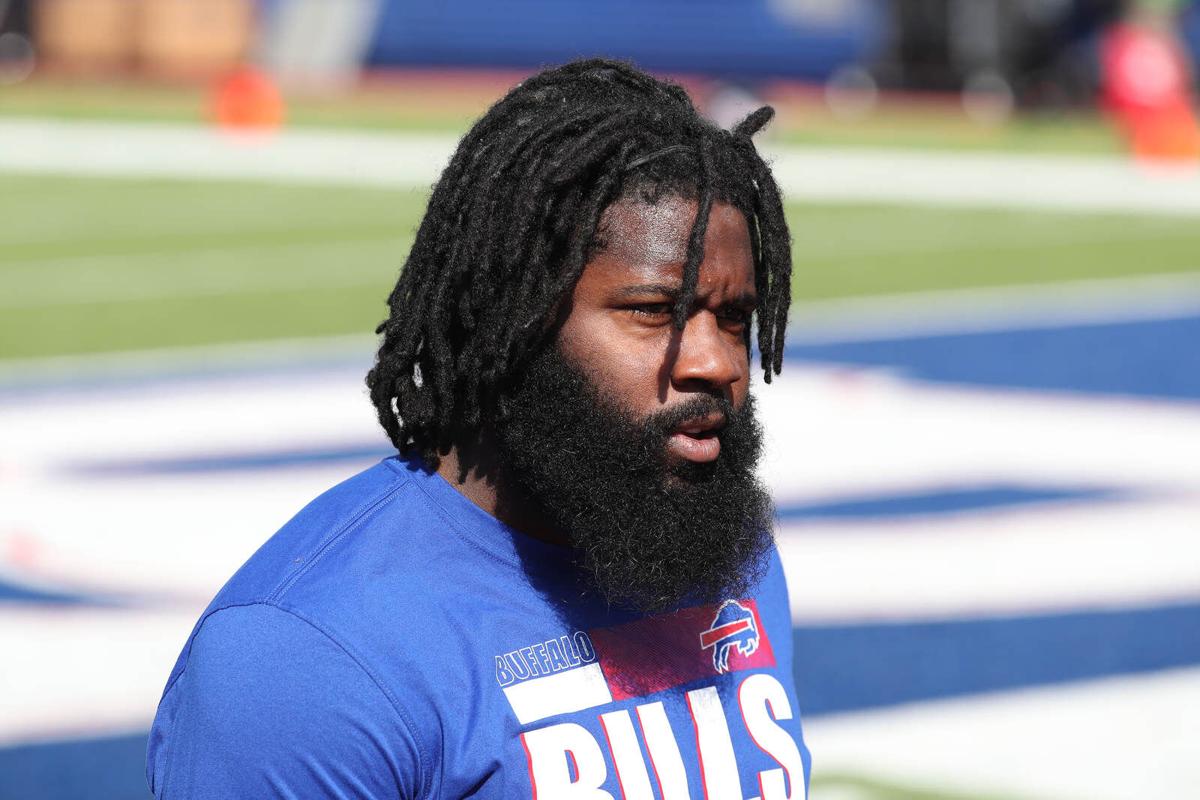 This is the 10th in a series of key questions facing the Buffalo Bills as they prepare for training camp. This installment: Who are the surprise cut candidates?
Here's one of the best things you can say about the way Brandon Beane has built the Buffalo Bills' roster: There are very few obvious candidates to be cut.
That means there are very few veterans who are underperforming in relation to their contract status. For the most part, the Bills are getting at least adequate value out of their higher-priced players.
That's not to say there won't be a surprise or two come roster cutdown day Aug. 31. With the quality depth Beane has amassed, some good players won't make the team.
Undoubtedly, some of those released will raise some eyebrows. The Buffalo News has identified these 10 possibilities, listed alphabetically. All contract information comes from spotrac.com.
The first player on the list is also one of the few who might not actually be a shock. The reason Addison could be in jeopardy is simple – the Bills drafted defensive ends Greg Rousseau and Boogie Basham in the first two rounds. They are guaranteed roster spots. That makes for a crowded picture.
Addison signed a three-year deal before the 2020 season, but finished with just five sacks in his first year with the Bills after having at least nine sacks in the previous four seasons with Carolina and at least six sacks in the previous six seasons. Entering his 11th season, Addison will be 34 in September.
Those are the reasons why he might be expendable. The list reasons why he might not, however, is just as long. For starters, the Bills reworked Addison's contract this offseason, voiding the 2022 season and eliminating most of the financial incentive that would come with releasing him before 2021. If the Bills did so, they'd save $2.127 million in 2021, and still have dead-cap hits of $6.05 million this year and $2 million next year.
Perhaps just as importantly, the Bills greatly value Addison's veteran presence.
"He's a big-time leader, one of the first things he said is, 'I can't wait to meet these young guys, I'm gonna show him the ropes' and that's why you have to have guys on your roster that can teach the young guys," Beane said of Addison after the draft.
It's possible Beasley saves the Bills the trouble if he follows through on his retirement threat because of the NFL's Covid-19 protocols for unvaccinated individuals, but the Bills could remove the potential distraction themselves. That's unlikely – again, these are supposed to be "surprise" candidates – but it shouldn't be entirely ruled out. If Beasley were to be released, he'd save the Bills $5.341 million against the 2021 cap. His dead-money hits the next two years would be $2 million and $1.5 million, respectively. Those are reasonable.
The Bills are deep at slot receiver and have other players who could step into the position. Would they be as good as Beasley? Probably not, but perhaps the drop-off would be manageable when also considering the money savings and removal of a potential headache.
The Bills signed the speedy running back to a one-year contract this offseason. They'd take a dead-money hit of just $140,000 if he were released. The first two spots on the running back depth chart belong to Devin Singletary and Zack Moss. After that, Breida is competing with Taiwan Jones, Antonio Williams and Christian Wade for two spots.
As a second-round draft pick in 2019, the Bills are going to give Ford every possible chance to show he can be a quality starter. There has to be some level of frustration with his inability to stay on the field last year, though, as he played just seven games. The Bills also have shuffled Ford around the line, starting him at right tackle before eventually moving him inside to guard.
The Bills are particularly deep on the interior of the offensive line, so Ford will have to prove his worth in training camp. The Bills would save just more than $1.1 million against the 2021 cap by releasing Ford, with dead-money hits of $869,994 in each of the next two years. If Ford were to suffer another injury or gets badly outplayed in training camp, his roster spot isn't necessarily a lock.
All the things written about Addison are true of Hughes, who is entering the final year of his contract and has the second-biggest salary cap number on the team ($9.45 million). The Bills would save $6.35 million if Hughes were to be released. Hughes turns 33 next month and has just 31 sacks over the last six seasons. Sacks, however, aren't the only measure of a pass rusher, and Hughes has been the most consistent player in that regard over the last several seasons.
It also means something that Beane and head coach Sean McDermott have kept him around while turning over the rest of the roster. It's clear they value his production and leadership, making him what would be perhaps the biggest surprise on this list if the Bills were to move on.
Yet another defensive end on this list shows the logjam that was created when Beane took Rousseau and Basham. Johnson's biggest contribution to this point has been on special teams. That's not an insignificant role, though, especially given the value the coaching staff places on it when setting the 53-man roster.
The reason Johnson might be expendable is because the Bills signed defensive end Efe Obada from the Carolina Panthers. He's a more accomplished pass rusher with 5.5 sacks last season and also has some special-teams experience. If he can develop in that area, he could steal Johnson's spot.
The Bills re-signed Jones, one of the key members of their special teams, to a one-year contract worth nearly $1.7 million. They could save just about $1 million of that if he were to be released, but a $700,000 dead-money hit is pretty steep. Jones would either have to take a big step back in training camp and the preseason or the coaching staff would have to fall in love with someone else to make a change at No. 4 running back.
The Bills would have to swallow a big dead-money hit in 2021 – $5.2 million – if they released Klein, while saving just a little less than $1.2 million. That alone would make it a big surprise if they were to move on from him this year. It's far easier to do next offseason. The Bills did add a couple of veteran free agents at linebacker this offseason, however, so it's possible that Klein could get beat out for a spot.
The Bills drafted Marquez Stevenson in the sixth round out of Houston and he has a similar skillset to McKenzie, mainly in that they both are the most logical replacements for Andre Roberts as the team's top returner. It's hard to see how both McKenzie and Stevenson make the roster, especially if Beasley plays. Those are the reasons why he could be vulnerable. The reason why he wouldn't is simple – he produces when his number is called. McKenzie is on an affordable one-year deal, which also works in his favor.
A torn ACL suffered in Week 3 of the 2019 season came as Phillips was beginning to steal playing time away from Star Lotulelei as the team's one-technique defensive tackle. Not surprisingly, Phillips' road to recovery last year had some bumps, including time spent as a healthy inactive. He did make his way back into the lineup by the end of the year, but with Lotulelei returning this season, Phillips will be in a roster fight with primarily Vernon Butler Jr. and Justin Zimmer for what might end up being just two spots.