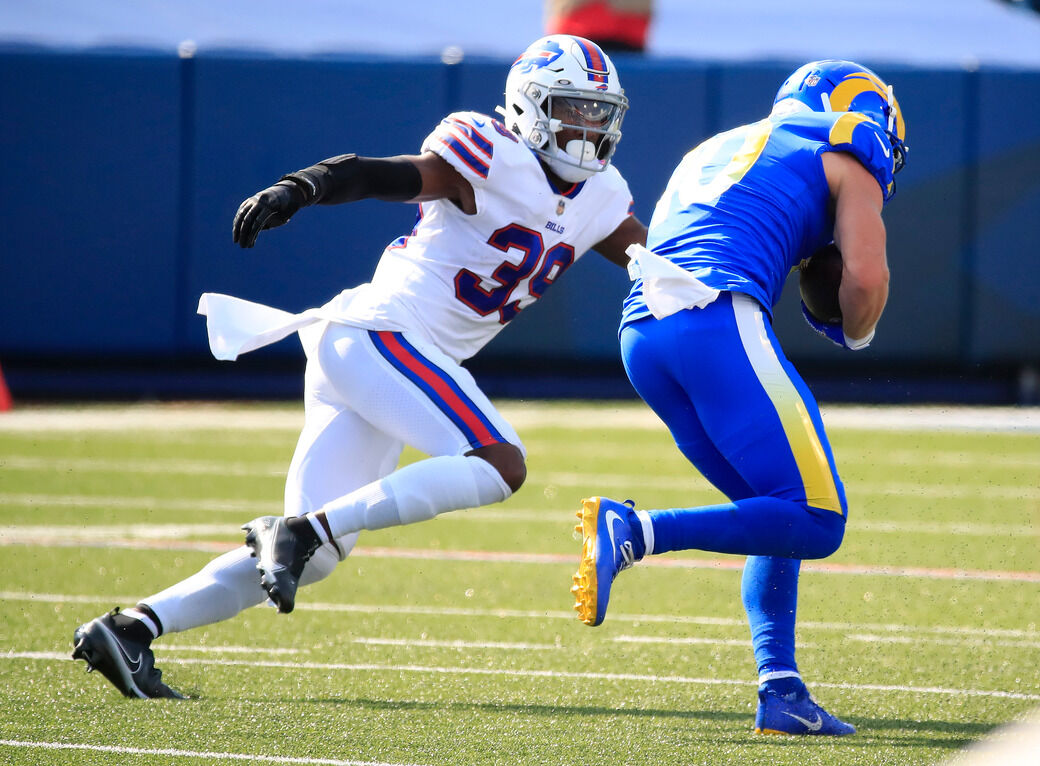 This is the fifth in a series of key questions facing the Buffalo Bills as they prepare for training camp. This installment: Can Levi Wallace hold off Dane Jackson?
Levi Wallace's four NFL seasons of being a starting cornerback have been loaded with pressure.
It hasn't only been a matter of holding up against receiver after receiver trying to beat him for a catch.
It also has been a matter of holding his own against challenger after challenger trying to take the job he earned after the Buffalo Bills signed him as an undrafted free agent from the University of Alabama in 2018.
Leslie Frazier, for one, acknowledged as much when he spoke with reporters during the Bills' offseason workouts.
"It seems like each year, Levi, once he became our starting corner, has had to fend off different guys coming in vying for the position," the defensive coordinator said.
The list has included free-agent acquisitions Kevin Johnson (who retired last month), E.J. Gaines and Josh Norman (who weren't re-signed and remain free agents).
"And he stood the test every single time," Frazier said of Wallace, who has started in each of the 35 regular-season games and three postseason games (all following the 2020 season) he has played for the Bills.
Wallace has had two interceptions in each of the last two regular seasons, 20 regular-season pass defenses, 161 regular-season tackles (including six for loss) and 12 postseason tackles (two for loss). He also forced a fumble in the Bills' wild-card playoff victory against Indianapolis and had a sack in their divisional-round win against Baltimore in January.
Wallace's future with the Bills seemed in doubt at the start of the offseason when the team did not give him a qualifying offer as a restricted free agent. Soon after hitting the open market in March, the Bills signed him to a one-year contract worth $1.75 million, $1 million of which was guaranteed.
"We're excited to get Levi back," General Manager Brandon Beane told reporters. "He's done a great job his first three years here. And we have brought in competition and he's handled it very well."
To keep his streak of starts intact, Wallace must demonstrate he's more worthy to remain the starter opposite Tre'Davious White than the youngest competitor he has faced as a pro: Dane Jackson.
Jackson, who joined the Bills last year as a seventh-round draft pick from the University of Pittsburgh, appeared in five games, with two starts, as a rookie. He had an interception, six pass defenses, a fumble recovery and 15 tackles (one for a loss).
The Bills used a sixth-round choice this year on Wisconsin cornerback Rachad Wildgoose, though he seems more of a longshot to unseat Wallace. The same goes for a pair of undrafted free agents, USC's Olaijah Griffin and Notre Dame's Nick McCloud.
Three other players the Bills have at the position – Taron Johnson, Siran Neal and Cam Lewis – primarily cover slot receivers.
In all likelihood, the battle for the Bills No. 2 cornerback spot will come down to Wallace vs. Jackson.
"Right now those two guys will compete it out," Beane said. "There are other free agents that we'll monitor. But at the end of the day, we're very content with those two guys and we'll see what happens."
"Whatever happens, happens," Jackson told The Buffalo News. "I'm just going to work to try to get that spot. It's a lot of competition in the room. But I'm just going to work and see how it plays out. Hopefully, it's in my favor."
Frazier admires the way Wallace has handled the Bills' continual search for a potential upgrade at his position since going from the practice squad to the starting lineup in the 10th game of his rookie season. Vontae Davis, Ryan Lewis and Phillip Gaines had previously taken turns filling the role.
Wallace started all 16 games in 2019. Last year, he missed four games due to injury.
"His attitude has been terrific," Frazier said of Wallace. "I don't know if he really gets concerned about who we draft or who we sign. ... He lines up, and he just calmly competes every practice, every camp. I mean, that's just who Levi is."
On the other hand, Frazier has seen a transformation in Jackson since last year's training camp, when he was "that shy rookie ... who didn't say two words. You had to pull him up front just to get to know him a little bit."
Frazier sees a much more outgoing person in the way Jackson handles himself in meetings and carries himself in practice.
"Now, he's out there high-fiving, talking with his teammates, laughing and joking, so it's a good thing," Frazier said. "He's comfortable with his teammates and that should allow him to play free and enjoy the experience."
"Dane, when he got his opportunities last year, I thought he did some really good things," McDermott said.
When it comes to competition, Frazier offers the following advice to players: "Your greatest competition is with yourself."
He reminds them that who the team acquires at their position is out of their control and that what they can control is what they "have to get done to go out and compete every single day."