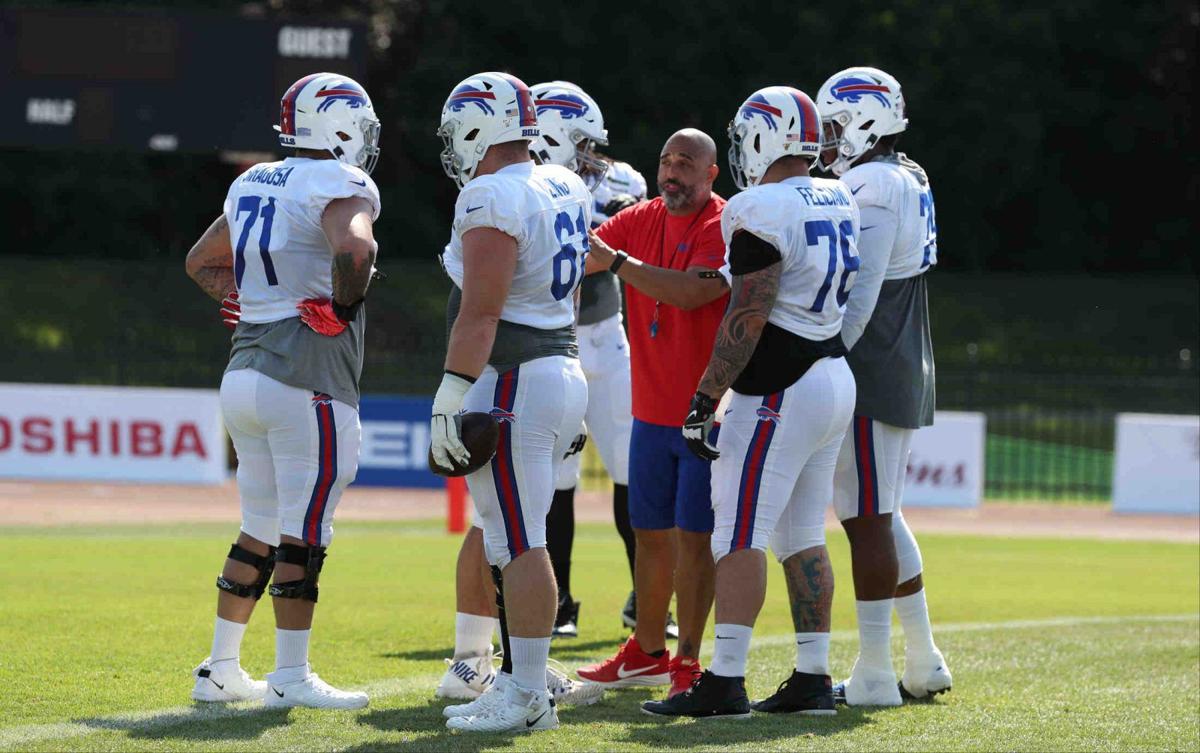 This is the first in a series previewing each position on the Buffalo Bills before the planned July 28 start of training camp.
The Buffalo Bills like backing themselves up on the offensive line.
A year after investing in six unrestricted free agents, the Bills brought in two more veteran free agents this offseason.
They weren't big-ticket expenditures. Both Daryl Williams from Carolina and Evan Boehm from Miami are playing on modest, one-year contracts.
But the Bills now will go to training camp with four veteran offensive linemen with significant NFL starting experience. Returning backups Spencer Long and Ty Nsekhe have started 44 and 17 games, respectively. Williams made 41 starts for the Panthers over the past five years, and Boehm has 21 starts in four years.
That gives the Bills a combined 123 starts among their backup linemen, fifth most on any NFL camp roster. There's a lot of youth on the offensive line in the league. The Bills are one of only six teams whose backups have combined for 100 starts. Half the teams in the league have a roster of backups that haven't even made 50 starts.
"We want to be able to give ourselves options on both fronts," Bills coach Sean McDermott said.
Barring injury, the Bills' starting five should be set, the same as last season.
The battle for what is likely four backup jobs will be intense. Last season, the Bills kept nine offensive linemen, like most teams. If a lineman suffers a short-term injury, that's when you see a team keep a 10th lineman on the active roster.
"Those guys in that room, they're close-knit guys," offensive coordinator Brian Daboll said. "The challenge of playing that position is you really have to see the games through the same set of eyes, all five of them. And it takes all five, and if there's a little leak in one of them, it's a reflection of all five of them and they take pride in that."
Who's back: Dion Dawkins, Quinton Spain, Mitch Morse, Jon Feliciano, Cody Ford, Ty Nsekhe, Spencer Long, Ryan Bates, Ike Boettger, Garrett McGhin, Victor Salako.
Who's new: Daryl Williams (Panthers), Evan Boehm (Dolphins), Trey Adams (undrafted), Marquel Harrell (undrafted), Brian Walton (undrafted).
Key numbers: The run blocking took a big step forward last season. Bills running backs averaged 90.4 yards per game and 4.26 per carry, compared with just 77.3 a game and 3.53 a carry in 2018. On first down, Bills backs averaged 4.49 per carry last year, up from just 3.52 in 2018. In theory, an improved passing game should help the run game get even better.
Biggest camp storyline: Will a fully healthy Cody Ford take a step up and put a stranglehold on the right tackle job? Or will he continue in a 50-50 job share with Nsekhe?
Breakout candidate: Bates, undrafted last year out of Penn State, is an intriguing backup because he can play all five positions on the O-line. He filled in 20 snaps at right tackle in the fourth quarter of the win at Tennessee and played the whole game at left tackle against the Jets in December. After a couple O-line injuries the first week of camp last summer, the Bills acquired him in a trade with the Eagles for Eli Harold. You almost never see a trade for an undrafted rookie 10 days into camp, but the Bills liked him coming out of college.  
What to expect: A tough battle for the seventh, eighth and ninth spots. Nsekhe is likely a lock as the sixth man. Williams started 12 games for the Panthers last year. He's a 335-pounder who fits the Bills' beefy profile. Bates' versatility could give him an edge. Look for lots of mixing and matching on the backup units to test players' versatility. Last year, the Bills took advantage of their excess veteran depth by trading center Russell Bodine to New England for a sixth-round draft pick. If everyone stays healthy, might there be a market for someone like Long, Williams or Boehm?
Be the first to know
Get local news delivered to your inbox!