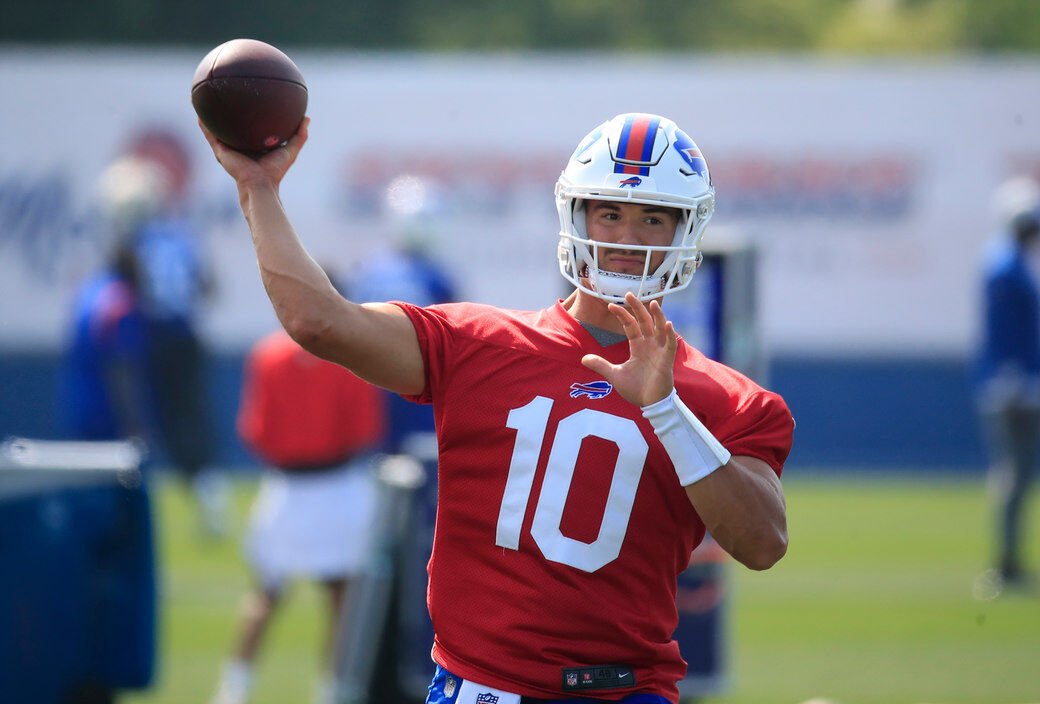 Here are observations from Day One of Buffalo Bills training camp in Orchard Park:
1. The GM and the QB turn down the pressure on contract talks.
It might not be easy for Allen to improve on last year. He ranked fifth in the NFL in passing yards, tied for fourth in completions, fourth in completion percentage, fourth in quarterback rating and second in total touchdowns passing and rushing.
General manager Brandon Beane reiterated his no-pressure position regarding a new contract for Josh Allen. Beane refused to characterize how talks have gone on an extension.
"You know I don't really get into that," Beane said. "Josh is in a great headspace, and he's ready to roll. And if for some reason we're able to get something done, I'll definitely make sure you guys know. We're also fine if it doesn't get done this year, and I said that all along. ... If something happens, that's great. If it doesn't, we'll focus on the season, and we'll pick it up next year."
It's true that there isn't a gun to Beane's head to close a deal. The Bills have Allen under contract in 2022, by virtue of exercising the fifth-year option on his deal. Still, you have to believe the Bills would rather get a deal sooner than later, both as a reward to the QB and because the price likely only will go up. And striking a big deal now gives Allen protection from a catastrophic injury.
To his credit, the QB swatted aside all questions of a new deal, sticking with his team-first approach.
"It's honestly the least of my worries whether it gets done or not," Allen said. "We're here to win a Super Bowl. I can't focus on those things and feel like I can come out here and feel like I can be the best possible teammate, quarterback I can be. My focus is completely on the field."
There is a decent chance there will be a deal before the start of the regular season. That's the clear-cut trend for NFL teams once a quarterback has starred for his team after three seasons. Carson Wentz and Jared Goff got big new deals entering their fourth season in 2019. (Both of those deals wound up blowing up in the faces of the respective teams, the Eagles and Rams.) Patrick Mahomes and Deshaun Watson got big new deals before their fourth year started in 2020 from the Chiefs and Texans, respectively.
Watson's four-year deal from Houston came just eight days before the start of the 2020 regular season and serves as a model for a new Allen contract. Watson got an average of $39 million a year over a four-year extension on a deal worth $156 million.
Expect Allen to get at least $40 million a year, maybe $42 million.
Allen counts $6.9 million vs. the salary cap. But the Bills could give him a massive deal, put most of the money in 2022 and beyond and still keep his cap figure for this year to less than $10 million. That's similar to what the Texans did for Watson last year, when his cap figure was just $9.8 million for 2020 after signing the contract.
2. Let the competition begin.
Beasley's statement included complaints about the NFLPA, which has jointly agreed with the NFL on separate protocols for vaccinated and unvaccinated players this season, and complaints about information he feels has been "withheld from players ... "
Asked which position battles he's excited to watch in camp, Beane gave a pretty good overview.
"I think both of our lines," Beane said. "Sean and I believe in building up front, and it starts and ends there. So, we've tried to create a lot of competition, a lot of depth. We got some guys back, and some new faces on both of those, whether it's through the draft or through free agency. So, I think you're going to probably see me during the first few days of pads watching those one-on-ones and seeing how those guys go. But we got to have a lot of competition. Our receiver room has got a lot of guys in there with a lot of different skill sets. Whether it's size, whether it's quicks, and some speed guys. That return game too, we lost Andre Roberts, but we got some different pieces there that are going to be in the mix. So, I'm excited about this team, I'm excited about camp."
Aside from the quarterbacks, no players wore red, non-contact jerseys.
That was especially good news for guard Cody Ford and running back Zack Moss, both of whom recovered from offseason surgeries. Ford had surgery in January to repair a torn meniscus in his right knee. Moss had surgery on his left ankle, injured in the playoff win over the Colts.
Coach Sean McDermott indicated that their snaps may be limited to a degree to start camp.
"It would be irresponsible for them to be full-go at this point, but they do have a green light and we're going to manage them to get them built up in a proper fashion," McDermott said.
Meanwhile, defensive end Jerry Hughes failed his physical due to a calf injury and is on the non-football injury list.
Beane said Hughes' injury happened during training over the summer and called it "nothing major."
4. Allen vs. Frazier, Part I.
Bills GM Brandon Beane said the Bills are "just over" 80% of players who have had at least one shot of the vaccine. 
Call it a draw between the Bills' QB and defensive coordinator Leslie Frazier on the first day of camp.
Allen completed 6 of 11 passes in red-zone work, counting both 7-on-7 and 11-on-11 work. Allen had three consecutive incompletions in his first full-team segment. Tight end Dawson Knox had a semi-drop on tight coverage from Micah Hyde. Allen led tight end Jacob Hollister too far and then missed Gabriel Davis late in the down because the coverage was tight everywhere else.
But Allen rebounded on his next chance. He threw a dart for a TD to Stefon Diggs after being chased out of the pocket by free rusher A.J. Klein, who might have had a sack if there had been full contact. Our money was on Allen eluding him. Rookie Greg Rousseau had pressure to force an incompletion on the next play. Then Allen hit Knox for a TD, made a nifty low throw to Emmanuel Sanders for a TD with Tre White in tight coverage, and hit Davis in the end zone for a TD. In 7-on-7 work, Allen threw a TD pass to Cole Beasley, who made a good move to get wide open.
Mitch Trubisky got the ball out quick to hit a wide-open Isaiah McKenzie for a TD. Tight end Tommy Sweeney, who missed all of last year, caught two TD passes from Trubisky. The offensive line fired off the ball well on a TD run by Moss up the middle.
Levi Wallace had the first pass breakup of camp, swatting a way a short throw for Knox. Dane Jackson had tight coverage on Duke Williams near the sideline, forcing an incompletion.
Both Beane and McDermott opened their news briefing by offering their condolences to the New York Jets and the family of the team's passing-game assistant coach, Greg Knapp, who died at age 58 last week from injuries suffered when he was struck by a car while riding a bicycle. ... The Bills' offensive and defensive linemen were wearing a soft-padded cover over their helmets. It's extra protection against concussions. Center Mitch Morse suffered a concussion last training camp on incidental helmet contact in a camp practice. ... Tyler Bass went 5 for 5 on field-goal attempts, the last from 48 yards.