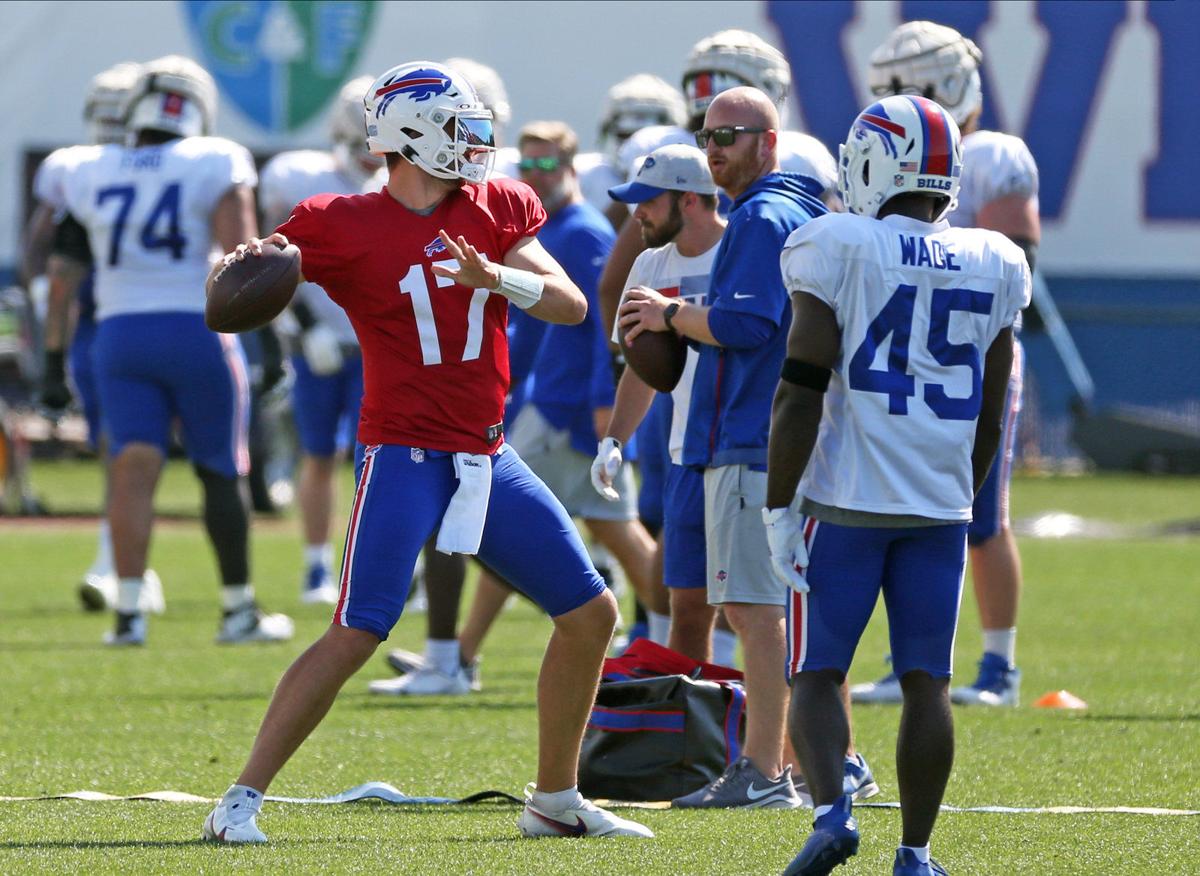 The heavy lifting to improve the Buffalo Bills' running game began in earnest Tuesday as the team held its first training camp practice in pads.
Here are top observations from Day 6 of training camp at the fields next to ADPRO Sports Training Center:
1. Devin Singletary and Zack Moss were quick to the holes.
The Bills' top two running backs weren't dancing around in a 90-minute practice that featured more run plays than we've seen the previous week. Singletary and Moss were accelerating hard into the holes in the line. They combined to produce three strong runs, and newcomer Matt Breida slashed ahead with a fourth in a five-play stretch during a running segment in practice.
Defensive players were coached to "thud" the ball carrier without tackling them to the ground, but the blocking on the line of scrimmage was live.
The reality is in the modern NFL it's harder to practice the run game than the pass game, given every team's desire to avoid injuries. The choreography of the passing game can be practiced without full contact. There's a lot of timing and choreography in the run game, too. But a big part of running success is imposing physical will on the opponent.
Coach Sean McDermott said Tuesday's practice was the start of an important process leading up to the season opener on Sept. 13.
"That's one of the goals of training camp, not only just to come together as a team but also build the toughness of our football team," McDermott said. "I've found you really can't do that come November. It's past you at that point. So this is the time where we build the toughness of our football team. And you do that by winning at the line of scrimmage, and that's where it's built these days right here in camp. And our players are well aware of that."
Given the lack of tackling it was hard to declare an upper hand for the offense or the defense.
Christian Wade drew cheers from the offense when he made a quick bounce to the outside for a good run gain. Antonio Williams had a strong run up the middle on the previous play. Then linebacker Tyrel Dodson made a would-be stop on Breida in the hole.
Linebacker Tremaine Edmunds had a strong day. He "thudded" Singletary in the hole for what would have been no gain. Two plays later, Edmunds dropped into coverage and got his long arms in the way of a Josh Allen pass for a bat-down.
Veteran linebacker Andre Smith stuffed up Wade on a run and then made another run stop on a wide run. In the final run period, rookie Carlos Basham showed his power at the point of attack on back-to-back run stops by the defense.
2. Pass defense rebounds.
Josh Allen wasn't as dominant start to finish as in Monday's practice. The Bills quarterback had a few misfires and a couple throws where he was not quite in sync with the receiver. However, it wasn't a bad day. He made a handful of outstanding throws, as well.
The best was a laser sideline throw for Stefon Diggs into a tight window for a gain of about 25 yards. Allen also had sharp, on-rhythm completions to Emmanuel Sanders and Diggs for big gainers on back-to-back plays.
Micah Hyde got a pickoff on the second play of 11-on-11 work when Allen probably forced a throw for Dawson Knox that Hyde caught on a carom. Diggs had a rare drop of an on-target Allen pass on the next play. And on the next play, defensive end Efe Obada made a nifty shake move to get quick pressure for a would-be sack.
Cornerback Siran Neal had a good day on defense. He had tight coverage on Marquez Stevenson and showed good hands in plucking an interception off a throw from Mitch Trubisky. He also had tight coverage on a short completion to Sanders. Trubisky also threw what should have been an interception by Joe Giles-Harris over the middle (but it was dropped).
Cole Beasley showed his good hands in a one-on-one rep despite the fact Taron Johnson was clutching and grabbing him.
Other noteworthy plays from the passing one-on-ones included: a fine catch by former Wyoming Cowboy Tanner Gentry deep vs. Dane Jackson, a good-hands grab by Lance Lenoir on Levi Wallace, a pass breakup by Rachad Wildgoose on Gentry, good coverage by Wallace on an incompletion for Diggs, and a deep catch by Isaiah McKenzie on Neal.
3. Spencer Brown is showing up.
The Bills' third round draft pick from Northern Iowa didn't play any football in 2020 because his school's season was moved to the spring. That hasn't stopped the 6-foot-8, 311-pounder from showing up to his first NFL camp ready to play. He's not lunging and reaching all over the field.
It was the first time the offensive and defensive linemen went one on one with full pads. Brown looked solid in a couple snaps against Mario Addison and A.J. Epenesa. Brown looked pretty good in 11-on-11 pass blocking, too.
The defensive line rookies, Greg Rousseau and Basham, each won reps going against third-string linemen.
4. Lorenzo Alexander offered advice.
Alexander, the 38-year-old former Bills Pro Bowler, finished up his third day at training camp and was left to head back to his California home after practice. Alexander had spent two days with the Washington Football Team before arriving at Bills camp on Sunday. (He spent 6 1/2 years of his career in Washington).
"That's one of the cool things about being a journeyman, you have a lot of connections across the country," Alexander said.
Alexander, who retired after the 2019 season, was looking fit but said he has no desire at all to play again.
"I'm in shape but my body can't take no more hits," he said. "Once you step away from that warrior mentality, that's a lot of punishment on your body you don't want."
He also doesn't want to coach, because he's not interested in the long hours put in by NFL coaches.
"That's the biggest deterrent for me," he said. "I love the game. I love the guys. But I love my kids and my wife more. Maybe when I'm an empty nester maybe another opportunity will come about."
Alexander said McDermott gave him free rein to offer coaching advice and technique tips to the players.
"When I felt the need to interject, all the coaches gave me the go-ahead as far as you see a guy doing something go speak to him," he said. "That was something I did here. I've been jumping back in my same role. I'm just trying to pay it forward a little bit. I've done that with all the linebackers for the most part, some of the guys on special teams and even talking to Ed Oliver and some of the rushers, too, about some of the things they can do while watching pass rush today."
5. Injury report. There was little change to the injury list. Jerry Hughes remains out but was riding a stationary bicycle again at the start of practice. Guard Ike Boettger (Covid list) and tight end Jacob Hollister (sore back) remained out but were doing some work on the side. So was guard Jon Feliciano, who was nursing a sore shoulder. Dion Dawkins, on the Covid-19 list, was not on the field. Marquel Harrell hurt his foot.