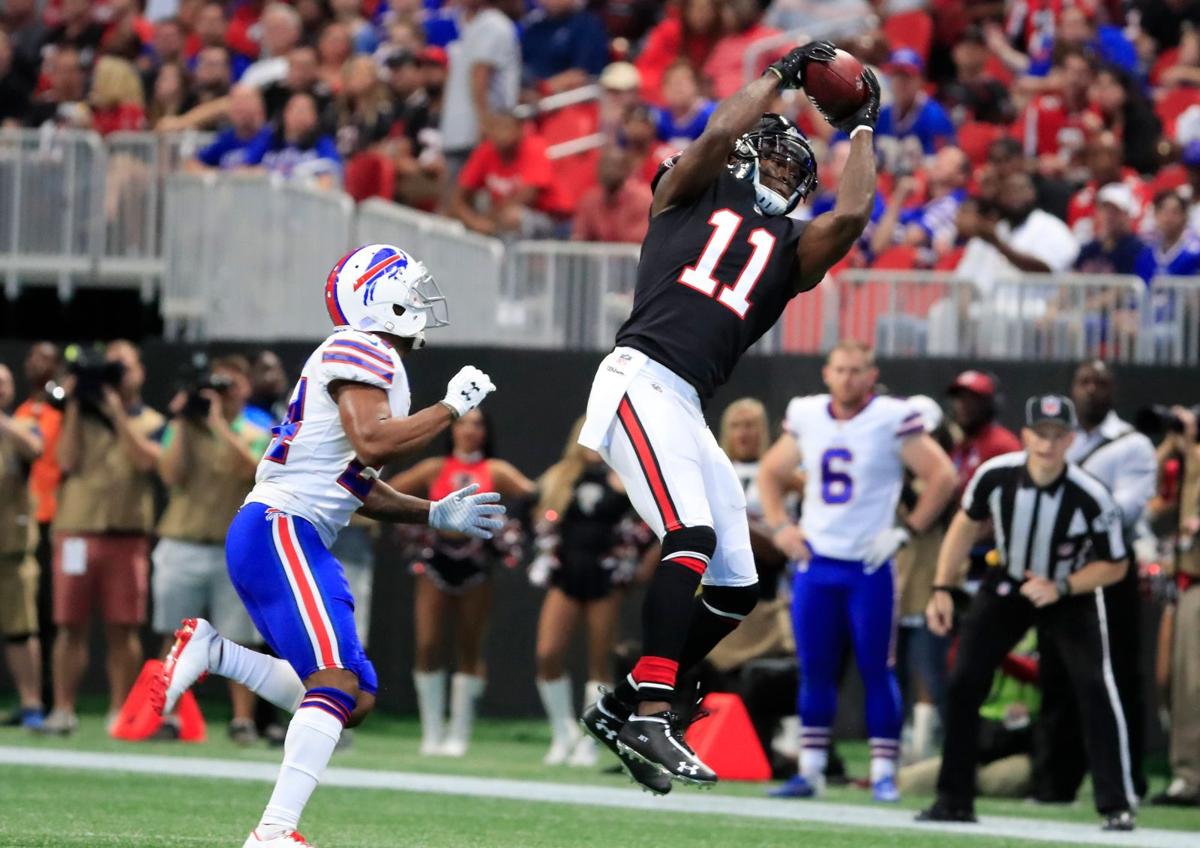 Julio Jones didn't end up in Buffalo, but the Bills will still see the star wide receiver in 2021.
Sunday's trade that sent Jones from the Falcons to the Tennessee Titans means the Bills will face him in Week 6 on Monday Night Football instead of Week 17, when Atlanta visits Orchard Park. It also means one of the Bills' potential playoff foes has strengthened its roster.
Jones, 32, leaves Atlanta as the franchise's career leader in catches (848) and yards (12,896). He has made seven Pro Bowls and five All-Pro teams, has seven 1,000-yard receiving seasons and has averaged 95.5 receiving yards per game, which is the most in NFL history. Atlanta received a second-round pick in 2022 and a fourth-round pick in 2023 in exchange for Jones and a 2023 sixth-round selection. 
Some Bills fans had expressed hope – especially after Stefon Diggs' contract was restructured last week in a move to free up salary cap space – that their team would take a run at Jones. Such a move would have been tough to pull off even with the added cap space, however, given that Jones is due to make $15.3 million in base salary in 2021.
Instead, Jones is off to one of the AFC's contenders. The Titans handed the Bills one of their three losses in the regular season last year, with a thorough, 42-16 victory at Nissan Stadium.
After acquiring Jones, the Titans' odds of winning the Super Bowl went from 40 to 1 to 25 to 1, according to oddsmaker BetOnline. The team's odds of winning the AFC went from 20 to 1 to 12 to 1, while it is now co-favorites with the Colts to win the AFC South.
Jones gives Tennessee a strong top two receivers, as he will be paired with A.J. Brown. The Titans, however, still plan to have quarterback Ryan Tannehill turn around and hand the ball off to running back Derrick Henry, at least according to General Manager Jon Robinson.
"We're going to hand the ball to Derrick and we're going to do what we do," Robinson told Sports Illustrated on Sunday. A receiver is "going to have to go in there and go at a safety or a linebacker. He showed the willingness to do that last year. The Seahawk game stands out. Him and Jamal Adams going at it. Jamal Adams, great player, and Julio went in there and did what he had to do. I just thought there, 'It's a good fit,' what we're going to ask of him, to catch and block.' "
Trading for Jones and then asking him to block is like buying a Lamborghini to run to the grocery store. The move also doesn't address Tennessee's biggest deficiency last year – which was on defense. The Titans ranked in the top four in the NFL in yards and points per game on offense, but finished 28th in yards allowed and 24th in points allowed.
On the surface, the addition of Jones gives the game against the Bills in October more shootout potential. One of the big questions entering the regular season for the Bills is who will serve as the No. 2 cornerback opposite Tre'Davious White. Whoever ends up winning that job will be in for a challenge against the Titans, no matter if they're lined up against Jones or Brown.