There was a time when Eli Ankou thought he would one day be a pilot in the Royal Canadian Air Force. He was riding along, flying in gliders with 17- or 18-year-olds who had just gotten their licenses. He liked to fly, and he liked to bike. But football called, setting the now 6-3, 325-pound defensive tackle on a different path.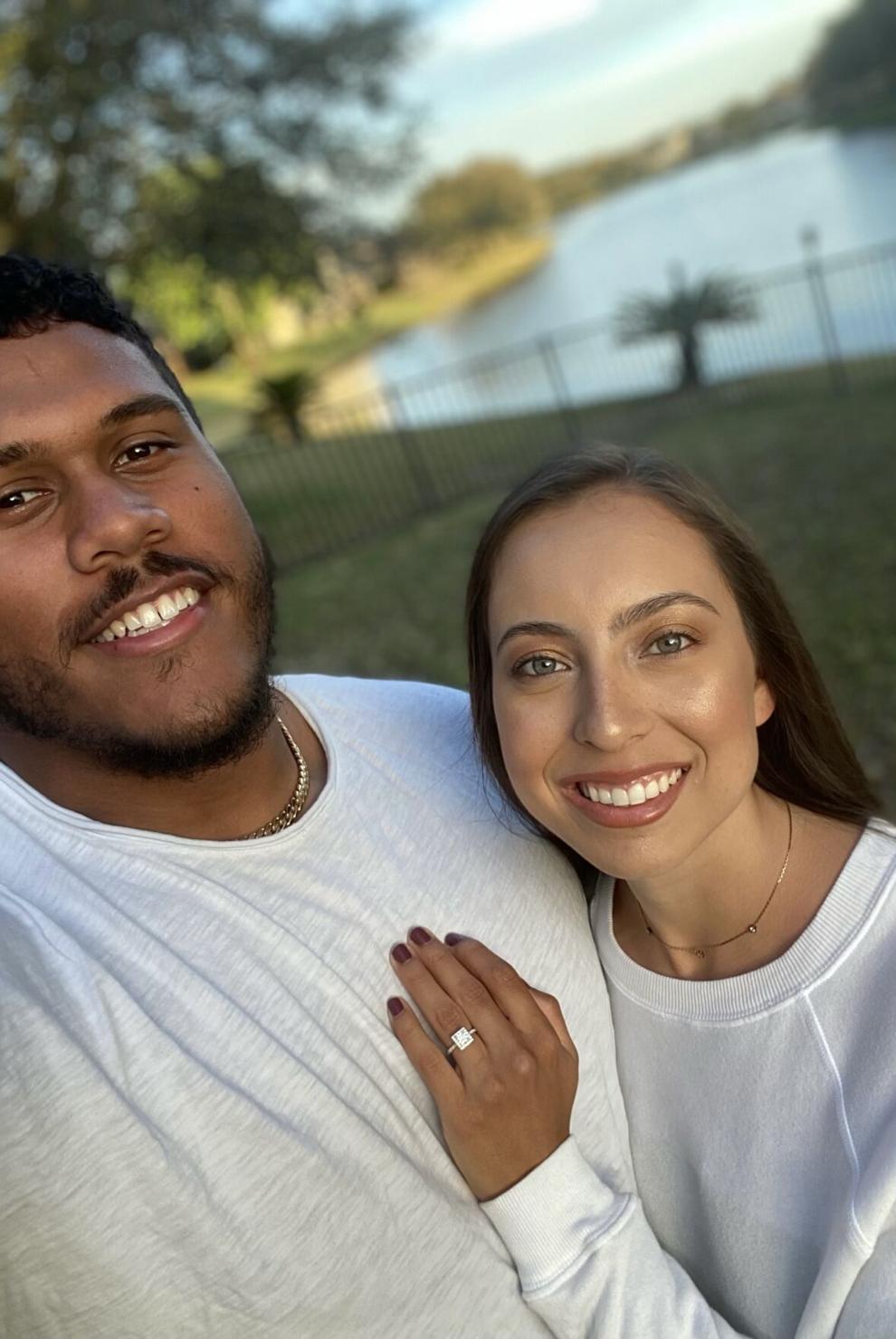 Ankou, who is currently on the practice squad with the Bills, is not necessarily a household name for NFL fans. The fifth-year lineman grew up in Ontario and has played for six other NFL teams. He made a splash earlier this month when he tallied his first sack as a Bill, and on none other than Tom Brady, bringing the future Hall of Famer to the ground for a loss of 2 yards in Tampa.
But even without the platform of a weekly starter, Ankou, of the Ojibwe tribe, and his fiancée, Shayna Powless, a professional cyclist with ties to the Oneida Tribe of Indians of Wisconsin, are making a point to give back to their communities. In 2019, the couple founded the Dream Catcher Foundation, a 501c3 with a multifaceted approach to empowering Native American women and children.
"We just felt like, 'Why wait years down the road?' " Powless said. "Why? When we can just do this now? When we can start having a significant impact on our communities now."
There was also an urgency to start because the statistics are grim. The number of missing and murdered women and girls (MMIWG) disproportionately affects Indigenous people in the United States and Canada.
The Dream Catcher Foundation points to a Department of Justice report that "Native American women are 10 times more likely to be murdered than other Americans." Among various reports, there is no exact record of how many MMIWG there are in the United States and in Canada.
"The statistics are horrible," Ankou said. "And this is something we felt like we needed to address publicly and put out there."
Both have the opportunity to have conversations with teammates, on top of a much wider reach.
"Pretty much everyone that I have talked to about it in person, especially with my teammates, it's something that they've never even heard of, or had no idea that it was as bad as it is at all," Powless said.
Connecting past and future 
Ankou and Powless have each made it a point to continue to learn as much as they can.
The two met in college, both student athletes at UCLA. Ankou remembers meeting in the dining hall and talking about biking; Powless was competing in both road and mountain bike racing with the Bruins. Ankou shared that he had also mountain biked a lot growing up, and it was the first of many connections.
They were friends for awhile before they eventually started dating, and even took two or three elective classes together. One was on Native American music and dance.
"That for me was one of my all-time favorite classes I ever took at UCLA, and I think he'd probably agree," Powless said.
There was also a class on current environmental issues that Native American tribes face, touching on fracking and oil pipelines. Powless said the class was "super eye-opening." Ankou said the classes brought a deep connection to his past, as well as a path forward.
"We learned a lot about ourselves, our culture, our people, and with time, you start learning more about the disparities and the hardships that these communities go through. This is my people," he said.
"And once I got in the NFL, it was more of, 'OK, now that I'm in this position, where obviously, I'm blessed to be making the money I'm making IN the NFL, to be able to give back is my main thing."
Giving back has taken many forms for Ankou and Powless. It starts with representation.
"With both of us being Native professional athletes, we just both feel like if we can inspire as many young Native kids to get into sport as we can, then that's really just one of our ultimate goals: to just help inspire that next generation of Native athletes," Powless said. "Because it is true that you don't really see a whole lot of other Native American athletes."
They are planning on having more camps and clinics in Native American communities, including on reservations, when the pandemic allows, and to provide equipment. Ankou would love to inspire more Canadian football players.
Until then, a main focus is on raising awareness and providing resources to women and children facing violence. They also want to continue to educate others on the stark realties that Native Americans and First Nations people still face.
'A long and arduous recovery'
One example was this summer, when Canada's Indian residential school system – a term describing a past network of boarding schools for Indigenous children in Canada – was in the news.
Children were sent to the boarding schools, which were funded by the Canadian government and run by Christian churches, for decades. Conditions were poor, and once there, they were not allowed to speak their native language, as a goal of the schools was to disconnect children from their culture.
"They made us believe we didn't have souls," said Florence Sparvier, an 80-year-old former residential school student, at a news conference this summer. "They were putting us down as people, so we learned to not like who we were."
A report from the Truth and Reconciliation Commission of Canada in 2015 said that around 150,000 children were placed in residential schools, during a span of more than 100 years. The report concluded that "a cultural genocide" had occurred at the schools.
"I know people personally who were affected by this," Ankou said. "My mom actually just narrowly averted being abducted by the Canadian government when she was a child. The government (was) coming in and taking all the children."
The harrowing legacy of the schools is still coming to light. This past summer, more than 1,300 unmarked graves were found at the sites of former residential schools across Canada with ground-penetrating radar. The discovery was coupled with the expectation that there are far more: The 1,300 unmarked graves were at just a handful of the more than 130 schools.
"The story of the residential school children that is now getting out attention is but a microcosm of the Indigenous story in Canada; the attempted erasure and evisceration of Indigenous culture," Ankou wrote in an Instagram post in June.
"I am glad we are taking steps to talk about our history as a nation in earnest, although I would be lying if I said I was not heartbroken that it has taken the discovery of the tragic story of these poor children to start said conversation about our dark past. …
"It has been a long and arduous recovery for the people (whose) lives have been affected by the inception of residential schools, but this is a step in the right direction."
Through the work of the Dream Catcher Foundation, Ankou and Powless hope to continue those steps, from education to action. The funds they raise through their foundation either go toward organizations actively combating the MMIWG crisis or go directly to families who are affected.
Last season, the NFL saw an increased push for racial justice, as part of the Black Lives Matter movement. There are far fewer Indigenous players in the NFL, but there were lessons from last year in the push to have harder conversations. Ankou, whose mother is Indigenous and whose father is from Togo, in West Africa, hopes those conversations can lead to honest discussions about the past, as well as solutions.
"I think, ultimately, there is a social conscience that I believe was grown, or has been nurtured from those events," Ankou said. "I think it did open some eyes. … I think education and compassion are the main things, as long as we understand each other as people, then there's more of a sense of community and more of a sense of wanting to help each other out."
"It really does take making huge statements to spark conversation and spark change," Powless added. "Raising awareness, too, that's huge. That's kind of where everything starts to happen in terms of change."
A red handprint painted across the mouth has become a symbol of solidarity and awareness for MMIWG. For the Redlands Bicycle Classic stage race in 2020 in California, Powless was not only planning to do it herself, but had teammates planning to join her as well.
The race was canceled due to the pandemic, but she aims to compete with the handprint sometime in 2022.
"That's one thing I think that can be done, or that I'd like to see more of being done, in terms of raising awareness," she said. "Because it really is something that would catch the attention, and whether it's just people watching the race or people seeing photos of us racing with that over our faces on social media, it would be a huge conversation starter for sure."
Powless and Ankou understand that while their time as professional athletes is just a fraction of who they are, they want to leverage that platform for as long as they have it.
Ankou has played in 32 games in his five years in the league, but his preparation behind the scenes has impressed the Buffalo coaching staff. Defensive coordinator Leslie Frazier calls Ankou "a quiet leader" who has provided a needed boost to the run defense.
"I think one of the pluses for us as a staff is he has some skin on the walls, he's played the games, he's been in situations similar to the one we're in now, battling and fighting, trying to help a team get into the playoffs, and that helps," Frazier said. "And then, when he's on the field, because of his experience, he's able to make some things happen for us. He gave us great push in the middle (Sunday against the Patriots), which we needed from our inside guys to try to get the quarterback off his spot.
"He's done that when he's had a chance to play for us – even the New Orleans game, the Tampa game, being able to get push up the middle, because he's such a strong, forceful guy."
Ankou has played four of the last five games, his most snaps on defense coming against Tampa Bay. He saw just a few days later how that playing time translated to familiarity with fans.
"I was walking just down the street, and someone's like, 'There goes the guy who sacked Tom Brady,' " Ankou said. "I was like, 'Hey, thanks, bro.' "
But that moment was never promised.
"If I'm gonna be frank with you, a month ago, I was sitting at home. I did not know what my future was in the NFL this year," Ankou said in mid-December. "I didn't know where I was gonna be."
He leaned on Powless' support, and the opportunity with the Bills came. Now, he hopes any on-the-field success can be a catalyst for the couple's work with the Dream Catcher Foundation.
"You could be sitting at home one day, and you could be sacking Tom Brady another week," Ankou said. "It's crazy, and to have that exposure and to be able to help communities, it's huge."