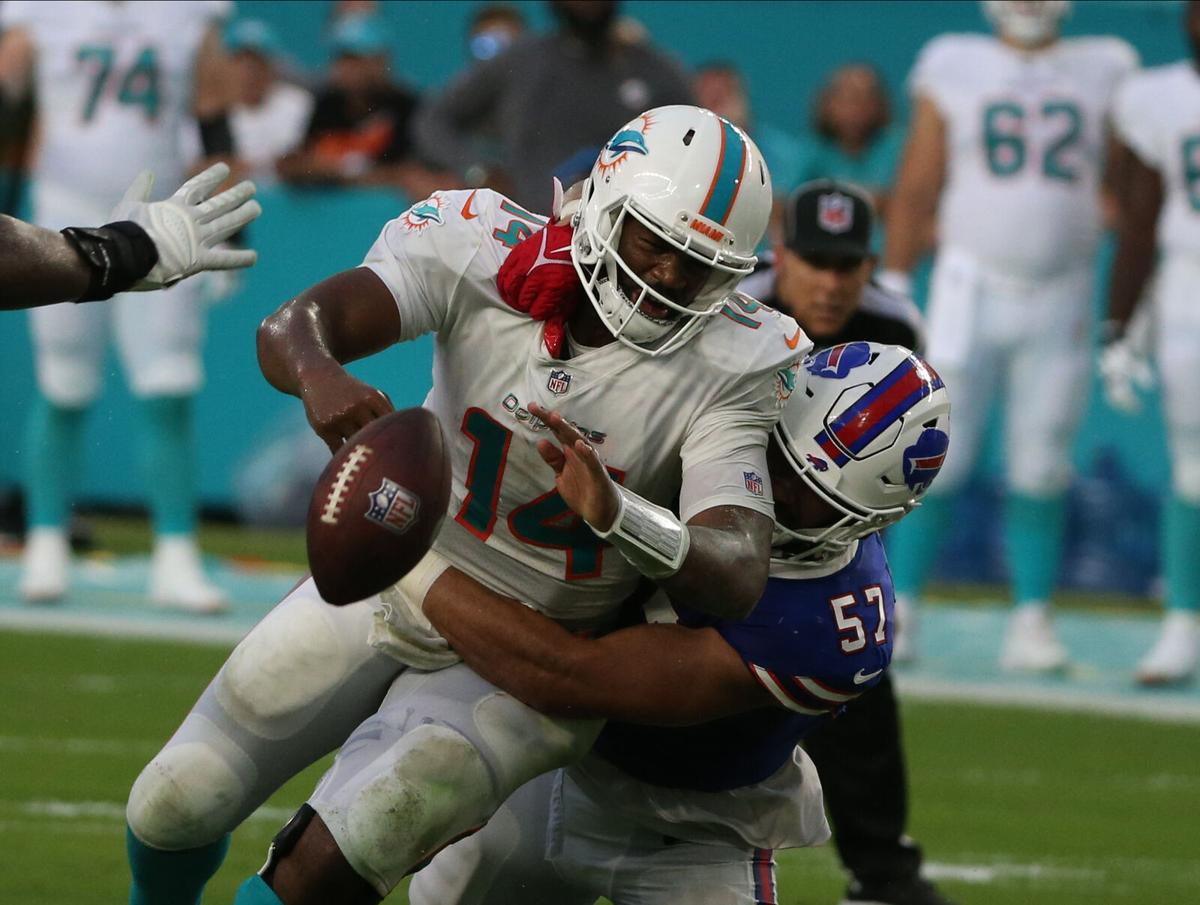 Here's the big-picture analysis of the Bills' 35-0 victory over the Miami Dolphins:
Don't miss Jay Skurski's grades of the Buffalo Bills' performance in their 35-0 win over the Miami Dolphins.
What does this shutout say about the Bills' defense?
It's looking like the Bills will not have to rely on their offense to be dominant every week – as they did in many games last season. The Bills are looking like a more well-rounded team than last year.
It's a sign of how high expectations are in Western New York that there still will be some grumbling about the offense after a 35-0 win over the despised Dolphins. Fine. The game wasn't entirely pretty. But we're still not too far removed from "The Drought," remember? Let's all try to keep our feet on the ground here as Buffalo football observers.
The Bills ranked 16th in points allowed last season. That's not good enough to win three or four playoff games.
There were some spectacular moments for Josh Allen & Co. in the 35-0 win at Hard Rock Stadium. Here's a closer look at the big offensive plays for the Buffalo Bills.
So far through two games, the defense has yielded a mere 16 points.
Granted, Pittsburgh does not have a great offensive line. And Miami's offensive line is not top 12 in the NFL, either.
But the Bills need to see their young defensive linemen develop. A.J. Epenesa's performance against both Miami offensive tackles was impressive, because the second-year defensive end won with both power and speed. We didn't see Epenesa winning with speed as a rookie last year. That's a big deal. Greg Rousseau looked stout at the point of attack and had two clean-up sacks. And defensive tackle Star Lotulelei looked like his old self.
So far so good for the Bills' younger, deeper defensive line.
It was apparent from the very first play that the Buffalo Bills' defense came to play Sunday, finishing with six sacks and forcing two turnovers (the special teams forced another) in a 35-0 win over Miami.
Wasn't Miami supposed to be gaining a little ground on the Bills?
The are three reasons this was a discouraging loss for Miami.
First, Miami has invested a ton of draft resources in the offensive line, and it got dominated. The Dolphins invested a first-round pick in 2020 in left tackle Austin Jackson. In Epenesa's last game for Iowa, the 2019 Holiday Bowl, he ate Jackson's lunch. Epenesa was the defensive MVP with 2.5 sacks in an Iowa rout of Southern California. Epenesa owned Jackson again Sunday. Starting guard Robert Hunt was a second-round pick in 2020, center Michael Dieter a third-rounder in 2019 and guard Solomon Kindley a fourth-rounder in 2020. The Dolphins are supposed to be getting better on the O-line.
Second, this is a bad time for a rib injury to quarterback Tua Tagovailoa. Miami plays a tough road game at Las Vegas next week, followed by a home game against physical Indianapolis and a road game at Tampa Bay. All of a sudden, Miami could be in trouble.
Third, Miami had all the motivation on its side after losing last year's playoffs-or-bust season finale in Buffalo 56-26. Yet even before backup QB Jacoby Brissett took the field, Miami was down 14-0. So much for the Dolphins breathing fire.
Here is a quarter-by-quarter look at the Buffalo Bills' win against the Miami Dolphins on Sunday.
Who gets the three stars of the game?
First: Matt Milano. This was why the Bills signed him to a big, $10.3-million a year contract extension. He was all over the field, with five tackles, a sack, two hits on the quarterback and a fumble recovery.
Second: Epenesa. He didn't get credit for a sack, but he created two sacks with initial pressure that caused Brissett to get taken down. And he had the crushing hit that knocked Tagovailoa out of the game.
Third: Taron Johnson. The fourth-year slot cornerback had a sack on the opening drive, forced a fumble in the red zone in the second quarter and had a pass breakup on a fourth-and-2 play in the third quarter.