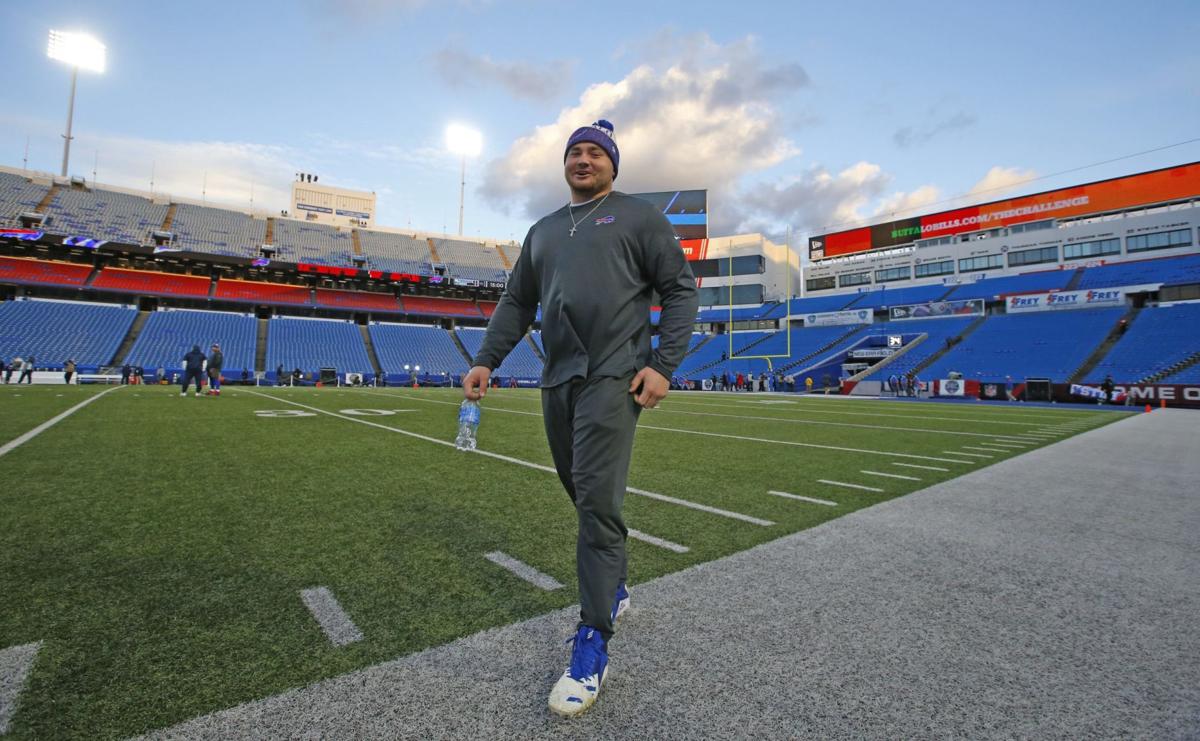 Buffalo Bills fullback Patrick DiMarco had some specific advice Wednesday for a young Special Olympics athlete who asked him how to lead a healthy lifestyle like a pro athlete.
"You have to eat a lot of different colors on your plate," DiMarco said on a Zoom call with about two dozen select Special Olympians from New York State. "Greens and reds. A lot of greens, more reds and then more greens. Eat a bunch of fruits and veggies, and then eat some protein to make sure your muscles are recovered from your hard, strenuous workout."
DiMarco, along with Bills defensive linemen Harrison Phillips and Vincent Taylor, took part in a 45-minute remote question-and-answer session with the youngsters.
Near the end, Phillips announced that the Bills' players and front office had collected $20,000 that they were donating to Special Olympics of New York. The money will go to support athletic events in the region. About 3,900 athletes and 500 coaches participate annually in Special Olympics programs in Western New York.
DiMarco, Phillips and Taylor are three Bills most heavily involved with supporting Special Olympics.
"My mom ran an at-home day care in our home my whole life before and after school," Phillips said. "Through the 16 years she did that, we probably had a dozen kids that had some type of Down's syndrome or autism that came through the house. These are kids I hung out with every day, shared my toys with. So I realize these are amazing people, and I can learn things from them, and we can have great friendships."
Phillips has run free youth camps in Buffalo, Sacramento, Calif., and Omaha, Neb., for at-risk children and special needs children. He has worked with Special Olympics in the Buffalo area since being drafted by the Bills two years ago.
"One of my favorite memories is being able to go to the Special Olympics Winter Games in February," Phillips said of the event held in Rochester. "I spoke to almost 1,000 athletes. To see the mental preparation and joy you guys have for your sport was awesome."
Taylor got involved through his godmother while growing up in San Antonio, Texas.
"In college at Oklahoma State each year in the summer they have the Special Olympics where they have weightlifting," Taylor said. "I went to two events there in college and fell in love with it."
DiMarco got involved in Special Olympics because his wife, Kirstin, had a history with the organization. The DiMarcos supported it early in his career in Atlanta and have continued to be involved since he signed with Buffalo in 2017.
"I needed to be on this call, to see the smile on these kids' faces and see the staff be rewarded for all their hard work," DiMarco said.
Be the first to know
Get local news delivered to your inbox!