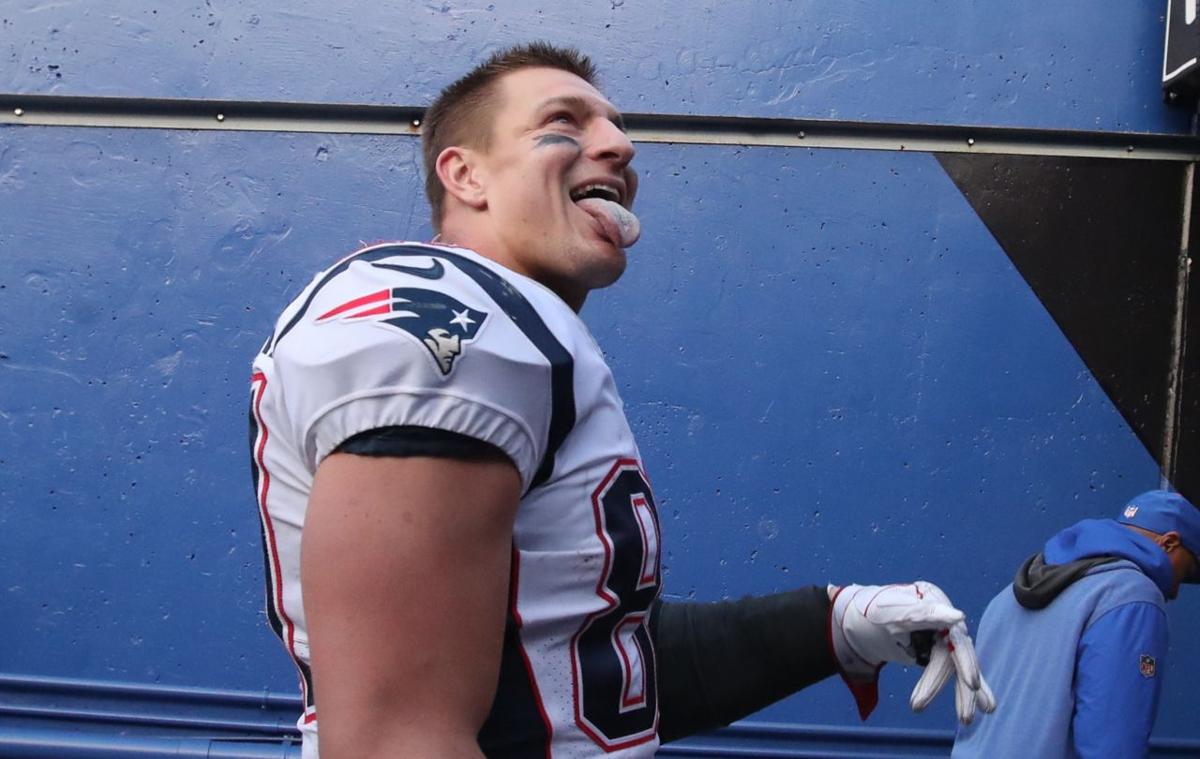 FOXBOROUGH, Mass. — Both teams have downplayed the vengeance.
Buffalo Bills cornerback Tre'Davious White skillfully counteracted inflammatory statements he made right after New England Patriots tight Rob Gronkowski delivered a flying elbow to the back of the rookie's head just three weeks ago.
Gronkowski twice said Friday he has concentrated on preparing "with the boys" for Sunday's rematch and not thinking about anybody else or anything in the past.
The coaches have emphasized focus and discipline and respect and all the other virtues they hope will neutralize a distraction.
The issue of payback, nonetheless, exists entering Sunday's rematch in Gillette Stadium. The NFL suspended Gronkowski one game for the concussive cheap shot, but many believe the punishment wasn't heavy enough.
"Obviously, there are going to be opportunities for guys to take shots this next game," Bills left guard Richie Incognito said Wednesday at One Bills Drive.
Right then, based on what White, Gronkowski, Sean McDermott and Bill Belichick have stressed all week, is where you expect a player to add something like, "But we have to remain disciplined enough not to fall into that trap."
Incognito did not say that.
The three-time Pro Bowler warned Gronkowski to keep his head on a proverbial swivel; some Bills defender still might try to put his head on a stake.
"Gronkowski took his shot," Incognito continued. "Now it's our defense's chance to take their shots on him.
"When you do dumb stuff like he did, you open the door. The referees are a little more lenient because they know you got it coming. You've just got to be prepared to take it."
We'll see if referee Craig Wrolstad's crew grants Gronkowski any extra protections. In today's NFL, getting away with retaliation is difficult. Cameras are everywhere. Sunday's game is being handled by CBS Sports' top production unit, featuring Jim Nantz, Tony Romo and Tracy Wolfson and the network's best technology.
If the officials and announcers don't spot anything untoward when it occurs, then NFL headquarters might hammer fines and suspensions after the fact. The Bills cannot afford to lose an important player for next Sunday's crucial game against the Miami Dolphins.
All that said, Gronkowski can't safely assume White's mates will stand down.
Gronkowski was asked Friday about Incognito's sentiments.
"I'm just focusing on the game Sunday, just preparing the same, and we'll see how it goes," Gronkowski replied at Gillette Stadium.
"To tell you the truth, I'm just expecting a very good, hard-nosed football team on the defensive side of the ball for the Bills to be coming full speed like they always do every time we play them."
Gronkowski likely is a Pro Football Hall of Famer if he never plays another down, and that prospect has been something to contemplate the past few years. The Amherst native has a long injury history that limited him to seven games in 2013 and eight games last year.
With the Patriots favored to win another Super Bowl, retribution could cost Gronkowski his ability to suit up in the posteseason.
As the Dec. 3 game ended at New Era Field, Gronkowski didn't seem bothered by what he'd done to White minutes earlier. Bills fans around the tunnel jeered him and threw cups at him. He waved sarcastically and stuck his tongue out.
At midfield, however, McDermott expressed his resentment to Belichick, who agreed that Gronkowski's hit "was bulls---."
Two former Bills declared their team failed by not retaliating right away.
Hall of Fame quarterback Jim Kelly, on the Bills payroll, said the next morning on 97 Rock he was surprised none of White's teammates jumped Gronkowski.
ESPN analyst Ryan Clark reported White texted him, "The whole hood want him." The hood, meaning the Bills locker room. Him, meaning Gronkowski. (White has not confirmed what the text said and noted its contents were between Clark and him.)
"If I was Gronk I would have eyes in the back of my head," Greater Buffalo Sports Hall of Famer and five-time Pro Bowl linebacker Bill Bergey said.
"There's a code to the game he must face."
Bergey's personal rivalry with St. Louis Cardinals guard Conrad Dobler, considered perhaps the filthiest pro athlete in any sport, still is rated a quintessential NFL blood feud. Bergey played under Paul Brown with the Cincinnati Bengals and Dick Vermeil with the Philadelphia Eagles in a career than spanned 1969 to 1980.
Bergey, a graduate of Pine Valley High in South Dayton, approved of Incognito's ominous words and the idea the officials should look the other way if a Bills player wants take a run at Gronkowski.
"What Gronk did to that defensive back, who had his back turned, with thrusting down all of his weight, it was despicable," Bergey said, "and I thought he got off easy with just a one-game suspension."
In reference to Incognito's mention of a vengeance code, Bergey noted learning from Cincinnati linebackers coach Vince Costello an important lesson about getting even.
Bergey's rookie year, the poor Bengals were somehow in the process of delivering the mighty Oakland Raiders' lone regular-season loss. Future Hall of Fame center Jim Otto sprinted downfield to exorcise frustrations on Bergey's head.
"He knocked me cold," Bergey said. "On the game film, it looked like my neck actually left my shoulders. I got to the sideline, and I was in la-la land."
Costello, a Cleveland Browns middle linebacker in the '50s and '60s, told Bergey the code allowed him one free shot on Otto the next time they played the Raiders.
"But whatever happens," Bergey recalled, "then you're done after that. So Otto was snapping on an extra point. I went to kick him in the head, and I missed. But that was it. I had my chance."
Beyond that free shot, though, could be accumulation of knocks and pings.
"It's taxing," Incognito said. "You're constantly getting hit in battle and people looking you up.
"You bring that on yourself. You put that big target on your back."
That might sound like old-school knuckle-dragging, stuff that isn't done in today's NFL, not even with a wink. But Bergey remains around the game. He was a radio analyst with the Eagles for 23 years and maintains a marketing role with the team.
"I know the frustration in the game," Bergey said, "but you've got to play within yourself and do the right thing. You've got to be responsible with everything you say and do on the field.
"At the very least, what I would do with Gronk is maybe trash talk him and make him feel like he needs to be careful, get him thinking."
Whichever way the game unfolds, there's always the possibility somebody simply snaps.
Incognito has been there before. His name repeatedly crops up when players are polled about who is the NFL's dirtiest.
"You can't control it," Incognito said. "It's such an emotional game, and we have so much time and pain and so much put into this game that when things don't go your way or something happens to trigger you, all bets are off."
The St. Louis Rams waived him in 2009, when at the end of a bad loss he was flagged twice for unnecessary roughness and got into an argument with coach Steve Spagnuolo. The Bills claimed Incognito off waivers, but he signed with the Dolphins in the offseason.
"Gronk's a good kid. I know Rob. I've hung with him. I've partied with him," Incognito said. "He doesn't have a mean bone in his body. He's not mean-spirited.
"You can't judge a man by that one action. You've got to look at Rob over his whole career. This is out of character for him."
There's a thin line between knucklehead and sleazeball, straight arrow and wuss.
"Everyone has to be careful," Incognito said. "You can't let personal vendettas overshadow the mission at hand."
But, as he said, there will be chances for the Bills to settle a score.
"You've got to be smart about it," Incognito said.