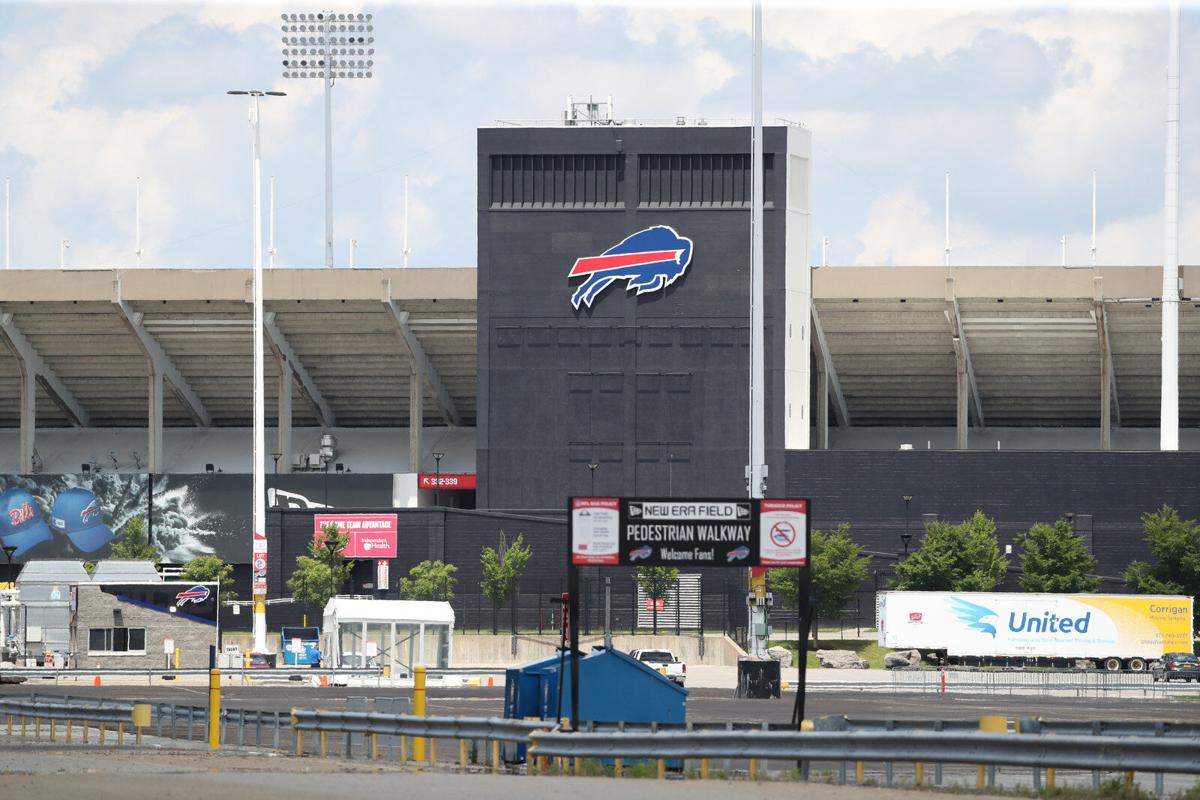 It was a perfect storm of bad timing.
Last month, New Era, the Buffalo-headquartered headwear and apparel company, asked to be released from its stadium naming rights agreement with the Buffalo Bills. With fans currently prohibited from attending sporting events in New York State due to the coronavirus pandemic, how valuable are naming rights for a stadium that could be empty for some or all of the 2020 season? And with companies coping with the economic fallout of the pandemic, is this the best time to commit to the multi-million-dollar investment such deals traditionally command?
The answer, in part, might very well have come Thursday when the team announced, at least until it finds a new naming rights partner, the stadium in Orchard Park will go by the generic moniker of Bills Stadium.
"As we continue to transition away from New Era Field, we will officially use the name Bills Stadium for our home in Orchard Park," the Bills said in a statement Thursday.
The Bills have not said what their timetable is for a new partner.
The process could stretch beyond this season as the NFL, its teams and businesses everywhere continue to work through the many challenges and adjustments brought on by the pandemic. Sponsorships have been affected on a variety of levels, especially when it comes to signs and other in-stadium elements. It stands to reason that fewer eyeballs would mean less value to sponsors.
Plus, with the stadium lease due to expire in 2023, that would put a relatively short lifespan on a naming-rights deal for the current stadium. Marketing experts point out that naming-rights agreements usually run a minimum of 10 years and that some currently in place are more than twice that length.
It is likely that some potential naming-rights partners are apprehensive about agreeing to a "band-aid" deal with the Bills that presents potential uncertainty about whether the team would be in the same stadium beyond 2023. It would also make sense for the Bills to keep their options open for the possibility of getting more revenue from a naming-rights agreement for a new stadium.
Those familiar with league-wide sponsorship deals say, for now, the Bills have been focused on selling banner ads over tarped seats in the first eight rows, as part of the league's plan to offset lost revenue from ticket sales. NASCAR has used banners on empty seats in some racetracks, without worrying about obstructing fans' view of the action.
"All you can do is really deliver a logo in a situation like that, so there is limited impact that might have," said James Pokrywczynski, associate professor of strategic communication at Marquette University. "But it is a way to try and get some of those sponsors the exposure that they'd get normally from a sponsorship deal."
Since New Era and the Bills announced they were negotiating an end to their arrangement, New Era signs have been removed on, in and around the Orchard Park facility. The Bills also have changed references on their website to "The Stadium."
According to sources, New Era had agreed to pay $4 million annually for the naming rights. The deal was scheduled to run through 2022.
The stadium was christened Rich Stadium, via a naming-rights agreement with Buffalo-based Rich Products, when it opened in 1973. In 1997, the name was changed Ralph Wilson Stadium, in honor of the late founder of the franchise. It became known as New Era Field in 2017.
Though the Bills control the naming rights, a new name would need approval from Erie County. 
"If there's a company looking to making an immediate impact in the region from a brand awareness perspective, there's millions of dollars of unpaid media awareness that comes from that," said John Cimperman, who has worked on naming rights deals and is executive vice president of the marketing agency FuseIdeas.
Within the first 24 hours of word getting out that New Era would give up the naming rights, PSE spokesman Don Heins said that the Bills had received a "significant amount of inbound interest" in the rights from local and national companies. The decision to go with Bills Stadium would indicate the interest has either cooled or, perhaps, been tabled until a time when fans are allowed at games and/or there is a more favorable business climate.
Another option to add revenue might be cardboard cutouts in the stands that has become popular in soccer and Major League Baseball, including for Toronto Blue Jays' games at Sahlen Field. The Blue Jays are using the money generated for their charity. 
"It's a great way to be virtually in the stadium," Cimperman said. "I see there's a lot of clubs doing it in Major League Baseball. That's another route to generate some revenue."
From Rich Stadium to the Ralph and beyond
The Buffalo Bills have enthralled and enraged fans on this playing field for more than 40 years, first when it was called Rich Stadium, then from 1998 to 2015 as Ralph Wilson Stadium, followed by New Era Field from 2016 to 2020. Since New Era lost the naming rights, it's been called Bills Stadium.