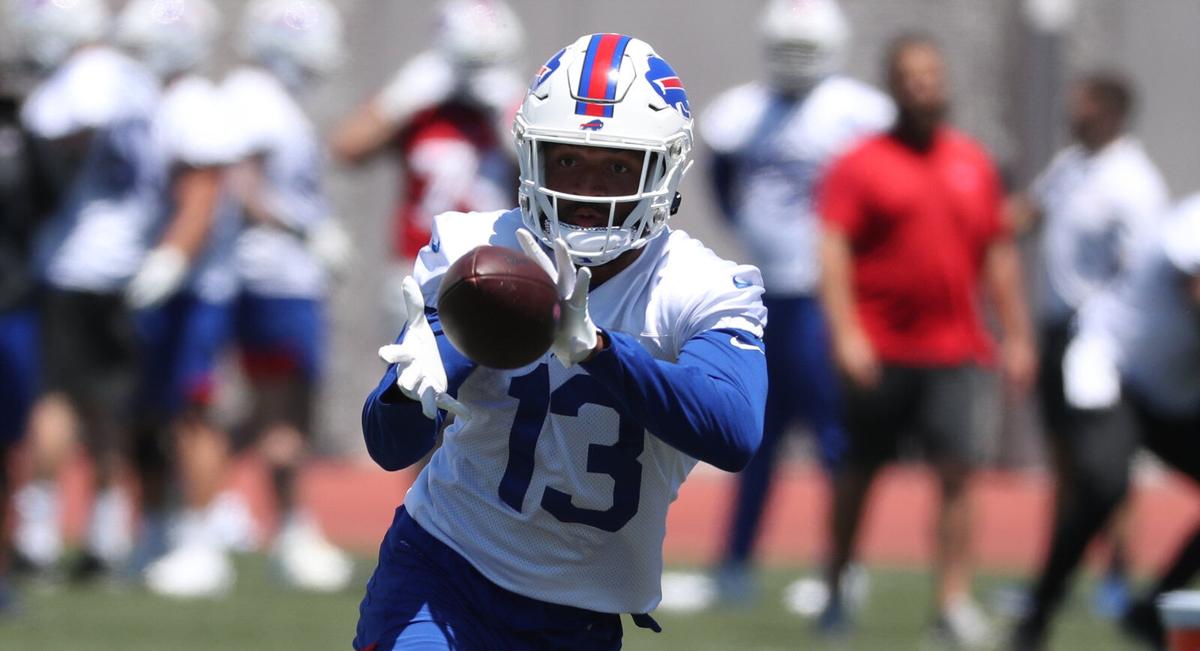 Gabriel Davis had known nothing but success.
The sophomore wide receiver for No. 7-ranked Central Florida had won his first 21 college football games when he lined up for a nationally televised showdown against No. 11 LSU in the Fiesta Bowl on Jan. 1, 2019, in Glendale, Ariz.
Davis had already caught one touchdown when, with the Knights trailing 34-21 with about five minutes remaining in the third quarter, he blew past the coverage and down the left sideline. Quarterback Darriel Mack Jr. hit him in stride at the Tigers' 30-yard line, nothing between Davis and the end zone. And the ball fell to the turf. The Knights lost, 40-32.
"He dropped it," Davis' longtime trainer, Bert Whigham, told The Buffalo News. "And he should have caught it. And he calls me after the game, crying. 'What do I gotta do?'
"And I said, 'You've got to outwork everyone.' And he drove to Disney, where we were, from UCF. An hour each way. During peak traffic times. Tuesdays, Thursdays and Saturdays for the next five months going into his junior year. And then the whole summer trained with us, too. That's what it takes, right there. What do I got to do? You've got to work. And he did it."
Davis carried that tremendous work ethic into the pros after being selected by the Buffalo Bills in the fourth round of the 2020 NFL draft. He even went out to practice running routes immediately after he was drafted.
Despite no offseason workouts or preseason games because of the Covid-19 pandemic, Davis authored the greatest season by a Bills rookie wide receiver since Sammy Watkins, the fourth overall pick in 2014.
Davis finished the 2020 regular season with 35 catches for 599 yards and seven touchdowns, which were the second-most on the team behind only Stefon Diggs' eight scores and tied Minnesota's Justin Jefferson for the second-most touchdowns in the league by a rookie wide receiver.
His catches and receiving yards ranked third among Bills wide receivers, behind Diggs and Cole Beasley, who were both named All-Pros. And his 17.1 yards per reception ranked first.
Davis also led all NFL rookies with five touchdown catches of 20 or more yards, according to the analytics website Pro Football Focus. He did not drop a single one of those targets.
"Before I dropped that pass (against LSU), I had caught a touchdown," Davis said in a recent interview with The Buffalo News. "When the ball was in the air, I'm like, 'I'm about to catch this ball, it's about to be another touchdown, I'm about to put it in these people's face what kind of player I am.' And I feel like instead of just focusing on the ball, I was thinking about the end goal. And I let it slip right through. I don't even think I touched it. It slipped right through my face and between my hands."
Davis called it one of the worst feelings he's had in football.
"It hurt me so bad, because I know and I'm confident what type of work I put in," Davis said. "I'm confident when the ball is in the air that I'm going to get it. That was just a moment for me to realize that I'm not perfect. It happens to everybody and you've just got to have amnesia and be able to move on and continue to do what you do.
"But it's hard. You work every single day to perform in front of thousands and even millions of people. Man-to-man, it's a pride thing. And to do something like that, even though I had scored a touchdown … it wasn't to my standard."
It was at those workouts at Disney where Davis met Bills linebacker Matt Milano, another one of Whigham's clients.
They became fast friends.
"We had some people kind of messing with us, saying Gabe might get drafted to the Bills," Milano said, "but we were like, 'What are the chances of that actually happening?' And then the next thing you know, he got drafted to the Bills. So that was pretty cool."
Milano impressed upon Davis the importance of the mental aspects of the game in the NFL, where most players are unable to simply lean on their athletic traits, and particularly the value of learning the playbook inside-out, and not only for the sake of versatility.
The game doesn't actually slow down when players begin to grow comfortable in the pros. Their mental processing speeds up.
Davis took it as a challenge.
"I know my role is to be able to play any position and be dependable," Davis said, "and with that, I feel like knowing every single play, as soon as you hear the play, you already know what route you've got. Now it's discovering what the defense is doing and what the guys around you are doing to be able to get open the best way possible.
"It's one thing to go out there and be like, 'Oh (no), what's the route? What do I have?' But when you already know that, now you can just play ball. You can play freely. You know constantly what you're running and you know what to do. Now it's just, get open. And that's something a lot of players overlook. But the more you know the playbook, the better you're going to feel, the more confident you're going to be and you can just go out there and play ball."
In Diggs, who led the NFL with 127 catches and 1,535 receiving yards last season, Davis found another challenge.
The veteran and rookie engaged in a friendly competition.
"We always try to see who scores more touchdowns," Davis said. "I get on Diggs because he has way more receptions and I've got less receptions, but I almost beat him out (for touchdowns). In the Patriots game, he got lucky. I almost beat him out. But it's all love."
Davis had a touchdown catch wiped out in the second quarter of the Bills' 38-9 victory at New England on Dec. 28 on "Monday Night Football," when Bill Belichick called a timeout before the start of the play.
Diggs caught three touchdowns in that game.
Despite his success, Davis was far from satisfied with his rookie season.
"Of course, I want to improve from last year and be better than I was," Davis said. "That's the goal. That's everybody's goal. Diggs probably wants 1,600 yards and 10 touchdowns instead of the 1,500 and eight that he had. Josh (Allen) wants to have more touchdowns thrown and more completed passes. Everybody has that goal to be better, but I don't feel like it's selfish. It's for the team, as well, to be successful."
Davis was limited by a high ankle sprain in the AFC  championship game loss to Kansas City, when he had no catches on three targets, and said he felt physically ill two weeks later when he tried to watch the Super Bowl.
"I couldn't watch it," Davis said. "My stomach was hurting too bad when I was looking at the screen. I just turned it off. I had to do something else. I tried. At this level, you're so competitive and you hate to see yourself fall short with the amount of sacrifice and time. … And just to be able to get that close and not make it, it hurt all of us really bad and it was hard to watch."
He was further disappointed when John Brown was released in March.
The veteran wide receiver, who has since signed with Las Vegas, welcomed Davis into his Florida home for a time while they trained together last offseason.
"I love Smoke. I miss him," Davis said. "I remember he told me how Larry (Fitzgerald) did the same thing for him when he got drafted (by the Arizona Cardinals). Larry took him under his wing and helped him the best way he could when he was just getting to the NFL. And Smoke said it was his turn to do the same thing."
But Davis was thrilled that offensive coordinator Brian Daboll returned, rather than landing a head coaching job, meaning a second year to continue to develop in the same offensive system.
"I'm so happy that we've got the same offense going and everything, because now I really know the offense," Davis said. "I can really step forward and do more than I feel like I did last year. I know I'm ready for anything and I'm confident and I know that it'll be a great year.
"I want to go all the way. And I'll do whatever it takes to get there."