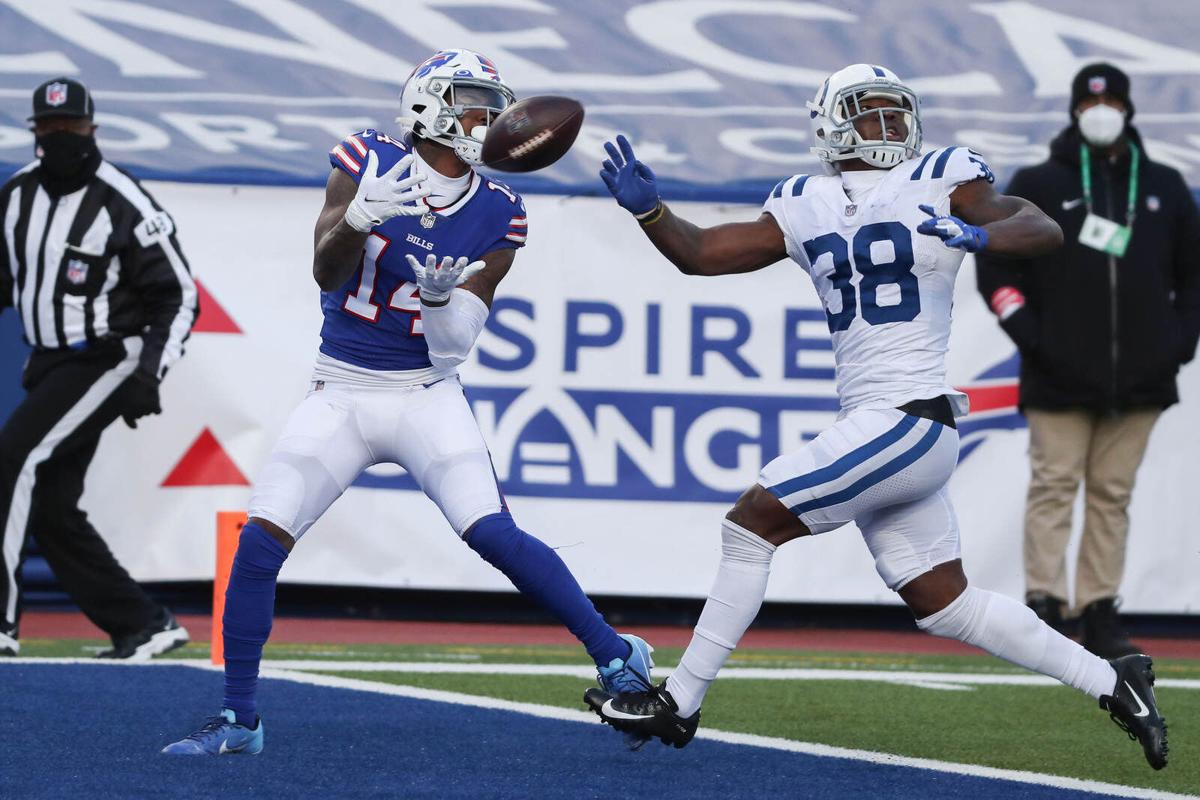 Aaron Brady knew that the Our Lady of Good Counsel football team primarily relied on the run. But he also knew one of its habits: to throw the ball on third down to a speedy, shifty wide receiver named Stefon Diggs.
As the football coach at Gonzaga College High School in Washington, D.C., Brady crafted a plan in each of the four games his team played against Good Counsel in the course of two years: Double-team Diggs in coverage on every third-down play, which was almost always a slant.
"We had one person who was supposed to be the guy right in his face," said Brady, now the football coach at St. Mary's Ryken in Leonardtown, Md. "They would throw the slant, exactly what we'd practiced, all week, but that play ends up being a little different when Stefon Diggs runs it.
"He still caught the ball, then he dove from the 5-yard line and scored a touchdown. And that's the kind of play where you realize, 'Hey, alright, this guy is pretty special.' "
Now, in his sixth season as a pro, Diggs and the Buffalo Bills prepare to face the Baltimore Ravens in an AFC divisional playoff game Saturday in Orchard Park. Diggs is a Maryland native whose aptitude and success in football has drawn more recruiting attention to his home state. A five-star recruit, he became a second-team All-Big Ten Conference selection at the University of Maryland, and was named an NFL All-Pro selection in his first season with the Bills.
Patterson, a junior, has 3,837 rushing yards and 51 touchdowns in three seasons at UB. 
High school football coaches from the Baltimore-Washington area still harbor a fondness for the competitor and the person who became a trailblazer for high school football in Maryland. Good Counsel is about 20 miles north of Washington, D.C., and about 30 miles southwest of Baltimore. 
"Away from the football field, you always had to keep him in line, but he was quite smart," said Bob Milloy, his high school coach at Good Counsel. "Like any kid, you had to stay on him about his grades, but he just loved to practice, he loved to play in the games and he never missed practice.
"He practiced 100% and he practiced like he played in a game. He was tough on his teammates and did everything in his power, on offense and defense, to win every single play. He never took time off, even in practice. Fortunately, he never got hurt. He loved playing ball."
Diggs, though, is separating his personal feelings from his allegiances to Maryland as the Bills prepare for their second-round game against Baltimore, the first time in his NFL career that he will face the Ravens. 
"It's the same feeling I get playing the Redskins, because the Redskins' stadium is in Maryland," Diggs said Wednesday in a video conference with reporters. "It's not too much of a difference. It's going back to playing a team that was around my area, growing up. It never ironed out that I got to play the Ravens. It's not something that I'm overly excited for, just because it's a back-home team. It's more of something that, I'm trying to win, just like every other game.
"It's definitely something I thought about, probably in my younger years that, hopefully I get to play the Ravens someday. It's not something I think about, at this point in my career. If you'd asked me this my rookie year, I'd probably have a different answer. But I'm older."
Diggs is the first player in Bills history to lead the NFL in receptions (127) and receiving yards (1,535). 
An eighth-grader with no fear
Andy Stefanelli met Diggs at a youth football camp in the summer of 2008, when Stefanelli was an assistant at Good Counsel, a private school in Olney, Md. Diggs was one of several eighth-graders at the camp who planned to enroll that fall, along with Wes Brown, who became the No. 11 running back in the nation in 2011, as ranked by Scout.com and 247Sports, and became Diggs' teammate with the Terps.
The touch football games at the end of each day of camp, Stefanelli said, were the highlight of those humid summer days in the Washington suburbs.
"Stefon and Wes' teams played each other in the championship touch football game," said Stefanelli, who is now Good Counsel's head football coach. "You saw these two guys and they were both exceptional, even as 13-year-olds.
"Watching Stefon, he was different. He was fast, but his body control at that age, the speed and the knack he had to get open, to make plays, and to completely have no fear, he was just, 'Go and go hard.' "
Diggs' speed and quickness, combined with his instincts, helped him become a sought-after recruit among college programs.
"He had the ability to make people miss, and his speed, those were some of his natural instincts," said Messay Hailemariam, an assistant at St. Frances Academy in Baltimore, who coached against Diggs and Good Counsel. "He's twitchy, and he had the ability to get himself out of tough situations. You'd see him break a long run, even though the play was designed a certain way, and he made that play exciting."
That fall, when Diggs joined the Falcons as a freshman on the varsity team, he didn't make the usual transition to the varsity that other ninth-graders typically made. Instead of playing in a support role on special teams or getting reps in the late moments of a blowout win, Diggs was Good Counsel's primary kick returner.
"He was making big plays, immediately," Stefanelli said. "You put him in a game, and he's 13, 14 years old, and he's going against seniors. And he looked like he belonged, right away."
Diggs, the NFL's leading receiver, wanted to get the fans in on the action and was playing catch with several fans in the 100 level near the end zone during warmups.
Making a quick – and lasting – impact
In the 2012 recruiting cycle, Diggs was ranked as the No. 1 recruit in Maryland and the No. 2 receiver in the country by Rivals. The site 247Sports listed Diggs as the No. 10 prospect in the nation, and ESPN had him as the No. 13 prospect in the nation.
That recruiting class included running back T.J. Yeldon, quarterbacks Jameis Winston and Chad Kelly and wide receiver Nelson Agholor.
Diggs played offense, defense and special teams for the Falcons, and Milloy recalled a plan the coaches had with their star player.
"We had a deal with Stefon," Milloy said. "Every Thursday night, we'd say, if the game gets close, we had a list of 15 different ways we could get Stefon the ball. Punt returns, kickoff returns, at wide receiver, at running back, all these different ways, in case we needed it. We used him at quarterback one time, and he ran through the entire opponent and he scored a 30-yard touchdown."
Diggs caught 36 passes for 770 yards and eight touchdowns as a wide receiver in his senior season, and had 31 1/2 tackles, four interceptions and three forced fumbles as a cornerback that season.
"He's one of those players that sticks out, when you're making a defensive game plan," Hailemariam said. "Good Counsel had guys who can play, but Stefon was the key. You tried to put everything into stopping him, and if you did, you had a chance to win."
That didn't happen often. In Diggs' four seasons on Good Counsel's varsity team, the Falcons were 44-4 and won three Washington Catholic Athletic Conference championships.
One matchup, in particular, stood out to Hailemariam, when Diggs faced cornerback Cyrus Jones of the Gilman School in September 2011. Jones later played at Alabama and eventually reached the NFL.
"It was back and forth, and you could see the matchup between the two," Hailemariam said. "They were better than many of the other players on the field. Those two were different.
"But just to stop Stefon Diggs, you might not necessarily stop him, but you could contain him. The speed he had was definitely a difference-maker. His IQ and his ability to beat you, if you gave him an opportunity to beat you, he would."
When other coaches talked with Stefanelli and the Good Counsel staff about Diggs, most of their comments ranged from confusion to excitement.
"A lot of their response was, 'That guy is ridiculous,' or, 'That guy is something special,' or 'Where did he come from?' " Stefanelli said. "He was from down the street, in Gaithersburg! And Good Counsel draws kids from a large area around Washington, from Frederick and from Baltimore. But those kinds of kids draw attention and attract crowds."
Diggs and the Falcons got national attention. They finished Diggs' senior season at No. 6 in the country in the 2011 USA Today Super 25 high school football rankings. 
In 2010, Diggs helped Good Counsel to a 21-6 win against St. Xavier of Cincinnati as part of ESPN's opening weekend showcase intended to highlight the top teams and players to a national television audience. 
"We practiced at a big public school in Cincinnati before that game, and afterwards, I thanked the coach of the school who was watching our practices, for allowing us to practice there," Milloy said. "St. Xavier was a top 20, USA Today ranked team, almost every year. The coach said, 'Good luck, but that team will have no answers for No. 14' – and he pointed to Stefon."
The coach was right. Diggs had a 50-yard interception return for a touchdown, one of his two interceptions. He also had two sacks and two tackles for loss on defense, and had five catches for 91 yards. His 76-yard punt return for a touchdown was nullified by a penalty. 
Good Counsel also made Diggs into a social media phenomenon, before it was trendy to have a social media presence. Good Counsel's football program set up its own Twitter handle, @gcfootball, and regularly posted video highlights of Diggs. Good Counsel also tracked Diggs' recruiting path, including his college visits. 
"The kids loved the SportsCenter moments he made, making a miss, then making a juke to score a touchdown," Stefanelli said. "It went out on social media, kids saw it, and that drew attention."
Diggs, a 2012 graduate of Good Counsel, was named the MVP of the 2011 U.S. Army All-American Junior Combine, a recruiting showcase that hosts 500 sophomores and juniors from across the country. A year later, he played in the Army All-American Bowl in San Antonio, which includes the top 100 high school football players across the country. Diggs signed with Maryland in February 2012, and spurned offers from schools such as Florida, Ohio State and Auburn.
Even Milloy thought Diggs would sign with Ohio State. 
"He had a great visit with Urban Meyer, and I thought he was knocked off his feet by that," Milloy said. "But all of a sudden he changed his mind and decided to stay home. His mom could come and watch him play every weekend. His younger brother, too. He never really discussed it with me, but it was probably him wanting to stay in his hometown. He loved (Maryland offensive coordinator) Mike Locksley, too, who was his recruiter. He had a great relationship with Coach Locksley."
Even as Diggs decided to stay in his home state to play college football, Erik Richards, the national recruiting director of the All-American Bowl, said Diggs helped raise the profile of Maryland as a robust recruiting region.
"Maryland, at that time, wasn't a hotbed of recruiting," Richards said. "It was more known as a basketball state, for high schools, and Stefon kind of got the ball rolling with his performance, with the whole recruiting of the Maryland area. Now, it's a producer of all kinds of talent.
"You didn't go to Maryland to find talent, but Stefon opened the door for that. He and Blake Countess, his teammate, made people say, 'Let's take a harder look at the schools in Maryland, especially the private schools.' "
Now, nine years after high school, Diggs is making plays that look familiar to those who recall his early days.